Student Services
Student Services offers a wide range of support services including student recruitment, registration services, counselling, accessibility services, learning services and student employment services. We work closely with students, programs, Saskatchewan Polytechnic administration and students' associations to advise, counsel and empower our students to enhance their post-secondary experiences.
Departments
Counselling, Health & Accessibility Services
Registration Services
Student Information Systems (SIS)
Foreign Credential Assessment
International Education
International Student Liaisons
Strategic Enrolment Management
Student Recruitment
Contact Centre
Student Engagement and Learning Services
Student Relations
Student Services Operations
Student Services also manages
Alice Miller, Associate Vice President, Student Services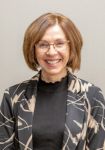 alice.miller@saskpolytech.ca

System transformation has been a key priority for Alice both at the University of Lethbridge and more recently at the University of Windsor, where she was the University Registrar. Prior to joining the University of Windsor, Alice served in many roles at the University of Lethbridge, including Assistant Registrar and Learner Enrolment Reporting Analyst. In alignment with proven strategic enrolment management approaches, Alice believes in working closely with senior leadership, administration and faculty in the establishment of enrolment goals that support the vision of the institution while focusing on learner success throughout their academic journey. She brings extensive experience in system and process transformations, as well as change management.
A lifelong learner, Alice obtained her undergraduate degree through Athabasca University, and went on to complete a Management Certificate at the University of Lethbridge, before earning her MBA from Herriot-Watt University in Scotland.