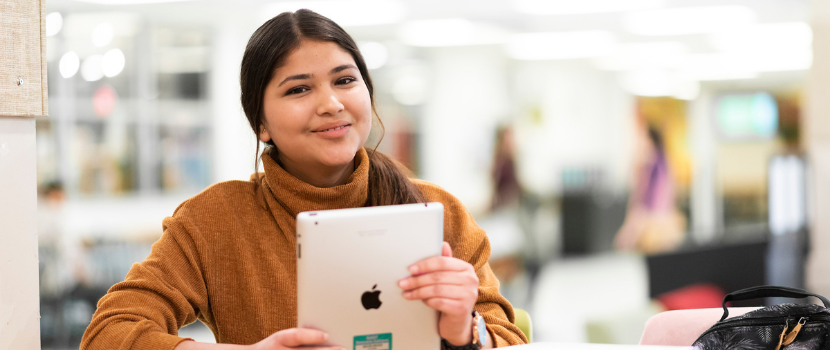 We are currently processing applications with completed documents for:
January 2024 intake from November 20, 2023, and Fall 2024 intake from November 2, 2023.
Updated: November 23, 2023.

Application processing time is typically 15 days. Your processing time may vary depending on how many applications we receive and the potential start date of the program applied to. If you applied before the date above, check your application status in mySaskPolytech.
1. Explore programs
Saskatchewan Polytechnic has many programs that are available to international students.
Most programs are First Qualified/First Admitted (FQFA), though some are Competitive. Learn more about the admission processes. The information on this page also explains our waitlist process.
View programs available to international students
2. Get ready to apply
Review requirements
Be prepared to prove you meet the admission requirements for the program to which you are applying. Admission requirements are program specific. All relevant documents including transcripts must be submitted to Saskatchewan Polytechnic. Scanned copies of documents are accepted from applicants for initial assessment. Assessors may require documents to be sent directly from the related institution(s) or require your originals. Prepare to provide proof of legal name change if applicable.
If your transcripts are in a language other than English, you must produce translated documents. If you require that your documents be translated into English, we recommend the
Association of Translators and Interpreters of Saskatchewan (ATIS)
.
Admission offers are to a specific program at a specific campus but you may choose to apply to more than one program or campus. Note, once an offer of admission is accepted and a seat be offered to your alternate program or campus, changing your program or campus incurs fees.
Meet English language requirements
The language of instruction at Sask Polytech is English. International students must provide proof of
English Language Proficiency.
Sask Polytech offers the International English Language Testing System (IELTS) test at our Saskatoon and Regina locations. Visit the
English Language Requirement
for more information.
Sask Polytech also offers English language courses. Visit the
Learn English
page for more information.
3. Your application
Applications open every October for the following academic year. Complete your application by May 1 to ensure consideration for programs beginning in September. If you choose to apply after May 1, please remember that combined processing times (Sask Polytech and IRCC) may not give you enough time to begin studies in the fall.
Complete and submit your application form
To complete your application, use the application guide and follow the steps listed. International applicants must apply online and pay by credit card. The international application fee is $150.
View International Student Application Guide
You may complete all sections immediately or return to complete at your convenience. To leave and return later, click Finish Later. Your information is transmitted through a secured server and is kept confidential until you submit your application. Only after you submit your application will Enrolment Services staff review.
Submit documents
Once you have applied to the program, submit scanned coloured documents by email to
internationaldocuments@saskpolytech.ca
with a
Foreign Document Submission Cover Page (pdf)
.
Emailed transcripts, credentials and identity documents must be official; that is they must be scans or photos of original official documents.
Ensure that the scanned documents are submitted as unprotected PDF attachments, are in colour and are entirely readable.
All documentation, if not issued in English, must include notarized translations into English.
View international document requirements by country
A final unconditional decision on your application cannot be made until all official documents including translations are reviewed and verified as required by Sask Polytech.
Your application decision
For the majority of Sask Polytech programs it will take 15 business days to assess your application after all required documentation is submitted. You will be notified by Sask Polytech via email on how you will receive the decision of your application through our mySaskPolytech portal.
If accepted, you will be required to pay a non-refundable tuition deposit to secure your seat. You may also be required to pay partial tuition.
For more information, view our
frequently asked questions
about tuition deposits.
4. Next steps
Apply to Immigration, Refugees and Citizenship Canada (IRCC)
An international student is a visitor to Canada who is legally permitted to study in Canada in accordance with the Canada Immigration Act. For more information regarding studying in Canada, study permits or visas please check the
Immigration, Refugees and Citizenship Canada (IRCC)
web page.
How to pay
You will be requested to pay a non-refundable tuition deposit to secure your seat. The remainder of tuition and fees are due when you begin your studies at Sask Polytech.
Payment options:
Withdrawals:
If you choose to withdraw from a program, you must submit a withdrawal request. Sask Polytech will refund any tuition amounts (less the non-refundable deposit) within four - six weeks.
Inquiries
If you submitted your application and documents before the application processing date indicated at the top of this page, you are welcome to inquire about the status of your application.
Please email
international@saskpolytech.ca
and include:
your full name,
Sask Polytech ID number,
the program you applied to,
your selected start date, and
the date you submitted your documents
Emails must be sent from your approved email address (Sask Polytech or declared personal email address).
Contact us
Contact International Education.