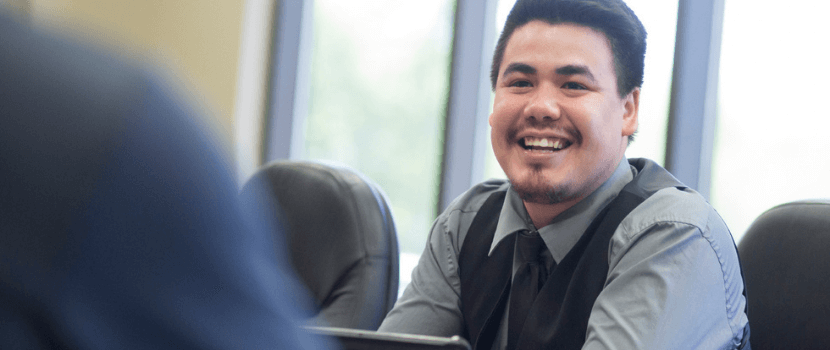 Take note of when your course starts and register early, because many courses fill quickly.
To register, you need the name of the course, course registration number (CRN) and the start date. This number accompanies each available course offering for the academic year. Registering early also allows you the time needed to order and receive required course materials.
Register now
Online
If you are a returning student or alumni, we invite you to complete your registration online with your username and password.
If you forgot your username and password or last attended Sask Polytech between 2006 and 2016, contact the Helpdesk.
1-888-733-5333 (toll free)
helpdesk@saskpolytech.ca

Include the subject line: CE registration.
Include your full name in your email.
If you have never attended or attended before 2006, please create your account using our online account creation form.
If you will qualify for, will be applying and using student loan funds to pay tuition and fees, register by phone. Know your courses? Find out if you qualify for a student loan.
By Phone
Phone-in registration is available.
Saskatoon: 306-659-4800
Regina: 306-775-7301
Moose Jaw: 306-691-8383
Prince Albert: 306-765-1600
Out-of-town callers:1-866-467-4278
Phone registration for CE courses will be available from:
Monday, Tuesday, Thursday, Friday – 8:30 a.m. to 4:15 p.m.
Wednesday – 9 a.m. to 4:15 p.m.
In Person
Select your course, provide the name of the course and the course identification number, which is called a CRN (e.g. SPCR-100 & 202211-4542).


Visit the Enrolment Services office nearest you. Learn more about Enrolment Services office hours.


Pay by cheque (made payable to Saskatchewan Polytechnic), Credit Card, Debit MasterCard or Visa, or cash (limit of $1,000).
Campus street addresses:
Moose Jaw campus
600 Saskatchewan Street at 6th Avenue NW, Moose Jaw
Need directions?
Prince Albert campus, Technical Building
1100 - 15th Street East, Prince Albert
Need directions?
Regina campus
4500 Wascana Parkway, Regina
Need directions?
Saskatoon campus, Idylwyld Dr.
1130 Idylwyld Dr N at 33rd, Saskatoon
Need directions?
Important information
Payment
Tuition and fees for CE course(s) must be paid in full to complete registration. The exception is for those students who qualify for, apply and use student loan funds to pay tuition and fees. Refer to FAQs for more information.
International students studying at Sask Polytech on a student visa (study permit) pay international tuition fees. All amounts are in approximate Canadian dollars and are subject to change without notice. For more information visit tuition and fees for international students.
Confirmation of enrolment and course materials
You will receive a notification email with your confirmation of enrolment letter attached. This letter confirms your CE course(s) acceptance and contains important information. It is also posted in your student account on mySaskPolytech.ca, the student portal. It is located within myElectronicLetters under Enrolment Services. Keep this letter for future reference in a secure location.
Transfers, withdrawals and refunds
Students who discontinue prior to the withdrawal deadline for their continuing education credit or non-credit courses are entitled to a full refund or transfer of their tuition fee. For more information, visit withdrawals, transfers and refunds for Continuing Education programs.
Program changes, errors and omissions
Courses and program details are for information only. Fees, times, instructors and course details are subject to change. In addition, errors or omissions may occur. Sask Polytech reserves the right to revise or cancel programs or make other changes as necessary at any time.
Frequently asked questions
If you have questions, please view the Continuing Education online registration frequently asked questions.
Contact us
For further information, contact Enrolment Services.