ITS Support and Resources
Information Technology Services (ITS) provides technology support for students and employees at Sask Polytech.
Need technical support?
Visit the self-serve online knowledge base.
Contact Helpdesk at helpdesk@saskpolytech.ca | 1-888-733-5333
Regular hours
Days
Hours of Availability

Monday to Thursday
Friday
Saturday
Sunday and statutory holidays

7:30 a.m. - 9 p.m.
7:30 a.m. - 4:30 p.m.
9 a.m. - 5 p.m.
Closed
The Helpdesk has reduced hours during July, August and during Christmas break.
Maintenance
Server maintenance is the third Saturday of each month. Computer and network services may be unavailable that day.
Follow us on Twitter @saskpolytechITS for system updates.
Accounts
As a student, you receive a username, password and 9-digit ID number in your information letter. The username is generally in the format: last name + 4 or more digits (e.g., brown1234).
Your username is part of your email address (e.g., brown1234@saskpolytech.ca) and organizational login account for many of our services.
mySaskPolytech
mySaskPolytech is your portal to Sask Polytech's communications and services. mySaskPolytech provides access to email and myCourses home pages. You can view announcements, letters, grades, tax forms, unofficial transcripts, campus events and more.
Office 365, OneDrive and email
Click myOffice365 on mySaskPolytech to access Office 365, OneDrive and Email. If prompted for an organizational login account, use username@saskpolytech.ca.
Office 365
Use Microsoft Office online from anywhere, including web, desktop and mobile devices. To install O365 on your personal device, go to myOffice365 and click Install Office 2016.
OneDrive
Store, edit, and access files on OneDrive from any location, both on and off campus.
Email
Communicate with instructors and other students.
To access Sask Polytech email on your smartphone, visit mySaskPolytech or download the Outlook application from your device's app store.
Password Manager
The Password Manager allows you to reset your password and unlock your account. Students are required to enrol in the Password Manager to change their passwords and access OneDrive to save their files. To enrol, log in to mySaskPolytech and click on the myOffice365 icon.
If you need help enrolling in the Password Manager, or are having trouble accessing your account, please view the Password Manager Guide or contact the Helpdesk.
myWorkspace
Access your programs' desktop on-campus or off-campus by clicking the myWorkspace icon on
mySaskPolytech. Saved files are automatically deleted when you log off so save your files on OneDrive or a USB drive. Printing balances can be reloaded at the library.
myCourses (Brightspace/D2L)
Sask Polytech's online learning platform combines course materials, assignments and testing in a virtual classroom. Courses can be entirely online or contain online materials and activities which complement face-to-face teaching. Brightspace supports a wide variety of platforms, from smartphones to desktop PCs. Access Brightspace by clicking on the myCourses icon on mySaskPolytech.
Zoom
Communicate with instructors and other students using IM, audio or video meeting. Share files or your content with others.
Wi-Fi
Secure Wi-Fi on campus is available through eduroam.
To connect to the Sask Polytech eduroam service:
Access your wireless connection settings.
Enter or select the eduroam Wi-Fi network. The Enter Credentials dialog box appears.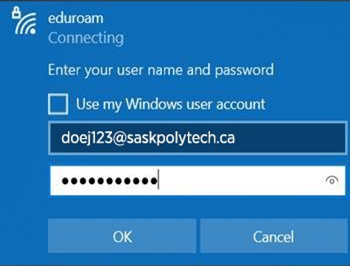 Enter your username complete with domain. This is usually your email at your institution (e.g., joe123@saskpolytech.ca).
Enter your password.
Click the OK button to connect.
Full details can be found on the eduroam information page. If you experience access problems, please contact helpdesk@saskpolytech.ca for support.
Printing
Learn how to print on campus at our printing page.
Information Management policies
All employees and students should be aware of and understand Information Management policies.