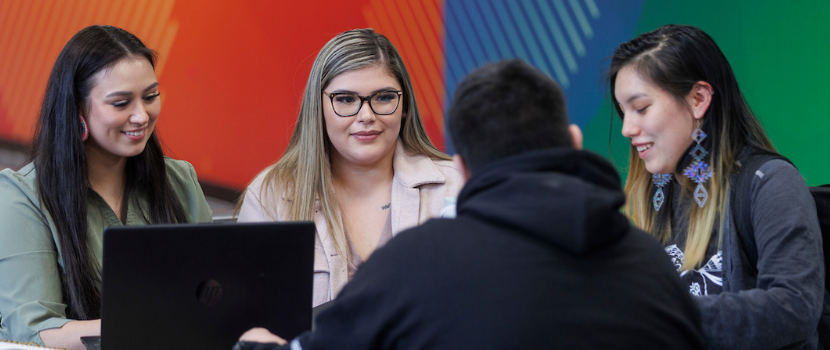 Saskatchewan Polytechnic's overarching goal is to increase the recruitment, retention and success of Indigenous students across all our programs. The Indigenous Student Success Strategy 2018-23 guides actions to meet this overarching goal by ensuring Indigenous students feel welcome, inspired and empowered, and most of all, feel they belong at Sask Polytech.
Nebah ho?á (Denesuline) Welcome: Ensure Indigenous students attending Sask Polytech are well prepared for post-secondary life and are set up for success.
Ki-kinomawo (Nakawe) Inspire: Help Indigenous students thrive at Sask Polytech.
Wiyokihiya (Dakota) Empower: Celebrate Indigenous student success and prepare Indigenous graduates for successful careers.
avik wiiyawow (Michif) Belong: Create inclusive, respectful and welcoming campuses, where Indigenous students have a sense of belonging.
miyo wâhkôhtowin
This Cree phrase expresses the positive value and richness of experience that stems from interconnectedness and relationships. This worldview represents the individual and the community, and encompasses the foundation of all we do at Saskatchewan Polytechnic. We honour this principle in every interaction, institutional practice, procedure, policy, and service we provide to learners, faculty, staff, alumni and our communities.
Measuring success
Sask Polytech has identified outcomes to monitor as the Indigenous Student Success Strategy 2018-2023 is implemented. These outcomes focus on increasing Indigenous student enrolment, retention and graduation as well as on indigenizing curriculum as per the Sask Polytech Academic Model. Outcomes and success are measured through the Indigenous balanced report card. The report card is reviewed, updated and monitored over the course of the strategy.
94% of of Indigenous graduates find employment
2,286 Indigenous students make up 15% of our student population
63% Indigenous cohort graduation rate
15,929 student interactions with Indigenous coordinators and advisors
435 Indigenous student awards and scholarships valued at $499,525
44 Indigenous student emergency bursaries valued at $22,000
Past reports:
Guiding statements
Indigenous Declaration
Sask Polytech is committed to the indigenization of our institution. Indigenization is our social and collective responsibility and it enriches and benefits all aspects of our institutional culture.
Indigenous Belief Statement
We indigenize by holistically integrating Indigenous ways of knowing, teaching, and learning within all of the institutional practices, procedures and services we provide to students, staff and communities. This results in Indigenous people seeing themselves and their realities reflected throughout our institution. It also results in non-Indigenous people gaining the skills and knowledge that enable them to work with and live alongside their Indigenous neighbours knowledgeably and respectfully.
Indigenous Education Protocol
Founded on seven principles, the Colleges and Institutes Canada Indigenous Education Protocol guides colleges and institutes. Sask Polytech signed the protocol agreement in 2015.
Commit to making Indigenous education a priority.
Ensure governance structures recognize and respect Indigenous peoples.
Implement intellectual and cultural traditions of Indigenous peoples through curriculum and learning approaches relevant to learners and communities.
Support students and employees to increase understanding and reciprocity among Indigenous and non-Indigenous peoples.
Commit to increasing the number of Indigenous employees with ongoing appointments throughout the institution, including Indigenous senior administrators.
Establish Indigenous-centred holistic services and learning environments for learner success.
Build relationships and be accountable to Indigenous communities in support of self-determination through education, training and applied research.
Contacts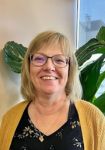 Jackie Duperreault
Administrative assistant
Indigenous Strategy