Indigenous Success
The Indigenous Student Success Strategy Belief Statement
Guided by the principals of reconciliation, Sask Polytech aims to create long-term positive change, by putting students' needs first, the Indigenous Student Success Strategy created an Indigenization declaration that guides efforts to ensure students can see themselves and their culture reflected throughout the institution.
We indigenize by holistically integrating Indigenous ways of knowing, teaching, and learning within all of the institutional practices, procedures and services we provide to students, staff and communities. This results in Indigenous people seeing themselves and their realities reflected throughout our institution. It also results in non-Indigenous people gaining the skills and knowledge that enable them to work with and live alongside their Indigenous neighbours knowledgeably and respectfully.
Thinking about becoming a student? Find out what we can do to help you catch your dreams.
Indigenous Education Protocol
Commit to making Indigenous education a priority.
Ensure governance structures recognize and respect Indigenous peoples.
Implement intellectual and cultural traditions of Indigenous peoples through curriculum and learning approaches relevant to learners and communities.
Support students and employees to increase understanding and reciprocity among Indigenous and non-Indigenous peoples.
Commit to increasing the number of Indigenous employees with ongoing appointments throughout the institution, including Indigenous senior administrators.
Establish Indigenous-centred holistic services and learning environments for learner success.
Build relationships and be accountable to Indigenous communities in support of self-determination through education, training and applied research.
These protocols were developed by Colleges and Institutes Canada. Sask Polytech signed the protocol agreement on May 19, 2015.
Recommendations
Establish an Aboriginal Student Success Strategy implementation steering committee and hire a coordinator.
Establish key performance indicators for Aboriginal participation and completion, giving priority to those programs with the lowest rates of Aboriginal student success.
Develop proactive supports to assist Aboriginal students with the application process.
Develop specialized information about finances and funding for Aboriginal students and support staff.
Formalize an early intervention strategy for Aboriginal students experiencing difficulties.
Establish a post-secondary summer transition program at each campus.
Investigate on-campus physical/environmental barriers to Aboriginal student success.
Develop a marketing and communications plan to raise awareness about Sask Polytech among Aboriginal people.
Develop and offer a standard set of student support modules in key personal and academic skills at all four campuses.
Develop specialized post-secondary preparatory programs within the Basic Education Division.
Further investigate housing, child care and transportation barriers.
Further investigate barriers specific to Basic Education students and recommend enrolment and completion targets for Basic Education programming.
Develop and implement a strategy to assist Aboriginal English language learners.
Address barriers created by Sask Polytech attendance practices.
Further investigate barriers created by the academic progress policy.
Further investigate barriers created by program structure and program prerequisites.
Develop and implement targeted student recruitment activities.
Establish an Aboriginal alumni network and Aboriginal role model program.
Intensify Sask Polytech's representative workforce efforts including the introduction of advanced training for faculty and staff in Aboriginal cultural differences and Aboriginal ways of knowing and learning.
Integrate Aboriginal knowledge and ways of learning into programs including the development of alternative instructional and evaluation strategies.
Further investigate barriers specific to apprenticeship students.
Indigenous Student Success Strategic Priorities for 2014 to 2017
Increase the availability of ongoing proactive, intensive support for Indigenous students.
Investigate identified physical, environmental barriers to Indigenous student success.
Develop an Indigenous alumni network.
Collaborate with human resources to ensure a representative Indigenous workforce at Saskatchewan Polytechnic.
Meet our Director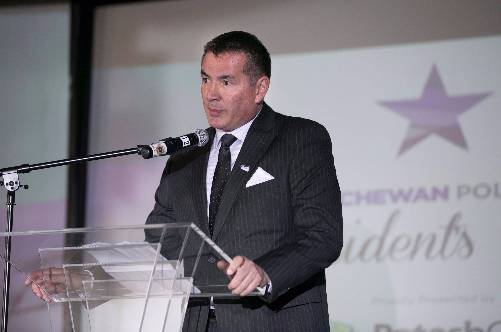 Jason Seright
Director, Indigenous Student Success Strategy
306-659-3792
jason.seright@saskpolytech.ca
Jason Seright joined Saskatchewan Polytechnic as the director of Indigenous Student Success Strategy in April 2014. His role provides vision, strategy, leadership and direction in the implementation and continued improvement of the Indigenous Student Success Strategy. The goal of Indigenous Student Success Strategy is to increase Aboriginal student success.
Jason has over 20 years' experience in education, increasing Aboriginal student enrolment and completion. Prior to Saskatchewan Polytechnic, he was a facilitator-consultant on First Nations Métis education with the Mamawohkamatowin partnership, a collaboration between Greater Saskatoon Catholic Schools, Saskatoon Tribal Council and Central Urban Métis Federation. Jason has held a variety of leadership positions, including Maskwacis Outreach School principal, Central Okanagan School District principal and Ermineskin Elementary Junior School principal.
Jason holds a master's degree in education from the University of Calgary. He began his studies at the University of Saskatchewan, where he graduated with a bachelor of education, including minors in native studies and Indian and northern education.