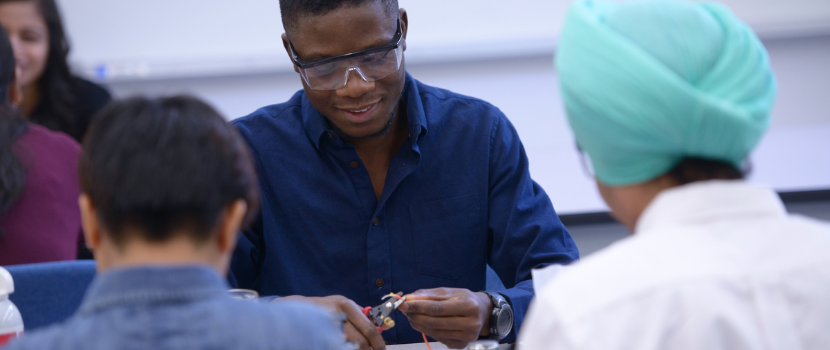 Co-operative Education at Saskatchewan Polytechnic lets you put classroom learning to work through paid, on-the-job training. It's your chance to connect your education to actual career options, explore different jobs within your chosen field and develop a network of employer contacts.
Sask Polytech is a leader in providing relevant co-op education opportunities. It's a great head-start on your career—many graduates land their first career job with a former co-op employer. Keep in mind, students are not automatically matched with a co-op employer. You must actively participate in the process.
Job applications for Winter 2024 work terms will begin in September 2023.
About co-op education

Co-op education is a great way to help finance your education. In 2022, co-operative education students at Sask Polytech earned an average of $22.38/hour and total earnings of $14,979 per 4-month work term.
Who can participate in co-op education?
Sask Polytech currently offers a Co-operative Education component in 14 diploma programs. Depending on your program, you may be placed on work terms varying in total length from 4 to 12 months. You need to be a full-time, on-campus student in one of the following programs to take part in co-op education work terms.
Are international students eligible?
Yes! The Government of Canada allows international students to work as a part of their Sask Polytech program. To participate in co-op education work terms, you will need to meet the following conditions:
Have a valid study permit.
A co-op education work term (or terms) must be a key part of your Sask Polytech program.
Have a letter confirming students in your program need to complete work placements to get their certificate, diploma or degree.
Your co-op work term or internship must be 50 per cent or less of your total program of study.
Once you have met these conditions, apply for a special work permit specific to your program. This work permit allows you to work off campus as part of your program.
If you have questions or want more information, contact Ian Morrison at 306-691-8539 or ian.morrison@saskpolytech.ca.
How does co-op education work?
The Co-op Office is the organizational hub for both students and employers. The office posts job opportunities on the Orbis job posting site. You apply for posted positions that interest you. You can also seek your own employment opportunities. Learn more about Orbis and use the Orbis Quick Guides for instructions on initial registration and logging into the system.
Co-op coordinators are the liaison between students, Sask Polytech and employers. The coordinator's job is to develop job opportunities, arrange employment interviews for students, oversee student placement and monitor your progress on the job. Your co-ordinator can also assist with a resume, interview skills and job search techniques.
Employers shortlist job candidates and the Co-op Office arranges student interviews. While most interviews are held on campus, some may be conducted at the employer's location and some by telephone or virtual platforms such as Zoom.
Based on the interviews, the Co-op Office makes student placements using a system of employer and student rankings and a computerized match. Employment letters and other placement details are co-ordinated by the Co-op Office. Employers determine salaries.
What is expected of you?
Students are not automatically matched with a co-op employer—you must actively participate in the process. It's your responsibility to:
Register with the Co-op Office and familiarize yourself with Co-op Academic/Work Term Time Patterns.
Provide the Co-op Office with your resume and transcripts.
Attend informational meetings with your co-op co-ordinator.
Regularly check the Orbis website for jobs.
Apply for positions that interest you.
Attend interviews with potential employers.
Monitor your emails.
Honour your job acceptance and perform appropriately on the job.
Inform your co-ordinator immediately of any problems or changes during your work term.
Participate in your job-site evaluation and return-to-campus interview with your co-op co-ordinator.
Tip: Many of co-op employers require both a valid Saskatchewan Driver's Licence and a clean Driver's Abstract. For international students, it can take up to 12 months to obtain a Driver's licence; if possible, come with a valid Driver's Licence from your home country.
Where are the jobs?
Co-op education jobs are offered in many sectors, but especially in business, government and non-profit organizations. While most are located in Saskatchewan, many students take advantage of the opportunity to broaden their horizons (and their experience) by accepting co-op jobs in other cities. Recently, Sask Polytech students have taken co-op education jobs in:
Calgary
Moose Jaw
Edmonton
North Battleford
Estevan
Ottawa
Lake Louise
Prince Albert
Lloydminster
Regina
Red Deer
Medicine Hat
Saskatoon
Swift Current
Winnipeg
Weyburn
Yorkton
What is the hiring process, job expectations and job evaluation process?
Note: While Sask Polytech makes every effort to accommodate students' needs, satisfying the co-op education component of your program may require an alternative to the work term and/or placement into a study break.
Contact us
If you have questions or want to learn more, please contact the Co-op Education team.