Indigenous Student Resources
Indigenous Students' Centres
Saskatchewan Polytechnic has an Indigenous Students' Centre in each of our campus cities. These centres provide support on both school and personal matters to Indigenous students and helps to ensure that their experience is the best it possibly can be.
Hours of operation
Monday to Friday
8:15 a.m. to 4 p.m.
INDIGENOUS STUDENTS' CENTRE FACEBOOK CONTEST
NO PURCHASE NECESSARY TO ENTER OR WIN These official rules apply to the Monthly Participation Draws provided by Saskatchewan Polytechnic Indigenous Students' Centre, Indigenous Strategy. The November contest will run November 15 at 8:30 a.m. until November 19 at 4 p.m. Central Standard Time.
ELIGIBILITY: By entering you agree to be bound by these official rules. This contest is open to Indigenous students currently enrolled in and attending a Saskatchewan Polytechnic program at any location, on or off-campus who are of the age of majority in Saskatchewan at time of entry. Saskatchewan Polytechnic employees are not eligible to participate in the contest. Each winner must provide proof of being enrolled as a student at Saskatchewan Polytechnic to receive a prize. Void where prohibited by law. This contest is not open to residents of Quebec. All applicable federal, provincial and local laws apply.
TO ENTER: The contest will be operated through Saskatchewan Polytechnic Indigenous Strategy Virtual Indigenous Students' Centre programming. To enter, the participant must share a photo on the Saskatchewan Indigenous Students' Facebook page or by emailing an Indigenous Students' Centre Coordinator. The photo will be of themselves, or include classmates, learning on campus or remotely. All entrants receivedNovember 15 at 8:30 a.m. until November 19 at 4 p.m. will be included in the draw, occurring on November 22 at 12 p.m. Central Standard Time.

Winners will have one week after the draw to claim their prize.
There is a limit of one entry per person.
Winners will be notified

via a Facebook post on the S

askatchewan Indigenous Students' Facebook page or by email.

Winners will need to contact an Indigenous Students' Centre coordinator to make arrangements to receive their prize

.

Saskatchewan Polytechnic Indigenous Strategy is not responsible for any technical difficulties experienced due to overload, busy signals, loss of cellular service, Wi-Fi, electronic problems or any other factor that may impact entry, participation or prize claim.
By entering, you agree to allow us to collect your name, email, and program for our use in entering you into the draw and contacting you if you are drawn as a winner. Entries that are determined to be fraudulent (example: non-student, non-Indigenous, fake email) will be void, and the person making such an entry barred from further participation in the contest. Incomplete entries may be disqualified at Saskatchewan Polytechnic's discretion.
WINNERS: Winners will be randomly selected using a randomization formula. Winners will be contacted via email from an Indigenous Students' Centre Coordinator. If they do not respond within the specified time (as indicated in the original message) the prize will be redrawn. Prizes will be sent to directly to the student. Any harassment to Saskatchewan Polytechnic staff by winners will cause forfeiture of the prize and the prize will be redrawn. Winners who do not claim their prize within a week of being contacted may also forfeit their prize and the prize will be redrawn. Winners will acknowledge receipt of prize by responding to the original email.
PRIZES: Notwithstanding anything to the contrary herein or stated, no person will be entitled to receive any prize until after their eligibility has been confirmed or accepted by Saskatchewan Polytechnic Indigenous Strategy and all required paperwork; such as consent for picture, email response have been completed by the pending winner.
Prizes will be awarded to the person who participated in the contest only. Winners may be required to sign a consent form relieving the Saskatchewan Polytechnic Indigenous Strategy and any affiliated organizations from any and all liability with respect to the contestant's participation in the contest and the receipt and/or use of the prize. Any person refusing to sign the Consent Form and complete or provide any other documents required by the Saskatchewan Polytechnic Indigenous Strategy by the deadline required by the Saskatchewan Polytechnic Indigenous Strategy will forfeit any and all contest prizes.
MISCELLANEOUS:
Odds of winning depend on number of entries received.
By entering, entrants release and hold harmless Saskatchewan Polytechnic Indigenous Strategy from any and all liability or any injuries, loss or damage of any kind arising from or in connection with the contest or any prize won.
By participating in a Saskatchewan Polytechnic Indigenous Strategy Virtual Indigenous Students' Centre contest, entrants herby consent to Saskatchewan Polytechnic Indigenous Strategy Virtual Indigenous Students' Centre's usage of any one or more of the following for any other advertising or promotional purpose without payment of any additional consideration: contestants names; program information; participation in the contest including photos; and the substance of the contestant's communication with Saskatchewan Polytechnic Indigenous Strategy Virtual Indigenous Students' Centre.
Saskatchewan Polytechnic Indigenous Strategy Virtual Indigenous Students' Centre reserves the right to terminate or declare the contest null and void and rescind any prize, if in its sole judgment, the rules or the integrity of the contest have been violated or compromised in any way. Intentionally or non-intentionally by any person whether or not a contestant in the contest.
Entry constitutes permission to use winners' names, enrolled programs, and/or statements for purposes of advertising and promotion without further compensation unless prohibited by law. Saskatchewan Polytechnic Indigenous Strategy Virtual Indigenous Students' Centre will not share entrant information with third parties for direct marketing purposes.
To collect a prize, entrants will be required to answer a skill-testing question.
The prize(s) will be awarded without consideration of regional allocation. Available prizes will decrease as they are awarded.
The contest is governed by the laws of the province of Saskatchewan. It is void where prohibited or restricted by law, and in any province outside of Saskatchewan. The odds of winning depend upon the number of entries received. The contest is subject to all applicable federal, provincial and local laws and regulations.
Saskatchewan Polytechnic Indigenous Strategy Virtual Indigenous Students' Centre provides no warranties covering any of the prizes furnished as part of this contest.
Information supplied by entrants will be used in accordance with Saskatchewan Polytechnic's Privacy Policy.
Saskatchewan Polytechnic helps support Indigenous student success through dedicated student advisors. Indigenous student advisors create student success by providing:
A friendly face, helpful connections to services and support
Orientation to Saskatchewan Polytechnic and surrounding community
Referrals for tutorial support
Funding, housing, budgeting and employment information
Connections to outside resources and networks
Assistance organizing study groups and informational, social and cultural events
Book an appointment below.
Contact us
Have questions? Get them answered right now.
Zoom rooms
Sask Polytech is here to answer your questions. Drop into our Zoom Rooms during the following hours of operation and our friendly employees will be happy to answer your questions or direct you to the appropriate department for assistance.
Our Zoom Room is currently unavailable. Please contact the
Indigenous support team
with your questions.
Book an appointment
Book an appointment with an advisor.
Contacts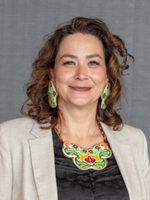 ---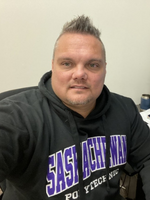 ---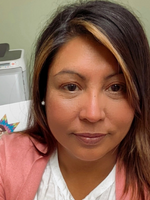 Anita Cameron, B'Ed
Program Head Indigenous Students' Centre Coordinator
Prince Albert campus
Kaykiyow Nassyoon Mamawapowuk Enn plass (All Nations Gathering Place Indigenous Students' Centre)
Room 225, Academic Building
306-765-1922
anita.cameron@saskpolytech.ca
Get to know Anita
---