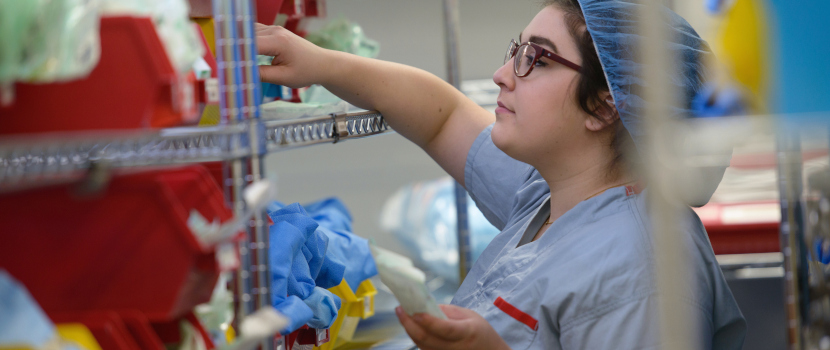 The Medical Device Reprocessing Technician program will prepare you to apply principles of infection prevention and proper handling in the decontamination, inspection, assembly, sterilization and storage of reusable patient care equipment and instrumentation in health-care settings.
Start date
August, October and January
Locations(s)
Online/Distance options available
Length and location notes
Some programs offered online or otherwise by distance (i.e., correspondence) include on-site labs, clinicals, practicums or work experiences. They may be offered course-by-course or full-time, or both, and deliveries may change over time.
For additional information, contact the program at 306-775-7575 or mdr.regina@saskpolytech.ca.
Saskatchewan Polytechnic's Medical Device Reprocessing Technician is a 24-week certificate of achievement program offered through distance education.Medical device reprocessing technicians (MDRT) operate and maintain a variety of sterilization equipment such as instrument washers, sonic sinks, cart washers and steam autoclaves to clean and disinfect surgical equipment for reuse according to standardized safety practices. During their daily work, an MDRT's role involves standing, walking, and heavy lifting of surgical pans that can weigh up to 10 kg/22 lbs. As well as responding to auditory alarms on sterilization equipment and maintaining ongoing communication with hospital departments to provide updates on equipment deliveries. The MDRT visually inspects, reassembles equipment, and prepares sterile supplies and instruments for delivery to the operating room, endoscopy, and other hospital departments.
You will participate in four one-day work experiences, each designed to integrate your course learning with a practical experience in a medical device reprocessing department. Under the supervision of a staff member you will observe and work in the different areas of a medical device reprocessing department. You will collaborate with your instructor to arrange work experiences in a site of your preference.
Refer to our frequently asked questions for additional information.
Career and salary information
Your career
Medical Device Reprocessing Technician program graduates are in high demand. You could have a variety of opportunities in health-care facilities, such as hospital medical device reprocessing departments, veterinary clinics, public and private endoscopic clinics, dental clinics and private surgical centres.
For more information about career opportunities related to this program, visit the Health Careers website.
Potential careers
Part-time delivery
To graduate and receive a credential for this program, part-time students must apply to the program and be admitted before taking any courses. To register for individual courses, please view the part-time offerings available in the Courses section below.
Admissions
Admission requirements
Note:
Prior to the start date of the program, accepted applicants will be required to provide evidence of the following:
Current immunization records, and meet Saskatchewan Polytechnic immunization requirements prior to engaging in work integrated learning experiences
Criminal Record Check. At the discretion of the work integrated learning site, you may be denied access based on the contents of the Criminal Record Check. The cost of the Criminal Record Check is your responsibility.
Transfer Lifting Repositioning (TLR®) © Object Moving training certification is mandatory for Saskatchewan applicants. Out of province applicants must meet the placement requirements of their province or jurisdiction. The cost of this certification is your responsibility.
Accepted applicants are required to provide evidence of 2015 WHMIS Globally Harmonized System (GHS) certification upon admission into the program. Recertification will be required every three years to remain current. The cost of WHMIS certification is your responsibility.
Alternative admission
Applicants who do not possess the academic qualifications for a program may be admitted if evidence of probable success can be established through an alternative admission assessment. Applicants are automatically considered for alternative admission. However, some specific admission requirements may still need to be met.

ACCUPLACER©

Refer to the ACCUPLACER© cut scores for this program below, and review additional details concerning Alternative Admission using Accuplacer.

Not applicable at this time

Post-secondary

Some programs allow applicants to meet the admission grade level requirement using 15 approved post-secondary credits. Review additional information.

If the program applied to has specific course requirements, they may be met through alternative post-secondary courses. Review already approved courses that may be used for admission purposes for your programs.
Admission method
First Qualified/First Admitted
The First Qualified/First Admitted (FQFA) process is used for the majority of Saskatchewan Polytechnic programs. When we determine that you meet the program's admission requirements, you will be offered admission based on the date you fully qualify for the program. The earlier you provide the appropriate documents and information that qualify you for admission to the next intake, the earlier you might begin your studies. Your application, once qualified, is always considered for the next intake.

Applicants to programs with multiple intakes in an academic year remain in the application pool until the last intake for that academic year has begun. Programs using the FQFA process receive applications year round and maintain an application pool for each academic year. Qualified applicants who are not offered a seat must reapply for the next academic year.

Sponsored programs or programs targeted to specific groups do not accept applications year round or maintain an application pool.
See Admission Processes for more information about this method of admission.
Tuition and fees
Estimates are based on current rates and are subject to change. Amounts for a program may vary by campus. Totals shown here include all mandatory fees as well as approximate cost for books and supplies. Visit the Tuition and Fees web page for a complete breakdown of tuition and fees for this program.

2023-24 academic year

$2,350

This program is not eligible for the Canada-Saskatchewan student loan program.
Courses
Semester information only pertains to full-time/on-campus students, and part-time/online students should view course prerequisites when scheduling courses.
After you complete your Medical Device Reprocessing Technician applied certificate, some employers require a practicum.
Please consult your local health authority to confirm their practicum requirements. Some examples of practicum length and cost are outlined below:
Saskatoon, SK: 240 hours (approx. 6 weeks)
Alberta Health, AB*: 500 hours (approx. 12 weeks)
Covenant Health, AB*: 400 hours (approx. 10 weeks)
PEI: 400 hours (approx. 10 weeks)
The tuition cost for the practicum is $585.
To determine if you require a practicum, contact your prospective employer. Please email nursingconed@saskpolytech.ca for questions about PRAC 1603 and PRAC 1604.
Get credit for what you know
Prior Learning Assessment and Recognition
Saskatchewan Polytechnic recognizes that adults learn in many different ways. This includes acquiring knowledge and skills through life and work experience or non-formal training.
See link(s) below to get more information about PLAR.
Transfer credit
Many Sask Polytech students benefit from transferring course credit. You may be eligible to transfer credit to Sask Polytech or to another college or university.
Student awards
Thanks to the generosity of donors and alumni, Saskatchewan Polytechnic gives away more than $2 million in student awards during the academic year.
Saskatchewan Polytechnic offers student awards for every certificate and diploma program at every campus. Not all student awards are based on marks - some are based on financial need or things like community or volunteer involvement.
Related programs