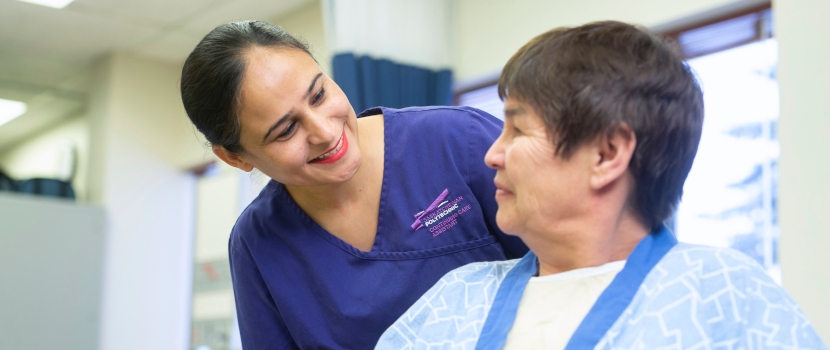 The Continuing Care Assistant (CCA) program recently completed a program review and curriculum update. Students who started the program prior to the 2023-24 academic year can complete their CCA certificate on a part-time basis (must be completed within four years of your start date) through the School of Continuing Education. View the
CCA program information for returning students
.
Continuing Care Assistants (CCAs) have been called the eyes and ears of the frail and vulnerable. The need for CCAs has never been greater and employment opportunities are available in a variety of settings. You'll support clients with ambulation, meal assistance/nutrition, personal care (bathing, toileting, dressing and grooming), medication monitoring, communication, and end of life care. You'll work directly with clients across the life span who have a variety of health care needs and you'll become an important and respected member of the healthcare team.
Start date
Fall (Prince Albert, Regina, Saskatoon); Winter (Prince Albert)
Locations(s)
Prince Albert, Regina, Saskatoon
Online/Distance options available
Length and location notes
Some programs offered online or otherwise by distance (i.e., correspondence) include on-site labs, clinicals, practicums or work experiences. They may be offered course-by-course or full-time, or both, and deliveries may change over time.
Saskatchewan Polytechnic's Continuing Care Assistant program is a one-year certificate program that you can take in Saskatoon, Regina or Prince Albert. You can also take it through your local regional college or through part-time distance flexible learning through the School of Continuing Education.
The program combines classroom instruction with hands-on learning in labs and during clinical practicums. You'll build knowledge and skills in:
addressing individual psychosocial needs.
developing effective communication skills.
using personal protective equipment when working with infectious diseases.
performing personal care such as bathing and toileting for older adults.
death and dying practices.
dementia management strategies.
gerontology (a major area of study).
long-term care philosophy in different settings.
promoting independence in a safe environment.
working with individuals with different physical and cognitive impairments.
working with people of different cultures and lifestyles.
You will participate in two clinical placements (at different facilities) over a 6-week timeframe. Under the supervision of your instructor and working alongside experienced CCAs you'll put your skills into practice with clients in long-term care facilities. It's a great way to build your knowledge and confidence.
CCA students must complete the program within four years to receive their certificate.
Students will require the following:
A laptop with webcam to complete exams.
Reliable/stable internet connection for online course components
A uniform to attend the laboratory/simulation components and clinical practice education.
Required textbooks and course materials.
Is it a fit?
CCAs work with weak and vulnerable clients who have chronic and acute health conditions. To be successful as a CCA, you will need to be a compassionate, caring, patient person, with an upbeat attitude and strong interpersonal skills. You will need to remain calm when the situations around you are chaotic and ever-changing. CCAs often work in fast-paced environments where the needs of your clients change throughout the day. This role will require you to be organized, flexible and adaptable. If you feel like this would be a good fit for your personality, we encourage you to apply to the program.
Career and salary information
Your career
Continuing Care Assistant graduates enjoy high employment rates. You could work in a home care setting, long-term care facility, private care home, acute care facility, integrated facility, supportive housing or special needs classroom. You'll work as part of a health-care team under the supervision of registered nurses, registered psychiatric nurses or licensed practical nurses.
Potential careers
Part-time delivery
In order to graduate and receive a credential for this program, part-time students must apply and be admitted before taking SPCR 108 (Special Procedures), CLIN 100 (Clinical 1, Special Care), and CLIN 219 (Clinical 2, Special Care). Effective September 2024: students who participate in dual credit offerings of ANAT 100 Body Systems, COMM 197 Interpersonal Communications and HUMD 187 Human Growth and Development, can register to the program after completing these courses. This applies to dual credit only, all other part-time students must register to the program prior to taking any courses.

CCA students must complete the program within four years to receive their certificate.

To register for individual courses, please view the part-time offerings available in the Courses section below.
Admissions
Admission requirements
Grade 12 or successful completion of fifteen (15) post-secondary credits from a recognized institution
Note
Applicants require:
personal and physical suitability. This job is physically demanding and you will be on your feet continuously throughout your shifts (aside from your coffee and meal breaks). It can also be mentally and emotionally stressful and students must have a strong support system and coping strategies in place to do well.
a Criminal Record Check and Vulnerable Sector Search prior to entering the clinical component of the program (an interview may be required). At the discretion of the clinical agency, you may be declined access to a clinical placement based on the contents of the Criminal Record Check and Vulnerable Sector Search. The cost of the Criminal Record Check and Vulnerable Sector Search is your responsibility.
Standard First Aid and CPR Heartsaver CPR AED – Level C or equivalent are required prior to entry into clinical.
current immunization records.
N95 respirator mask testing (2 mask minimum) prior to entry into the clinical practicum. The cost of N95 respirator mask testing is your responsibility.
2015 WHMIS Globally Harmonized System (GHS) certification upon admission into the program. Recertification will be required every three years to remain current. The cost of WHMIS certification is your responsibility.
current Transferring, Lifting and Repositioning (TLR®) © certification and Professional Assault Response Training (PART®) © Intermediate certification
Food Safe Level 1 Certification prior to entry into the clinical practicum. Students are responsible for the costs of these certificates.
a co-op work permit (international students only) to participate in the mandatory CLIN 100 and CLIN 219 in this program.
Alternative admission
Applicants who do not possess the academic qualifications for a program may be admitted if evidence of probable success can be established through an alternative admission assessment. Applicants are automatically considered for alternative admission. However, some specific admission requirements may still need to be met.
ACCUPLACER©
Refer to the ACCUPLACER© cut scores for this program below, and review additional details concerning Alternative Admission using Accuplacer.
250 Arithmetic
247 Reading
243 Writing
Post-secondary
Some programs allow applicants to meet the admission grade level requirement using 15 approved post-secondary credits. Review additional information.
If the program applied to has specific course requirements, they may be met through alternative post-secondary courses. Review already approved courses that may be used for admission purposes for your programs.
Admission method
First Qualified/First Admitted
The First Qualified/First Admitted (FQFA) process is used for the majority of Saskatchewan Polytechnic programs. When we determine that you meet the program's admission requirements, you will be offered admission based on the date you fully qualify for the program. The earlier you provide the appropriate documents and information that qualify you for admission to the next intake, the earlier you might begin your studies. Your application, once qualified, is always considered for the next intake.

Applicants to programs with multiple intakes in an academic year remain in the application pool until the last intake for that academic year has begun. Programs using the FQFA process receive applications year round and maintain an application pool for each academic year. Qualified applicants who are not offered a seat must reapply for the next academic year.

Sponsored programs or programs targeted to specific groups do not accept applications year round or maintain an application pool.
See Admission Processes for more information about this method of admission.
Tuition and fees
Estimates are based on current rates and are subject to change. Amounts for a program may vary by campus. Totals shown here include all mandatory fees as well as approximate cost for books and supplies. Visit the Tuition and Fees web page for a complete breakdown of tuition and fees for this program.

2023-24 academic year

$8,560
International students
View tuition rates for international students.
Courses
Semester information only pertains to full-time/on-campus students, and part-time/online students should view course prerequisites when scheduling courses.
Get credit for what you know
Prior Learning Assessment and Recognition
Saskatchewan Polytechnic recognizes that adults learn in many different ways. This includes acquiring knowledge and skills through life and work experience or non-formal training.
See link(s) below to get more information about PLAR.
Transfer credit
Many Sask Polytech students benefit from transferring course credit. You may be eligible to transfer credit to Sask Polytech or to another college or university.
Student awards
Thanks to the generosity of donors and alumni, Saskatchewan Polytechnic gives away more than $2 million in student awards during the academic year.
Saskatchewan Polytechnic offers student awards for every certificate and diploma program at every campus. Not all student awards are based on marks - some are based on financial need or things like community or volunteer involvement.
Related programs
Additional information