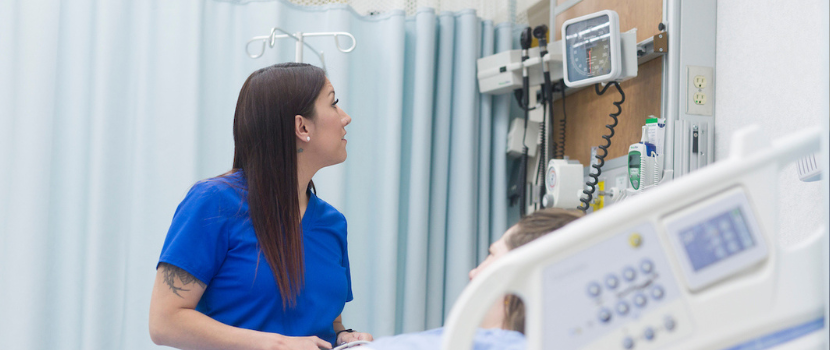 The Practical Nursing program is subject to the competitive admission process.


Applications open on October 1st and close on February 15th, for the following academic year. On February 15th, paper applications are accepted until 4:30 p.m., and online applications are accepted until 11:59 p.m. (Saskatchewan times). All supporting documentation is required by 4:30 p.m. (Saskatchewan time) on March 1st.
Licensed practical nurses are a vital part of today's health care team - in acute hospital care, long-term care and in the community. They provide compassionate, professional nursing care to individuals throughout the human lifespan, infants to seniors. If this sounds interesting to you, explore Saskatchewan Polytechnic's Practical Nursing program. In just two years, we'll help you develop into a competent, confident nurse capable of making a positive difference in the health and well-being of individuals, their families and our communities.
Locations(s)
Prince Albert, Regina, Saskatoon
Online/Distance options available
Length and location notes
Some programs offered online or otherwise by distance (i.e., correspondence) include on-site labs, clinicals, practicums or work experiences. They may be offered course-by-course or full-time, or both, and deliveries may change over time.
On-campus program - September intake each year;
Online program - September intake each year
Year 1 - 38 weeks; Year 2 - 38 weeks
A summer break over the months of July and August occurs between Year 1 and Year 2.
Practical Nursing is a two-year diploma program offered at Sask Polytech Saskatoon Campus, Regina Campus, and Prince Albert Campus, with online distance learning options. Onsite labs and community-based clinical practice education experiences let you apply nursing knowledge, theory and skills in a variety of environments.
The program is a sequential 6-semester program allowing the concepts from one semester to be built on in subsequent semesters. The 6 semesters run over 76 weeks, over a 2-year period. Classes are designed to meet diverse learning styles.
Our experienced faculty help you grow into a competent, confident nurse capable of bringing a holistic, humanistic approach to patient care. You'll study:
Anatomy and physiology
Foundations of health
Pharmacology
Health assessment through the lifespan
Long-term and rehabilitative care
Medical and surgical care
Obstetrics and pediatrics
Mental health and addictions
Community
Sociology
Courses are delivered in a blended model which comprise of onsite face-to-face and online course delivery. Our instructors engage with students through a variety of instructional methods such as seminars, observational experiences, pre- and post-clinical conferences, small group presentations, lectures, demonstrations, role-playing, storytelling, discussion, reflective thinking and writing and simulation lab experiences.
Opportunities for critical reflection about caring-based practice, development of employability skills and understanding the role and scope of practice of the licensed practical nurse (LPN) are blended into the program's learning activities.
The clinical practice education courses are integrative in nature, and, as such, the evaluation of your performance in the clinical setting involves evaluating the application of the theoretical concepts learned in all other courses. This is what ultimately determines your progress toward achieving the competencies of the beginning practical nurse.
The focus of each semester is as follows:
Semester 1 - Health Promotion/Illness Prevention
Semester 2 - Rehabilitative and Supportive Care
Semester 3 - Restorative and Curative Care
Semester 4 - Acute Medical and Surgical Care
Semester 5 - Acute Medical Surgical Care/Maternal-Child Health/Community
Semester 6 - Transition from Student to Graduate
Note: Students who have previously completed the following courses may be eligible to receive transfer credit upon acceptance into the program: BIOL 102, BIOL 103, SOCI 160, SOCI 201.
Why Sask Polytech
Sask Polytech is one of the most respected providers of nursing education in Canada. Our small class sizes mean more opportunities to interact with faculty. High-tech simulation centres use near-life scenarios to give you hands-on practice. Clinical practice education lets you transfer your nursing knowledge and skills into the real world.
Extensive hands-on learning
Apply what you learn in class and gain real-world experience in actual health-care settings.
Lab and simulation – Application of your nursing knowledge and skills will occur in Saskatchewan Polytechnic's state-of-the-art lab and high-fidelity simulation centres.
Clinical practice education – Each semester contains a clinical experience that gives you the opportunity to put theory into practice. Clinical is completed in a variety of practice settings: long-term care, rehabilitation, acute care, community, and more.
Experience with preceptors - In the final experience of the program, you will be preceptored with a practicing LPN who is licensed with the SALPN. This time will assist in your transition from student nurse to practicing nurse.
Study close to home
You can enrol in Sask Polytech's Practical Nursing diploma program while staying close to home by enrolling in the full-time online program. The online program allows students to study class theory at home and join mandatory scheduled labs/seminars and clinical experiences in either Regina or Saskatoon, with eight designated clinical spots for each site. Scheduled labs/seminars and clinical experiences typically occur a few days a week over the course of each semester.

Furthermore, we offer the program in partnership with regional colleges and Dumont Technical Institutes around the province.
Earn your professional credentials
The Practical Nursing program meets the approval of the Saskatchewan Association of Licensed Practical Nurses (SALPN). Graduates are eligible to write the Canadian Practical Nurse Registration Exam (CPNRE), which is necessary to become licensed as a practical nurse.
Diploma to degree
Leverage your diploma into the
Bachelor of Applied Management
degree at Saskatchewan Polytechnic with only two years of additional study. Remote classes and part-time options are available.
For more information about the program, including the admission process and program requirements, refer to the admission requirements and selection criteria sections below, and to our program frequently asked questions.
Career and salary information
Your career
Employment opportunities for licensed practical nurses are excellent. Most LPNs work in acute care hospitals, rehabilitation hospitals, medical centres and long-term care facilities. Choose an area that interests you - gerontology, maternal-child, medical, mental health, palliative, pediatric, rehabilitation or surgical nursing.
You also can pursue a career in a community setting: a nursing clinic, home care agency, private nursing agency, community health centre or physician's office. Saskatchewan Polytechnic Practical Nursing graduates enjoy national reciprocity, which means you can work in any province in Canada or the Northwest Territories. Our graduates have also found jobs in the United States and overseas.
Further investigate this program choice as a career:
Conduct informational interviews with people working in this field.
Explore the possibility of job shadowing.
Read more about Licensed Practical Nurses.
Arrange an INSIGHT experience or attend an Open House event at Sask Polytech.
Read more about Licensed Practical Nursing practice and regulation by visiting the SALPN website.
Potential careers
Admissions
Admission requirements
The Practical Nursing program is subject to the competitive admission process.

Grade 12 with a minimum overall score of 65% in the following five subjects: English Language Arts A30, English Language Arts B30, Foundations of Math 30 or Pre-Calculus 30 or Workplace and Apprenticeship Math 30*; one of Biology 30, Chemistry 30 or Physics 30; and one of Social Studies 30, History 30 or Native Studies 30
English Language Requirement Specific to Practical Nursing (see Program-Specific ELP Requirements section)
Note:
Please indicate on your application form whether you are applying to the on-campus or online program.
Applicants should have the Requisite Skills and Abilities (pdf) to become a Licensed Practical Nurse in Canada.
Accepted applicants will be required to provide evidence of a Criminal Record Check and Vulnerable Sector Search upon admission into the program. At the discretion of the practicum agency, you may be declined access to a clinical or work placement based on the contents of the Criminal Record Check and Vulnerable Sector Search. The cost of the Criminal Record Check and Vulnerable Sector Search is your responsibility.
Proof of current Standard First Aid and Heart and Stroke Foundation CPR is required prior to entry into the clinical practicum. The required course for CPR is Basic Life Support – Health Care Provider (BLS-HCP). The cost of Standard First Aid and CPR is your responsibility.
Accepted applicants will be required to provide evidence of Transferring Lifting Repositioning (TLR®) certification upon admission into the program.
Accepted applicants are required to provide current immunization records and meet Saskatchewan Polytechnic immunization requirements prior to entry into clinical experiences.
Accepted applicants are required to provide evidence of current N95 respirator mask testing prior to entry into the clinical experiences. The cost of N95 respirator mask testing is your responsibility.
Accepted applicants are required to provide evidence of 2015 WHMIS Globally Harmonized System (GHS) certification upon admission into the program. Recertification will be required every three years to remain current. The cost of WHMIS certification is your responsibility.
*Previous Saskatchewan mathematics requirement also accepted:

Math A30, Math B30, Math C30, Calculus 30, or General Math 30
Admission method
Competitive
The competitive admissions process is used for programs where the number of qualified applicants regularly exceeds the number of spaces available. In competitive programs, higher admission requirements and/or additional selection criteria may be required. The application period for this program is October 1 to February 15, each academic year. All supporting documentation is required by 4:30 p.m. (Saskatchewan time), March 1.
See Admission Processes for more information about this method of admission.
Selection criteria
Phase I for High School Graduates: The competitive score is calculated from the final marks in high school courses required for admission to the program. The high school competitive score will be compared to any grade point score(s) (UGPA) presented for a minimum of 15 passed post-secondary credit units to a maximum of 30 of the most recent credit units from recognized post-secondary institutions - and the highest score will be considered for the applicant's competitive score. Such applicants must be in good academic standing with the institution. Applicants are then ranked in the order of the highest score.
Phase I for Current High School Students: The competitive score is calculated from final marks provided by March 1. Conditional admission may be granted on this basis. Current high school students must order transcripts to be sent directly to Saskatchewan Polytechnic at the end of Semester 1 and the end of Semester 2 of the grade 12 year. The final grade 12 mark will be used where the course is completed. The final grade 11 mark will be used only in the absence of the grade 12 mark in the same subject.

Tuition and fees
Estimates are based on current rates and are subject to change. Amounts for a program may vary by campus. Totals shown here include all mandatory fees as well as approximate cost for books and supplies. Visit the Tuition and Fees web page for a complete breakdown of tuition and fees for this program.

2023-24 academic year

Year 1 - $12,030
Year 2 - $8,380

Year 1 (Online program) - $11,600
Year 2 (Online program) - $7,950
Courses
Semester information only pertains to full-time/on-campus students, and part-time/online students should view course prerequisites when scheduling courses.
The program follows this academic education schedule.
Year one:
Semester 1 (Sept - Dec)
Semester 2 (Jan - Apr)
Semester 3 (May - June)
Year two:
Semester 4 (Sept - Dec)
Semester 5 (Jan - Apr)
Semester 6 (May - June)
Please note that courses in this program are delivered in a variety of modalities including face-to-face and online. Furthermore, student learning occurs in the classroom and includes seminars, labs, and clinicals.

Courses in the program that will be delivered online for all students, including those who are accepted into the on-campus program, are outlined below:
Semester 1: NURS 172 Variations in Health 1
Semester 2: NURS 240 Professional Practice & Communication 2
Semester 3: None
Semester 4: NRSG 258 Addictions and SOCI 201 Culture and Diversity in Health Sciences
Semester 5: NURS 292 Foundations 3 – Maternal Child Health
Semester 6: None
Get credit for what you know
Prior Learning Assessment and Recognition
Saskatchewan Polytechnic recognizes that adults learn in many different ways. This includes acquiring knowledge and skills through life and work experience or non-formal training.
See link(s) below to get more information about PLAR.
Transfer credit
Many Sask Polytech students benefit from transferring course credit. You may be eligible to transfer credit to Sask Polytech or to another college or university.
Student awards
Thanks to the generosity of donors and alumni, Saskatchewan Polytechnic gives away more than $2 million in student awards during the academic year.
Saskatchewan Polytechnic offers student awards for every certificate and diploma program at every campus. Not all student awards are based on marks - some are based on financial need or things like community or volunteer involvement.
Accreditation
The program is approved by the Saskatchewan Association of Licensed Practical Nurses (SALPN)
The program meets provincial and national standards set by the SALPN and Canadian Council for Practical Nurse Regulators.

Below are key guiding documents for the practical nursing program:

Related programs
Practical Nursing Certificate to Diploma
Continuing Care Assistants (CCA) to Practical Nursing
Additional information
If you have questions about this program, please email practicalnursing@saskpolytech.ca.