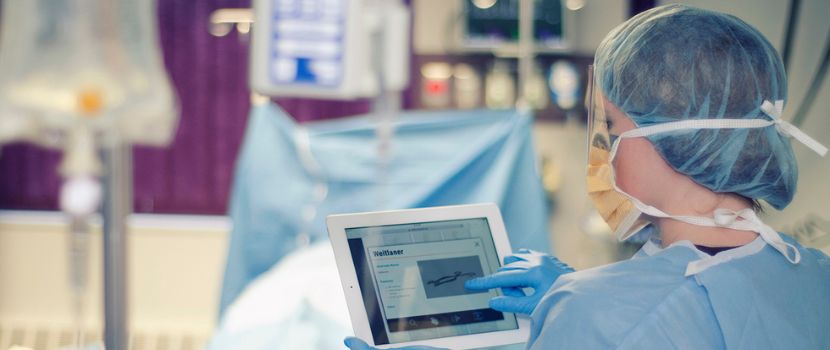 If you're a licensed practical nurse who enjoys working directly with patients in a fast-paced environment, explore Saskatchewan Polytechnic's Perioperative Nursing/LPN program. You could be a scrub nurse working directly with surgeons or a circulating nurse participating in surgical procedures and assisting anaesthetists.
Start date
August, October, January
Locations(s)
Online/Distance options available
Length and location notes
Some programs offered online or otherwise by distance (i.e., correspondence) include on-site labs, clinicals, practicums or work experiences. They may be offered course-by-course or full-time, or both, and deliveries may change over time.
Perioperative Nursing/LPN is an advanced certificate program offered full-time or part-time through online distance education. Our online program lets you build your professional credentials while looking after family and job responsibilities. Choose the full-time option to complete the program in eight months or the part-time option to complete the program in three years. You'll learn aseptic technique and basic technical skills for working within a surgical environment.
Who qualifies?
To enrol in the program, you must be currently licensed with the practical nurses' licensing body in the province where you plan to do your clinical practice education. If you graduated from the Saskatchewan Polytechnic Practical Nursing Program prior to 2001, or if you are a graduate of another institution's licensed practical nursing program that did not include courses in administration of oral and IM medications and catheterization, you must provide proof of completion of the following courses:
Administration of Medications for LPNs or equivalent
NURS 1601 Catheterization of equivalent
PHAR 1602 IM Completer course or equivalent
Why Saskatchewan Polytechnic?
Sask Polytech is one of the most respected providers of nursing education in Canada. As a student, you'll access innovative virtual reality videos of real surgery. Our emphasis on hands-on learning ensures you have the knowledge, the skills and the confidence you need to deliver patient care in the surgical environment.
Hands-on learning
A one week lab lets you apply the technical skills you've studied online. You'll practice in a safe, supervised setting using simulations. You'll begin your 10-week clinical practice with a four-week instructor-led clinical practicum, followed by another six weeks of preceptored clinical practice in different surgical areas, including gynecology, urology and orthopedics. Clinical placements take place in Regina and Saskatoon. Out of province clinical placements are only available through a contractual arrangement between a health care facility and Saskatchewan Polytechnic.
Individuals must apply directly to one of the approved clinical sites, using the Site Confirmation form. Simply submit the completed form with your application to the program, or separately by fax or email as indicated on the form. If you wish to apply to more than one clinical site, you must submit a separate application with fee.
Maintain your professional credentials
When you graduate, you can apply the program's course hours toward the continuing education requirements of the Saskatchewan Association of Licensed Practical Nurses (SALPN) to maintain licensure.
Refer to Frequently Asked Questions for additional information.
Career and salary information
Your career
Perioperative nurses are in demand across Canada, thanks to evolving health care delivery models and advances in medical technology. It's an exciting career path with a growing number of opportunities in urban and regional hospital operating rooms, ambulatory surgery centres, freestanding clinics and more.
Do you need help deciding if these careers could be a good fit for you? Contact Career Counselling Services or visit healthcareersinsask.ca.
Do you already know this is the program you want to take but need more detailed information or help applying? Connect with a Recruitment Advisor.
Part-time delivery
To graduate and receive a credential for this program, part-time students must apply to the program and be admitted before taking the practicum (PRAC 189).

To register for individual courses, please view the part-time offerings available in the Courses section below.
Admissions
Admission requirements
Licensed with the practical nurses' licensing body in the province where you will participate in the clinical component. Your registration must be active and current to participate in the clinical component.
Graduates of the Saskatchewan Polytechnic Practical Nursing Program prior to 2001 and graduates of a licensed practical nursing program that did not include administration of oral and intramuscular medications and catheterization must also provide proof of successfully completing:
Administration of Medications for LPNs (or equivalent)
NURS 1601 - Catheterization (or equivalent)
PHAR 1602 - Intramuscular Injection Completer (or equivalent)
Note

Accepted applicants are required to provide evidence of the following upon admission into the program:
Current immunization records, and meet Saskatchewan Polytechnic requirements
Current CPR Health Care Provider/AED Level 'C' Certificate
Current N95 respirator mask testing. The cost of N95 respirator mask testing is your responsibility.
2015 WHMIS Globally Harmonized System (GHS) certification. The cost of WHMIS certification is your responsibility.
Admission method
First Qualified/First Admitted
The First Qualified/First Admitted (FQFA) process is used for the majority of Saskatchewan Polytechnic programs. When we determine that you meet the program's admission requirements, you will be offered admission based on the date you fully qualify for the program. The earlier you provide the appropriate documents and information that qualify you for admission to the next intake, the earlier you might begin your studies. Your application, once qualified, is always considered for the next intake.

Applicants to programs with multiple intakes in an academic year remain in the application pool until the last intake for that academic year has begun. Programs using the FQFA process receive applications year round and maintain an application pool for each academic year. Qualified applicants who are not offered a seat must reapply for the next academic year.

Sponsored programs or programs targeted to specific groups do not accept applications year round or maintain an application pool.
See Admission Processes for more information about this method of admission.
Tuition and fees
Estimates are based on current rates and are subject to change. Amounts for a program may vary by campus. Totals shown here include all mandatory fees as well as approximate cost for books and supplies. Visit the Tuition and Fees web page for a complete breakdown of tuition and fees for this program.

2023-24 academic year

$4,940
Courses
Semester information only pertains to full-time/on-campus students, and part-time/online students should view course prerequisites when scheduling courses.
Get credit for what you know
Prior Learning Assessment and Recognition
Saskatchewan Polytechnic recognizes that adults learn in many different ways. This includes acquiring knowledge and skills through life and work experience or non-formal training.
See link(s) below to get more information about PLAR.
Transfer credit
Many Sask Polytech students benefit from transferring course credit. You may be eligible to transfer credit to Sask Polytech or to another college or university.
Related programs
Medical Device Reprocessing Technician
Additional information