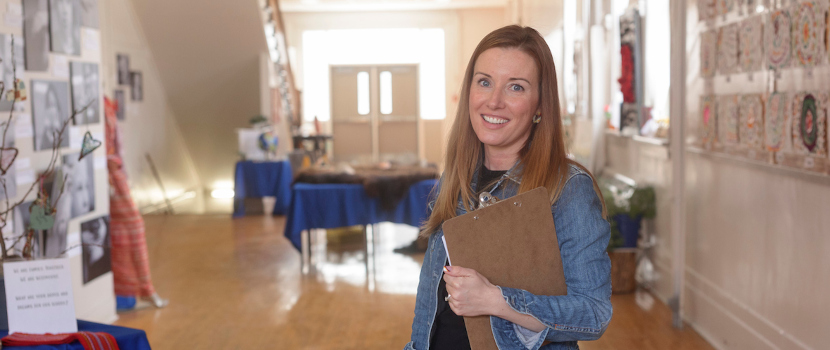 If you like working one-on-one with kids with different needs, and you want to see them included in the classroom, becoming an educational assistant might be the career for you. Educational assistants provide the all-important one-on-one support that makes today's inclusive classrooms possible.
Locations(s)
Saskatoon
Online/Distance options available
Length and location notes
Some programs offered online or otherwise by distance (i.e., correspondence) include on-site labs, clinicals, practicums or work experiences. They may be offered course-by-course or full-time, or both, and deliveries may change over time.
The Educational Assistant program is respected by school boards province-wide. We'll teach you the skills and give you the hands-on experience you need to make a lasting difference in a child's life.
Saskatchewan Polytechnic offers the one-year Educational Assistant certificate program in Saskatoon, as well as through regional colleges around the province. Or, you can take the certificate through distance education. Whether you study on campus or via distance learning, you'll participate in two 4-week practicums - one in an elementary school, one in a high school.
You'll participate in practicums as getting in the classroom lets you apply what you've learned to helping children with different needs. You'll see first hand the kind of technology being used and the curriculum being taught. You'll have a package of guidance strategies to help deal with situations as they arise. Most importantly, you'll gain a solid understanding of what to expect in a real classroom with real kids. Your job is to assist classroom teachers by working with children or youth with diverse learning needs. Saskatchewan Polytechnic provides the knowledge and skills you'll need, including:
basic care skills (lifting to feeding)
classroom management and crisis prevention techniques and strategies
communication skills and professionalism
cultural awareness and family dynamics
exceptionalities (causes, characteristics and accommodations)
social, emotional, cognitive development (children and teens)
supporting teachers in specific subject areas
your role in the classroom
Our students always say that the practicums are their favourite part of the program. They get to see what the job is really all about. It's one thing to learn from lectures and textbooks, but being in the classroom really puts it in perspective.
Career and salary information
Your career
Educational Assistant graduates work in elementary, junior high and high schools in communities around the province. School divisions offer full time, part time and casual positions. You might be based in the classroom or resource room. You might assist with a lunch program or a before/after school program. You can also explore career opportunities outside the traditional school setting—in youth centres, community centres, care facilities and alternative education programs.
For more information, contact the Student Employment Services at the Saskatchewan Polytechnic campus nearest you.
Potential careers
Part-time delivery
Part-time students may take the following courses prior to admission, but must apply and be accepted to the program thereafter, in order to graduate and receive a credential: HUMD 100, COMM 291, JOBS 125 and PERS 103 To register for individual courses, please view the part-time offerings available in the Courses section below.
Admissions
Admission requirements
Note
Accepted applicants may be required to provide evidence of a Criminal Record Check and/or Vulnerable Sector Checks prior to entering the practicum component of the program. At the discretion of the practicum agency, the student may be declined access to a clinical or work placement based on the contents of the Criminal Record Check and Vulnerable Sector Checks. The cost of the Criminal Record Check and Vulnerable Sector Checks are the responsibility of the student.
Accepted international students require a co-op work permit to complete the practicum requirements of this program. This is mandatory. Students who do not have a co-op work permit will not be allowed to participate in their practicums. It is the student's responsibility to ensure they have the required documentation to study in Canada and a co-op work permit to complete the practicum requirements of this program.
Alternative admission
Applicants who do not possess the academic qualifications for a program may be admitted if evidence of probable success can be established through an alternative admission assessment. Applicants are automatically considered for alternative admission. However, some specific admission requirements may still need to be met.
ACCUPLACER©
Refer to the ACCUPLACER© cut scores for this program below, and review additional details concerning Alternative Admission using Accuplacer.
250 Arithmetic
250 Reading
245 Writing
5 Writeplacer
Post-secondary
Some programs allow applicants to meet the admission grade level requirement using 15 approved post-secondary credits. Review additional information.
If the program applied to has specific course requirements, they may be met through alternative post-secondary courses. Review already approved courses that may be used for admission purposes for your programs.
Admission method
First Qualified/First Admitted
The First Qualified/First Admitted (FQFA) process is used for the majority of Saskatchewan Polytechnic programs. When we determine that you meet the program's admission requirements, you will be offered admission based on the date you fully qualify for the program. The earlier you provide the appropriate documents and information that qualify you for admission to the next intake, the earlier you might begin your studies. Your application, once qualified, is always considered for the next intake.

Applicants to programs with multiple intakes in an academic year remain in the application pool until the last intake for that academic year has begun. Programs using the FQFA process receive applications year round and maintain an application pool for each academic year. Qualified applicants who are not offered a seat must reapply for the next academic year.

Sponsored programs or programs targeted to specific groups do not accept applications year round or maintain an application pool.
See Admission Processes for more information about this method of admission.
Tuition and fees
Estimates are based on current rates and are subject to change. Amounts for a program may vary by campus. Totals shown here include all mandatory fees as well as approximate cost for books and supplies. Visit the Tuition and Fees web page for a complete breakdown of tuition and fees for this program.

2023-24 academic year

$7,840
International students
View tuition rates for international students.
Courses
Semester information only pertains to full-time/on-campus students, and part-time/online students should view course prerequisites when scheduling courses.
Get credit for what you know
Prior Learning Assessment and Recognition
Saskatchewan Polytechnic recognizes that adults learn in many different ways. This includes acquiring knowledge and skills through life and work experience or non-formal training.
See link(s) below to get more information about PLAR.
Transfer credit
Many Sask Polytech students benefit from transferring course credit. You may be eligible to transfer credit to Sask Polytech or to another college or university.
| Institution | Agreement details |
| --- | --- |
| University of Regina | Graduates of Saskatchewan Polytechnic's Educational Assistant certificate program may receive up to 30 credit hours toward their Bachelor of Education degree at the University of Regina. |
Student awards
Thanks to the generosity of donors and alumni, Saskatchewan Polytechnic gives away more than $2 million in student awards during the academic year.
Saskatchewan Polytechnic offers student awards for every certificate and diploma program at every campus. Not all student awards are based on marks - some are based on financial need or things like community or volunteer involvement.
Related programs
Early Childhood Education diploma
Additional information