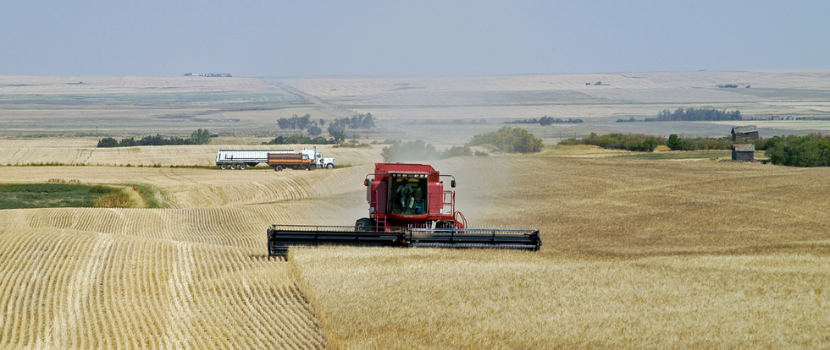 Agriculture is about more than growing food—it's about growing food sustainably, managing land and resources, understanding commodity trends and staying up to date on technology. Whether you enjoy being on the land, working with animals, figuring out logistics or working in finance, the new Agriculture and Food Production program can help launch your career.
With the world's population at 7.9 billion people and growing, food security is becoming a critical issue. As one of the world's most reliable producers of high-quality grains, oilseeds and pulse crops, Saskatchewan plays an important role in feeding the world. We have a long history of agricultural innovation, from pioneering zero tillage to implementing GPS-guided machinery and now AI-driven crop management.
The three-year Agriculture and Food Production diploma program is offered at the Moose Jaw campus and includes three paid co-operative education work terms. You'll get the foundational, technical, environmental and managerial knowledge you need to succeed in the evolving agriculture industry. In classes and hands-on labs, you'll develop practical skills in:
Agricultural technology, including innovations in precision agriculture, global positioning, IoT devices, grain handling/storage/conveyance, food security and AI
Agriculture machinery, including general familiarity with the operation of tillage, seeding, spraying, harvest, haying and other standard ag equipment
Farm management, including business applications, financial record keeping, agricultural economics, commodity marketing, Indigenous resource rights, leadership and globalization
Production and land management, including crop production, beef cattle production, weed and insect control, soil and crop nutrition, yield management and rangeland management
Sustainability, including water management, meteorology, apiculture and environmental sustainability
The co-op work term advantange
The Agriculture and Food Production diploma gives you, hands-on learning in three co-operative education work terms. Co-op work terms are paid, so you'll earn while you learn. Saskatchewan Polytechnic arranges your interviews; it's up to you to shine. It's also a chance to develop important "soft skills" in job interviewing, professional attitude, interpersonal communication and more.

Many of our co-op employers require both a valid Saskatchewan Driver's License and a clean Driver's Abstract. For international students, it can take up to 12 months to obtain a Driver's license; therefore, it is to your advantage to come with a Driver's License from your home country if possible.

Some co-op work placements require a Criminal Record Check and/or drug and alcohol testing.
Learning environment
30 students are accepted each year.
You will participate in lectures, labs and project work at Moose Jaw campus. Classes and labs take 24–25 hours per week. Expect to spend the same amount of time on homework and self-directed study.
Effectively managing your work time is important to your success.
You will get hands-on experience with agricultural machinery and field plot space. Actual "seat time" on agricultural machinery will familiarize you with modern ag technology, including AI
You will participate in three paid co-operative work terms.
You will complete a capstone project that requires coordination and working with others.
Career and salary information
Your career
The Agriculture and Food Production program opens many career doors. Use your skill set to run the show as a farm operator, manager or supervisor. Work your way up at a large-scale operation, join the family farm or build your own operation—farm, ranch, apiary, market garden or orchard.
Choose a career in the high-demand sector of crop and livestock production, management and logistics or in precision and smart agriculture. Explore opportunities in grain buying, marketing and transport, elevator or grain terminal operation, input sales, implement sales and marketing or agricultural research. Become an agricultural specialist in banking, finance or crop insurance.
Admissions
Admission requirements
Grade 12 with any 30-level math
Alternative admission
Applicants who do not possess the academic qualifications for a program may be admitted if evidence of probable success can be established through an alternative admission assessment. Applicants are automatically considered for alternative admission. However, some specific admission requirements may still need to be met.
ACCUPLACER©
Refer to the ACCUPLACER© cut scores for this program below, and review additional details concerning Alternative Admission using Accuplacer.
250 Arithmetic
254 Quantitative Reasoning, Algebra, and Statistics
250 Reading
245 Writing
Post-secondary
Some programs allow applicants to meet the admission grade level requirement using 15 approved post-secondary credits. Review additional information.
If the program applied to has specific course requirements, they may be met through alternative post-secondary courses. Review already approved courses that may be used for admission purposes for your programs.
Admission method
First Qualified/First Admitted
The First Qualified/First Admitted (FQFA) process is used for the majority of Saskatchewan Polytechnic programs. When we determine that you meet the program's admission requirements, you will be offered admission based on the date you fully qualify for the program. The earlier you provide the appropriate documents and information that qualify you for admission to the next intake, the earlier you might begin your studies. Your application, once qualified, is always considered for the next intake.

Applicants to programs with multiple intakes in an academic year remain in the application pool until the last intake for that academic year has begun. Programs using the FQFA process receive applications year round and maintain an application pool for each academic year. Qualified applicants who are not offered a seat must reapply for the next academic year.

Sponsored programs or programs targeted to specific groups do not accept applications year round or maintain an application pool.
See Admission Processes for more information about this method of admission.
Tuition and fees
Estimates are based on current rates and are subject to change. Amounts for a program may vary by campus. Totals shown here include all mandatory fees as well as approximate cost for books and supplies. Visit the Tuition and Fees web page for a complete breakdown of tuition and fees for this program.

2023-24 academic year

Year 1 - $8,880
Year 2 - $9,340
International students
View tuition rates for international students.
Courses
Semester information only pertains to full-time/on-campus students, and part-time/online students should view course prerequisites when scheduling courses.
Get credit for what you know
Prior Learning Assessment and Recognition
Saskatchewan Polytechnic recognizes that adults learn in many different ways. This includes acquiring knowledge and skills through life and work experience or non-formal training.
See link(s) below to get more information about PLAR.
Student awards
Thanks to the generosity of donors and alumni, Saskatchewan Polytechnic gives away more than $2 million in student awards during the academic year.
Saskatchewan Polytechnic offers student awards for every certificate and diploma program at every campus. Not all student awards are based on marks - some are based on financial need or things like community or volunteer involvement.
Related programs
Agricultural Equipment Technician
Environmental Engineering Technology
Geographic Information Science
Integrated Resource Management