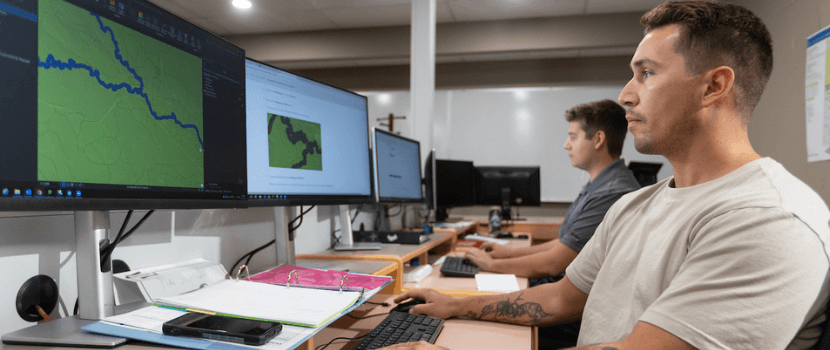 Geographic information science (GIS) is a relatively new field that uses computer technology to link maps to digital data. Resource managers and urban planners rely on the expertise of GIS technicians when they are making critical decisions about asset management, environmental assessment, development, and harvest. GIS skills are applicable in any organization that maintains assets in the environment. Graduates work with mines and resources, utility companies, First Nations, urban and rural municipalities, and health care agencies, to maintain information with geospatial reference.
Locations(s)
Prince Albert
Have you ever hovered your computer mouse over a map image and a name pops up? This is the simplest of GIS applications. If you have good computer skills, a keen eye for detail, and an interest in project management from conceptual design to rollout, the GIS program could be a good fit for you. With many employment opportunities, now is the time to launch your GIS career. Graduates are working in company offices and remotely.
GIS is a one-year certificate program offered full time at Saskatchewan Polytechnic Prince Albert Campus.
You'll learn the concepts, practice the applications, and build expertise in using GIS software to analyze and map data. In this hands-on approach to applying GIS technology, you will learn about:
Drone, or Uncrewed Aerial Vehicle (UAV) data acquisition, processing, and interpretation
Global Positioning Systems (GPS)
GIS process automation
GIS analysis and spatial mapping
Database and worksheet design
Web mapping and web cartography
Remote sensing and image analysis
Learn by doing
Your training will include hands-on learning, field experience, and an applied research project. Your project will be a relevant workflow with an industry partner. When you graduate, you will have much more than a textbook understanding of GIS theory—you will have experience using GIS applications in different situations. Computer literacy is essential to handling the course load.
Career and salary information
Your career
Saskatchewan Polytechnic has an excellent track record when it comes to getting grads into jobs: 80% of GIS grads are working in their field within six months of graduation. They work as GIS mapping technicians, GIS specialists, mapping cartographers, GPS operators, data analysts or remote sensing analysts. With your specialized training in applying GIS to resource management, you can explore job opportunities with a wide variety of potential employers, including natural resource-based industries, First Nations industries, consulting firms, environmental agencies, government departments and municipal agencies.
A GIS certificate from Sask Polytech can also help you move your career forward. Read more about how a few graduates enhanced their education and careers by taking the GIS program.
Potential careers
Admissions
Admission requirements
Grade 12
Minimum 65% average in English Language Arts A30 and English Language Arts B30 (combined)
Minimum 60% in Workplace and Apprenticeship Math 30 or 60% in Foundations of Math 30 or 60% in Pre-Calculus 30*
Note
Computer literacy is recommended.

*Previous Saskatchewan mathematics requirement also accepted:
Minimum combined average of 60% in Math A30 and B30
Alternative admission
Applicants who do not possess the academic qualifications for a program may be admitted if evidence of probable success can be established through an alternative admission assessment. Applicants are automatically considered for alternative admission. However, some specific admission requirements may still need to be met.
ACCUPLACER©
Refer to the ACCUPLACER© cut scores for this program below, and review additional details concerning Alternative Admission using Accuplacer.
250 Arithmetic
254 Quantitative Reasoning, Algebra, and Statistics
253 Reading
247 Writing
Post-secondary
Some programs allow applicants to meet the admission grade level requirement using 15 approved post-secondary credits. Review additional information.
If the program applied to has specific course requirements, they may be met through alternative post-secondary courses. Review already approved courses that may be used for admission purposes for your programs.
Admission method
First Qualified/First Admitted
The First Qualified/First Admitted (FQFA) process is used for the majority of Saskatchewan Polytechnic programs. When we determine that you meet the program's admission requirements, you will be offered admission based on the date you fully qualify for the program. The earlier you provide the appropriate documents and information that qualify you for admission to the next intake, the earlier you might begin your studies. Your application, once qualified, is always considered for the next intake.

Applicants to programs with multiple intakes in an academic year remain in the application pool until the last intake for that academic year has begun. Programs using the FQFA process receive applications year round and maintain an application pool for each academic year. Qualified applicants who are not offered a seat must reapply for the next academic year.

Sponsored programs or programs targeted to specific groups do not accept applications year round or maintain an application pool.
See Admission Processes for more information about this method of admission.
Tuition and fees
Estimates are based on current rates and are subject to change. Amounts for a program may vary by campus. Totals shown here include all mandatory fees as well as approximate cost for books and supplies. Visit the Tuition and Fees web page for a complete breakdown of tuition and fees for this program.

2023-24 academic year

$8,420
International students
View tuition rates for international students.
Courses
Semester information only pertains to full-time/on-campus students, and part-time/online students should view course prerequisites when scheduling courses.
Some work experiences may be in locations other than Prince Albert, so you may need to budget for additional transportation and accommodation expenses.
Get credit for what you know
Prior Learning Assessment and Recognition
Saskatchewan Polytechnic recognizes that adults learn in many different ways. This includes acquiring knowledge and skills through life and work experience or non-formal training.
See link(s) below to get more information about PLAR.
Transfer credit
Many Sask Polytech students benefit from transferring course credit. You may be eligible to transfer credit to Sask Polytech or to another college or university.
Institution
Agreement details
University of Regina
The Bachelor of Geographic Information Science (B.GISc) is an innovative program offered by the Department of Geography & Environmental Studies at the University of Regina. Students who complete a 1-year certificate or 2-year diploma program in GIS/Geomatics from a recognized college (e.g. Saskatchewan Polytechnic) will be given 30 hours of transfer credits at the University of Regina and may enter directly into the 2nd year of the U of R Geography program. Upon successful completion of the program, students will be awarded the B.GISc degree from the University of Regina. The Bachelor of Geographic Information Science is a unique designation that is not offered anywhere else in North America.

Learn more about the Bachelor of Geographic Information Science (B.GISc) program at the University of Regina.
Student awards
Thanks to the generosity of donors and alumni, Saskatchewan Polytechnic gives away more than $2 million in student awards during the academic year.
Saskatchewan Polytechnic offers student awards for every certificate and diploma program at every campus. Not all student awards are based on marks - some are based on financial need or things like community or volunteer involvement.
Accreditation
Saskatchewan Association of Geomatics Technologists; GIS Certification Institution
Related programs
Integrated Resource Management
Resource and Environmental Law
Additional information