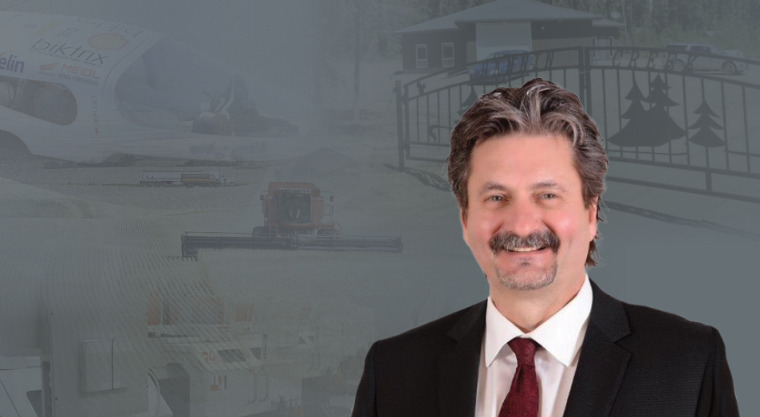 A Sask Polytech dean who could see the forest before tackling the individual trees
As we look back on 2022 Saskatchewan Polytechnic had many memorable moments including the addition of an Indigenous Outdoor Learning Center at Hannin Creek, the building of the new Energy Resource Lab on Moose Jaw Campus, first intake of the Ag and Food Production program and securing the lease for the program farm site in Moose Jaw. Saskatchewan Polytechnic's student employment rate hit 96 pre cent, the highest in 20 years. As well the Indigenous student employment rate reached 94 per cent in 2022 up from 84 per cent. Our International student enrolment climbed to 25 per cent.
We also had a moment of great sadness as we lost one of our true visionaries, Jamie Hilts, dean of the School of Natural Resources and Built Environment, the School Mining, Energy and Manufacturing, and Co-operative Education. Jamie lost his fight with cancer in June leaving behind his daughters, Kelsey (and her husband Hudson and three children: Kadynce, McKenzy and Amylia) Harder and Jordyn (and her husband Trevor) Gale; his mother Irene Hilts and sister Debbie Hilts.
Jamie joined Sask Polytech in 2011 as dean at the campus in Moose Jaw. Over 11 years, Jamie had a hand in reshaping the direction of programming, training, as well as facility expansions at Sask Polytech.
Dr. Rosia, president and CEO says, "Jamie had a major role in implementing changes that better align Sask Polytech to respond to the changing educational trends for the future. Jamie's visions reshaped many areas of Sask Polytech including the creation of our Innovative Manufacturing Centres, creating new dynamics for areas of applied research, to requesting technological advancements in programming and equipment. A significant impact that will continue to affect the quality of education for students, the workplace for employees at Sask Polytech and the future of industry in Saskatchewan."
Jamie was instrumental in developing new programming that are relevant to the needs of the businesses and partners in Saskatchewan. Dr. Has Malik, provost & vice president, academic says, "Jamie was passionate about providing the best opportunities for our students and offering the highest level of training to meet their needs. He had a real gift for bringing people together. Jamie was genuinely interested in what our PACs (Program Advisory Committees) and trade board members were facing out in industry and if there were ways that Sask Polytech could support them."
Brenda Suru, acting dean of the School of Natural Resources and Built Environment and the School of Mining, Energy and Manufacturing says, "Jamie was a true visionary and was one of the first people to be involved in every aspect without micromanaging. He was very hands-on as he knew everything that was going on within a school, but he was also hands-off in the fact that he let everybody run with what they were doing."
Jamie's vision looked at serving the whole institution, not simply his schools. Suru says, "Jamie was very keen on sharing the equipment, and the expertise." She adds, "Jamie would always ask, 'Why are we not helping someone who doesn't have it?'" This is reflected in the many partnerships he built to advance innovation and training in Saskatchewan.
Many on Jamie's team reiterate that through the many partnerships with industry he is known far and wide. Suru says, "From all of the emails, phone calls and texts we got from people it was truly amazing how many people were touched by him. From partners like the Prince Albert Grand Council, the Saskatchewan Wildlife Federation, the Saskatoon Tribal Council, the City of Moose Jaw, SaskPower, Sask Energy to individual industries like HASS and BF Skinner. The list goes on and on and on."
Jamie always prided himself in maintaining respectful relationships with Indigenous communities. The Cowessess First Nation partnership is one of many that made a huge impact in their community. Chief Cadmus Delorme says, "Our journey with Jamie and his team began over an old high school on Cowessess that we were looking at incorporating Sask Polytech training into for the youth in our community. We wanted programs like Automotive Service Technician or Agriculture Machinery Technician to be offered there."
A side conversation about the communities 911 emergency wait times identified a major issue at Cowessess. The wait times were double than that of other areas of the province. Chief Delorme says, "Jamie immediately said let's do something about it. How do we make it happen?" Jamie put a team together and a global positioning system (GPS) mapping project of the Cowessess First Nation took place in 2018 identifying all the streets and homes so they were available to all emergency services.
Chief Delorme says the second project with Jamie and his team started when the news broke about the unmarked graves near residentials schools in BC. Chief Delorme says, "We suspected there were unmarked graves at Cowessess, and Jamie wanted to help in any way he could." A team was put together along with support from a partnership grant from the Federal Government and phase I of the ground penetrating radar project (GPR) began.
Chief Delorme says, "Jamie loved representing Saskatchewan Polytechnic. He knew his duty of care to the organization. He wouldn't question the project or worry about the cost. He wanted to know the end result. Jamie saw the whole forest and would then get into the trees. He always felt he had an obligation to fulfill."
Jamie was a champion of applied research at Sask Polytech as well as looking at ways to expand the manufacturing sector in the province. The Innovative Manufacturing Centre (IMC) was born to bring industry and ideas together. A key a promoter of the centre, Jamie wanted a place where ideas could be researched and turned into reality, a place to prove and test a concept and to refine them for market. Jamie was able to bring in support from the Gene Haas Foundation, Skinner Thomas & Son Ltd, Sandvik Coromant Canada and Mitutoyo Canada Inc. as well from the Western Economic Diversification to help make the centre a reality.
The centre opened its doors at Sask Polytech in Regina and Saskatoon in 2018. The IMC is the most well-equipped machining and manufacturing facility in the province, which includes a full testing, prototyping and certification centre. Jamie's dream was to put Saskatchewan on the map as a hub for innovative manufacturing.
Grant Paul, academic chair, says, "When Jamie came on board, we just started moving into a completely different world than what we were used to working in. We started undergoing a massive change. Jamie's mission was to move us into the 21st century."
Out of the development of the IMC, the Innovative Manufacturing program was born. The IMC is the physical hub of the Innovative Manufacturing program, the result of a collaboration among Sask Polytech, industry and employers. It is geared toward providing students with broad knowledge and skills ranging from mechanical and CAD/CAM engineering, welding, machining, fibre, bio-plastic and composites experience, to project management, industrial design, quality control and assurance. Graduates go on to manufacturing jobs in sectors such as industrial, agricultural, mining, textile, forestry and food processing. The program accepted its first students in fall 2017.
The Shell Eco-Marathon student team showcased the use of the IMC in Saskatoon. Students and instructors in several program collaborated on building a lightweight vehicle that competed on an international level and put Saskatchewan on the map in this unique competition. Deanna Herman, acting associate dean, says, "Jamie took great pride in his faculty and staff and the work they did. You didn't see him step forward. You saw him move the focus to others. He was so proud of the students and the work the students did. She adds, "When it came to the Eco Car team, for example, Jamie was right there supporting them right off the hop and all the way through. He was just so very proud of their accomplishments."
Jamie envisioned an agriculture program at Sask Polytech the day he became a dean. Academic chair of Engineering Technologies, Daniel Bechard says "He started the program planning before I came on board. He made it very clear that we absolutely had to have an agriculture program because we were an educational institution in Saskatchewan. He just could not believe we did not have one." Bechard says," Jamie championed the program at every level, over many years, to make sure that it actually got off the ground." Sask Polytech's Ag and Food production program accepted its first batch of student in 2021.
Jamie wanted to make sure things were left in a better place. The vision to revitalize the Hannin Creek camp at Candle Lake into a four-season education centre was under the watchful eye of Jamie that began with purchasing the camp back from the Kelsey Alumni Association and bringing in a major partner, the Saskatchewan Wildlife Federation. Through this partnership renovations to the centre included upgrading the bunk houses, adding a new shower and washroom facility, upgrading a classroom space and construction of a wet lab and research facility. Scott Lipsit, acting academic chair and former program head with the Natural Resource programs says, "Jamie had a vision that the centre would be a hub for conservation education. He committed a great effort and resources to bring stakeholders from academia, resource management, youth and Indigenous communities to an upgraded facility, which demonstrated the values of land-based learning and sustainability. His vision included a state-of the-art laboratory for research, an Indigenous outdoor learning area, and facilities that included the use of alternative energies."
A new partnership in the spring of 2022 continued the vision of a multi-partner centre of excellence at Hannin Creek with the signing of a MOU with Prince Albert Grant Council paving the way for a new Indigenous Outdoor Learning Center and given the Cree name mitho askiy kiskethihtamowin, a Cree term for good learning through experiences on the land.
Bechard says, "Another forward-thinking example of Jamie's was the concept of an energy resources research centre. Jamie was great at planting a seed. He would say, 'Do you think we could do this?' He had huge trust in his teams and an uncanny ability to bring partners on board. The new Energy Resources lab now in development in Moose Jaw is a good example of how something would come together." Bechard adds, "We discussed an idea about a solar energy concept with the City of Moose Jaw and a parcel of land was identified and noted in the city meeting minutes that was picked up by the media before it was really ironed out with Sask Polytech management. Once we started mapping out the pieces a plan would fall into place. Now we have a building being framed on site and new equipment coming in for the project."
Sask Polytech's Sustainability-Led Integrated Centres of Excellence (SLICE) pulls together many of the innovative manufacturing, energy, natural resource, agriculture and research labs Jamie helped construct over the years. Dr. Robin Smith, academic chair – Applied Research Operations says, "SLICE has moved Sask Polytech into a completely new area of complex interdisciplinary research, frontiers such as genome sequencing, soil reclamation and even electric vehicles." Smith adds, "Jamie's legacy was to ensure there was a single-entry point in the province to experts in these fields."
There are many projects Jamie envisioned that Sask Polytech programs are currently working on that he will never see to completion. The next phase of development for the Indigenous Learning Center at Hannin Creek, to utilizing bio plastics material at the Regina campus lab for product development, to food security greenhouse projects, as well as alternative energy plans for solar power and bio-fuel production and phase II of the GPR project at Cowessess First Nation.
Dr. Rosia says, "These are all pieces that will have a long-lasting impact on the lives of faculty, staff and students at Sask Polytech as well as on our partners and industries well into the future. These will be new chapters that will be written as we move forward into a better future that Jamie helped to shape. Jamie, we will miss you."
Published Janurary 2023.