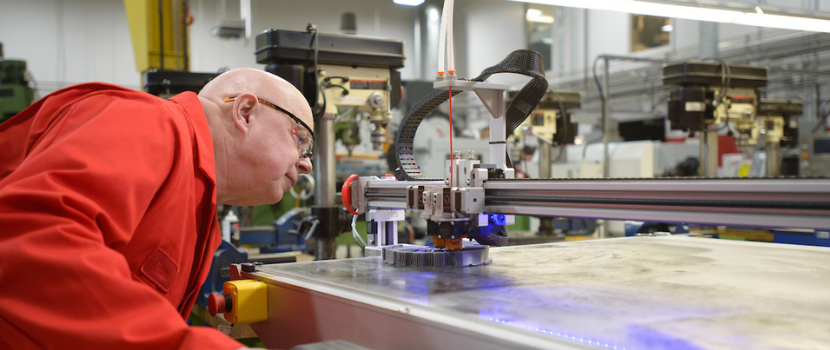 The Innovative Manufacturing Centre (IMC) is home to the new Innovative Manufacturing program. Developed through a collaboration between Sask Polytech, industry and employers the program provides students with a broad knowledge and skill-set in manufacturing. Graduates will find jobs in the industrial, agricultural, mining, textile, forestry and food processing sectors, among others.

Manufacturers can access the latest tools, equipment and expertise to improve production methods and test new ideas, such as experimenting with bioplastics to make lighter, stronger, more environmentally friendly components for their products. Prototyping and emergency part creation are also possible through our facilities.
Partnering with Sask Polytech on applied research projects gives industry access to faculty expertise as well as opportunities for funding through federal agencies and all intellectual property belongs to the industry partner.
Biomaterials Testing and Prototyping (B-TAP) facility
Located in Regina.
Focuses on custom prototype production.
Offers bioplastic production and expertise, including both injection and rotational molding, plus testing capacity.
Analyze and improve innovative materials, processing systems and machinery for manufacturing of bio-based materials such as bioplastics.
Research, Additive Manufacturing and Prototyping (RAMP) facility
Located in Saskatoon.
Features a mature additive manufacturing (3D printing) program and facilities.
Provides manufacturing design, prototyping, fine-tuning of technologies and commercialization.
Offers the capability to rapidly produce prototypes and parts with plastic and carbon fibre composites.
Future plans include adding the ability to create products and items with metal and resin 3D printing.
Robotics
Includes a track mounted welding robot capable of aluminum welding (TIG).
Will allow larger parts / multiple stations, plus addition of aluminum capability.
Industry is able to prototype new parts and have the ability to support the investigation of large parts.
Includes an assembly cobot, a robot shares a workspace with humans. Cobots allow the flexibility, intelligence and adaptability of a human to work in conjunction with the precision and accuracy of a robot.
Mechatronics
Includes equipment to support virtualization of industrial controls and automation, in a high speed mission critical factory floor control environment.
New technology allows much of the proprietary industrial control and automation to be centrally managed on reliable and redundant virtual systems, and do it at high speed. This protects against single point of failure and specialized knowledge required to keep older proprietary systems operational.
Industry can investigate and become comfortable with the technology before implementing it live on their shop floor.
Industry can experiment on how to quickly deploy simple automation cells
Contact us
Tim Muench, B.E., M.Sc., P.Eng, program head of Mechanical and Design and Manufacturing Engineering Technology programs
tim.muench@saskpolytech.ca
Grant Paul, academic chair for the School of Mining, Energy and Manufacturing
grant.paul@saskpolytech.ca
Dr. Satya Panigrahi, research chair for Innovative Manufacturing.
satya.panigrahi@saskpolytech.ca