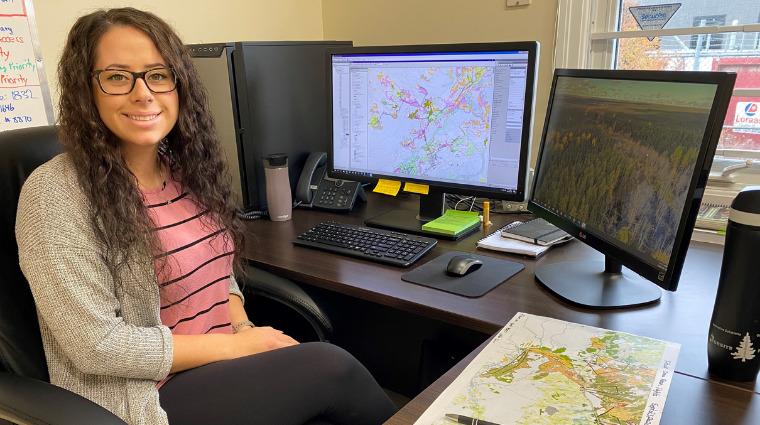 A diversity of programs, connection to business and industry and short program duration—just a few of the many reasons a polytechnic education is an excellent choice for post-secondary learning. For some students, gaining highly marketable skills that pair well with previous education is their number one motivation for upskilling.
Three recent alumni from Saskatchewan Polytechnic's Geographic Information Science (GIS) program are prime examples of how layering one program on top of another can benefit graduates looking to improve their career opportunities.
GIS is a relatively new field that uses computer technology to link maps to digital data. GIS technicians are in demand with organizations that maintain assets in the environment—from mines to natural resource companies to rural and urban municipalities and more. Jonah Sutter, Rozlin Holoboff and Peta-Gay Finlayson all bolstered existing education by completing the one-year GIS certificate program offered at Sask Polytech's Prince Albert campus and are now reaping the benefits.
Jonah Sutter decided to apply for Sask Polytech's GIS program part-way through studying for a bachelor's degree in environment and society at the University of Saskatchewan. He had taken two classes on GIS during his program and recognized that the courses were introductory and that he wanted to learn more. "I thought GIS would pair well with my geography-heavy education. Sask Polytech's program offered hands-on experience and certification that will give me an advantage over other job candidates with only a theoretical background."
Sutter believes the combination of a GIS certificate and his degree will yield more job opportunities. In fact, Sutter completed the one-year certificate through hybrid delivery during the 2020-21 academic year and immediately landed a Sask Polytech Applied Research internship funded by Colleges and Institutes Canada (CiCan). His research work, which focuses on GIS and remote sensing technology particularly as they relate to LiDAR, hyperspectral data capture and analysis, is adding another layer to his capabilities with geographics and the practical application of GIS technology. "People working in the field would benefit from the digital skills to be able to process the data they collect," says Sutter. "The GIS certificate boosted my computer skills and made me a much more effective software user."
Rozlin Holoboff had a similar experience, having first undertaken post-secondary education at university before adding a GIS certificate from Sask Polytech. The forest technician, who works with an integrated forest management company, completed her bachelor of science degree in renewable resource management in 2017. Holoboff recognized that in-depth GIS knowledge would be valuable to add to her skill set and enrolled in the Sask Polytech program after a few years working in the forestry industry. "Adding GIS allowed me to be more versatile and efficient in the tasks I complete," says Holoboff. "It's also added variety to the responsibilities I can take on. GIS is such a valuable skill to have in forestry and would be in any natural resource management occupation."
For Peta-Gay Finlayson, adding a GIS certificate to her previous education in land surveying and geomatics helped make her industry ready for work in Canada. Finlayson, who came to Sask Polytech as an international student from Jamaica, says that the GIS program opened her eyes to the natural resources industry and showed her a career path that was achievable by adding digital skills to her existing education and experience. "The GIS program is well-designed to support industry," says Finlayson. "This small program prepares students for industry standards—it's completely geared towards making you workforce ready."
Finlayson now works for the Saskatchewan Ministry of Agriculture and uses her GIS skills and surveying experience in the Livestock Branch. "Sask Polytech was the whole package," she says. "I'm really happy that I chose this institution. GIS is a great program and I'd recommend it to anyone."
Holoboff agrees, citing the learning environment at Sask Polytech and genuinely caring instructors as reasons she's glad she took on the one-year certificate program. "There are plenty of opportunities for grants and scholarships, too" she says. Her advice to students considering the program is simple: "Go for it. It's a one-year program that exposes you to so many different aspects and uses of GIS. You won't regret it."
Sutter says he has a handful of classes left to complete his university degree and plans to finish it eventually. In the meantime, he's focusing on his internship and is pleased that Sask Polytech faculty helped him land the paid applied research opportunity. "It's been a really great experience."
For more information about Geographic Information Science (GIS) certificate program, visit Geographic Information Science - Certificate (saskpolytech.ca).
Join the Sask Polytech alumni community! Register as an alumni today.
Published April 2022.