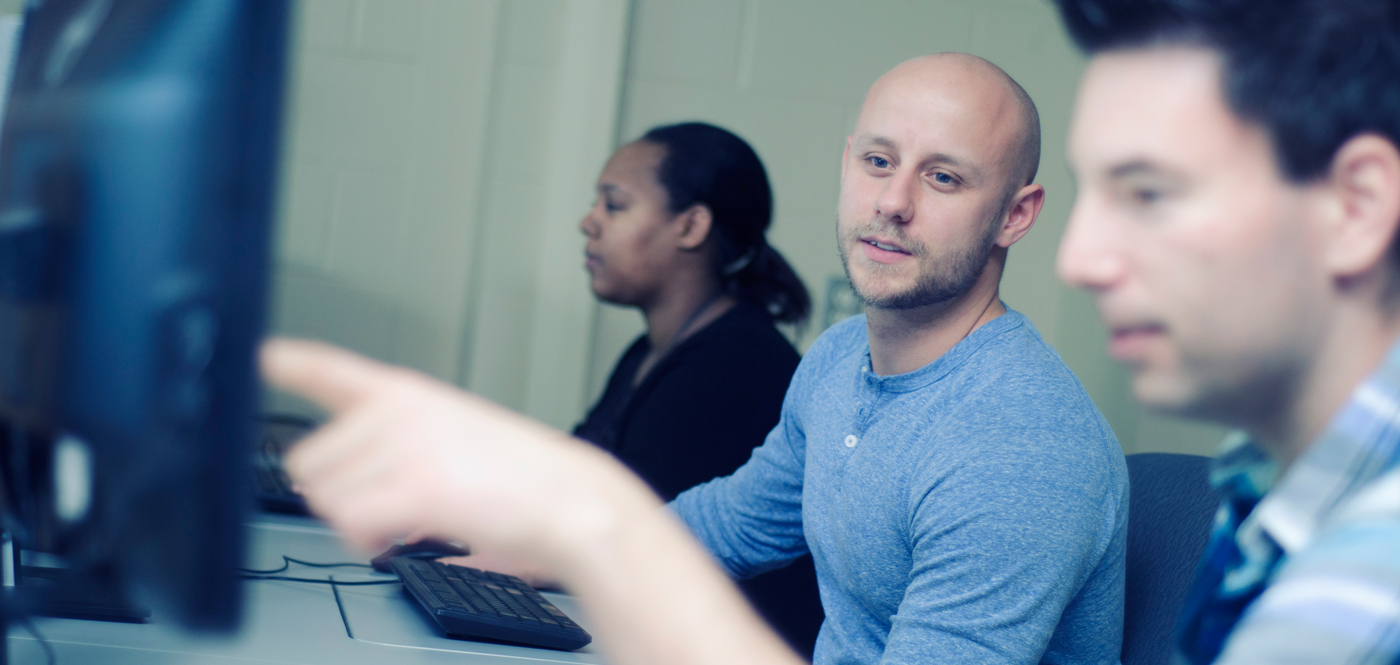 ­Websites play a crucial role for many organizations from public agencies to private companies. They provide a platform for communication, engagement, marketing, and revenue generation, enabling organizations to effectively connect with their target audience and achieve their objectives.
Start date
September (accelerated); Varies (part-time):
Locations(s)
Online/Distance options available
Length and location notes
Some programs offered online or otherwise by distance (i.e., correspondence) include on-site labs, clinicals, practicums or work experiences. They may be offered course-by-course or full-time, or both, and deliveries may change over time.
Front-end web development involves the creation and implementation of visual and interactive components of a website. It uses HTML, CSS, and JavaScript to build user interfaces and guide the user experiences. The goal of front-end development is to produce a digital product that is visually consistent, responsive, and easy to navigate on various devices and browsers.. The Front-end Web Development applied certificate program consists of 12-courses taken entirely online. Learn the skills you need to:
Create interactive websites using HTML, CSS, and JavaScript
Use popular third-party libraries and frameworks
Apply graphic design and UI/UX principles
Build seamless and intuitive user experiences
Apply responsive web design principles and techniques
Program curriculum is regularly updated to keep pace with new capabilities and evolving industry standards. This ensures your training is relevant and in demand.
Project-Based Learning
The applied certificate uses a hands-on approach to learning. Through class assignments, and projects, you'll learn how to design, develop, and manage a website from the ground up.
Online Advantage
Offering the entire 12-course program online lets you complete the applied certificate without needing to visit a campus. Courses use a proven combination of internet-based resources, videos, text-based chat sessions and more. Each course is led by an instructor, who provides guidance, answers questions, and offers feedback.
Career and salary information
Your career
Front-end Web Development graduates work in a wide variety of web-related jobs. Typical job titles include front-end web developer, UI/UX designer, interactive developer, web designer, and web developer.
Potential employers include computer software firms, information technology (IT) firms, marketing agencies, and graphic design firms. Carve out a career as a freelance consultant or get a job in the IT department of a private corporation or an education, health, government, or municipal agency.
For more information about career opportunities, contact Student Employment Services at a campus nearest you.
Potential careers
Part-time delivery
This program has one or more courses that you can register for immediately.

To register for individual courses, please view the part-time offerings available in the Courses section below.
Admissions
Admission requirements
Note
A basic understanding of computer terminology and operations is necessary for successful program completion. Contact the program at 306-765-1647 for more information.
Alternative admission
Applicants who do not possess the academic qualifications for a program may be admitted if evidence of probable success can be established through an alternative admission assessment. Applicants are automatically considered for alternative admission. However, some specific admission requirements may still need to be met.
ACCUPLACER©
Refer to the ACCUPLACER© cut scores for this program below, and review additional details concerning Alternative Admission using Accuplacer.
250 Reading
245 Writing
4 Writeplacer
Post-secondary
Some programs allow applicants to meet the admission grade level requirement using 15 approved post-secondary credits. Review additional information.
If the program applied to has specific course requirements, they may be met through alternative post-secondary courses. Review already approved courses that may be used for admission purposes for your programs.
Admission method
First Qualified/First Admitted
The First Qualified/First Admitted (FQFA) process is used for the majority of Saskatchewan Polytechnic programs. When we determine that you meet the program's admission requirements, you will be offered admission based on the date you fully qualify for the program. The earlier you provide the appropriate documents and information that qualify you for admission to the next intake, the earlier you might begin your studies. Your application, once qualified, is always considered for the next intake.

Applicants to programs with multiple intakes in an academic year remain in the application pool until the last intake for that academic year has begun. Programs using the FQFA process receive applications year round and maintain an application pool for each academic year. Qualified applicants who are not offered a seat must reapply for the next academic year.

Sponsored programs or programs targeted to specific groups do not accept applications year round or maintain an application pool.
See Admission Processes for more information about this method of admission.
Tuition and fees
Estimates are based on current rates and are subject to change. Amounts for a program may vary by campus. Totals shown here include all mandatory fees as well as approximate cost for books and supplies. Visit the Tuition and Fees web page for a complete breakdown of tuition and fees for this program.

2023-24 academic year

$10,250
Courses
Semester information only pertains to full-time/on-campus students, and part-time/online students should view course prerequisites when scheduling courses.
Get credit for what you know
Prior Learning Assessment and Recognition
Saskatchewan Polytechnic recognizes that adults learn in many different ways. This includes acquiring knowledge and skills through life and work experience or non-formal training.
See link(s) below to get more information about PLAR.
Transfer credit
Many Sask Polytech students benefit from transferring course credit. You may be eligible to transfer credit to Sask Polytech or to another college or university.
Transfer credit options vary over time; this information is subject to change. Transfer credit options for this program include:
All of the courses are fully credited to our Interactive Design and Technology program offered at Regina campus and Saskatoon campus.
Related programs
Interactive Design and Technology
Additional information
The accelerated program is delivered over 21 weeks. Students must complete a minimum of 20 course hours per week. Depending on the individual and the content being covered, students can expect to spend anywhere from 20-35 hours per week on their studies. Students with other obligations such as employment, family, etc. should consider enrolling in part-time offerings as the courses are stretched over an extended period of time.