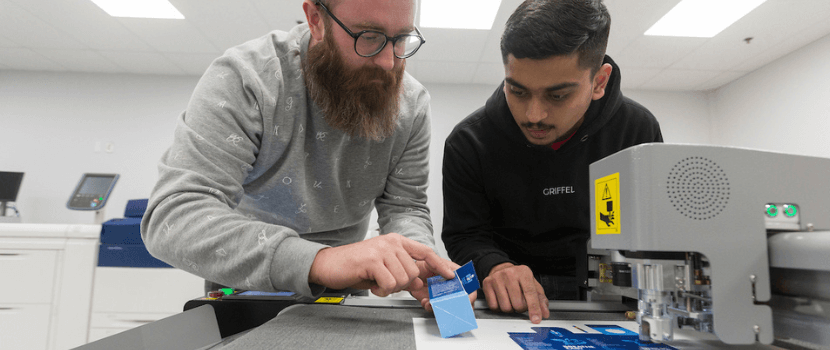 Design is vital to effectively communicate ideas, information, products and services in the world around us. Our comprehensive, dynamic and immersive program will equip you with the skills, knowledge and experience needed to excel in the design industry.
Length and location notes
Year 1 - 32 weeks; Year 2 - 36 weeks
Are you creative, tech savvy and idea driven? Are you passionate about design and problem solving? Do you have an eye for detail? If so, Saskatchewan Polytechnic's Graphic Communications diploma program at Regina campus will challenge you both creatively and technically.
Over the course of two years, you will build a solid foundation in:
industry-standard design software
design principles and aesthetic awareness
composition, typography and colour theory
design thinking and creative problem solving
photography and image editing
vector graphic editing and creation
motion graphics
packaging and editorial design
visual identity development
user interface and user experience design
web development
marketing and social media
self-promotion and portfolio development
project management and client communication
colour management and file preparation
output for traditional, digital and wide-format printing
screen printing and vinyl application
These skills will sharpen your creative abilities and enable you to generate effective design solutions. Success in the design industry requires more than just technical skills. The most successful designers are highly adaptable and proficient in communication. Through work-integrated learning, you will have the opportunity to develop and apply a combination of technical expertise and essential interpersonal skills.
Our instructors are industry professionals who bring their expertise into the classroom. They will guide you through the design thinking process, sharing valuable insights and practical techniques that will enable you to conduct user research, gather insights, and make informed design decisions. You will learn that a user-centred approach is essential to creating impactful and solution-driven designs.
If you are ready to embark on a creative journey that combines design thinking, comprehensive graphic design training and real-world experience, the Graphic Communications program is the perfect choice for you.
Hands-on learning
At Sask Polytech, we believe that the best way to learn is by doing. Our hands-on approach to teaching provides you with the opportunity to work with the latest software, tools and equipment. Assignments may require a considerable amount of time outside of regular class hours.
Industry ready
Upon graduation, you will have experience managing and creating a variety of projects, from concept to completion, that are designed specifically to build skills that employers value. You will also develop a professional portfolio and complete a four-week work experience in the graphic communications industry.
Diploma to degree
Leverage your diploma into the
Bachelor of Applied Management
degree at Sask Polytech with only two years of additional study. Remote classes and part-time options are available.
Career and salary information
Your career
The graphic communications industry consists of creative teams and individuals using their attention for detail, problem-solving and technical skills to develop visually appealing marketing solutions for their clients. Graduates often work as part of a team, and must be able to handle the pressures of the competitive world of advertising, graphic design and marketing.
Graduates are found working in a variety of industry sectors such as advertising agencies, start-up companies, corporate communications and marketing departments, magazine and book publishers, signage and display companies, commercial and quick-print shops. Look for employment in project management, branding, graphic design, packaging design, digital illustration, image editing, signage, digital press operation, and screen-printing.
For more information, contact the Student Employment Services at a campus nearest you.
Potential careers
Admissions
Admission requirements
Alternative admission
Applicants who do not possess the academic qualifications for a program may be admitted if evidence of probable success can be established through an alternative admission assessment. Applicants are automatically considered for alternative admission. However, some specific admission requirements may still need to be met.
ACCUPLACER©
Refer to the ACCUPLACER© cut scores for this program below, and review additional details concerning Alternative Admission using Accuplacer.
250 Arithmetic
250 Reading
245 Writing
Post-secondary
Some programs allow applicants to meet the admission grade level requirement using 15 approved post-secondary credits. Review additional information.
If the program applied to has specific course requirements, they may be met through alternative post-secondary courses. Review already approved courses that may be used for admission purposes for your programs.
Admission method
First Qualified/First Admitted
The First Qualified/First Admitted (FQFA) process is used for the majority of Saskatchewan Polytechnic programs. When we determine that you meet the program's admission requirements, you will be offered admission based on the date you fully qualify for the program. The earlier you provide the appropriate documents and information that qualify you for admission to the next intake, the earlier you might begin your studies. Your application, once qualified, is always considered for the next intake.

Applicants to programs with multiple intakes in an academic year remain in the application pool until the last intake for that academic year has begun. Programs using the FQFA process receive applications year round and maintain an application pool for each academic year. Qualified applicants who are not offered a seat must reapply for the next academic year.

Sponsored programs or programs targeted to specific groups do not accept applications year round or maintain an application pool.
See Admission Processes for more information about this method of admission.
Tuition and fees
Estimates are based on current rates and are subject to change. Amounts for a program may vary by campus. Totals shown here include all mandatory fees as well as approximate cost for books and supplies. Visit the Tuition and Fees web page for a complete breakdown of tuition and fees for this program.

2023-24 academic year

Year 1 - $10,710
Year 2 - $6,870

Bring your own device

Owning a laptop provides students with the flexibility to learn in and outside the classroom while setting students up for industry. Students are required to bring their own laptop. The laptop must meet or exceed the minimum requirements as specified by industry-standard software used in the classroom. Upon acceptance to the program, laptop specifications and other requirements will be provided.

The cost of a laptop is included in the year one tuition and fees estimate.
International students
View tuition rates for international students.
Courses
Semester information only pertains to full-time/on-campus students, and part-time/online students should view course prerequisites when scheduling courses.
Get credit for what you know
Prior Learning Assessment and Recognition
Saskatchewan Polytechnic recognizes that adults learn in many different ways. This includes acquiring knowledge and skills through life and work experience or non-formal training.
See link(s) below to get more information about PLAR.
Transfer credit
Many Sask Polytech students benefit from transferring course credit. You may be eligible to transfer credit to Sask Polytech or to another college or university.
Student awards
Thanks to the generosity of donors and alumni, Saskatchewan Polytechnic gives away more than $2 million in student awards during the academic year.
Saskatchewan Polytechnic offers student awards for every certificate and diploma program at every campus. Not all student awards are based on marks - some are based on financial need or things like community or volunteer involvement.
Related programs
Additional information