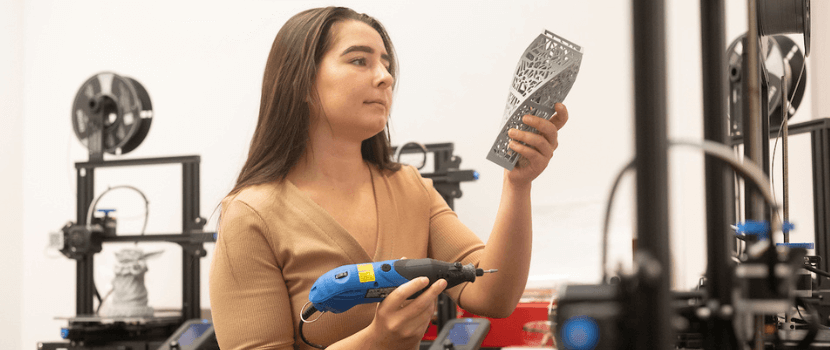 Are you ready to dive into a world where creativity meets technology and imagination drives innovation? Saskatchewan Polytechnic's Interactive Design and Technology Diploma is the perfect program for those who aspire to create meaningful and engaging digital experiences.
Locations(s)
Regina, Saskatoon
Length and location notes
Staggered intakes as of the 2024 academic year
Regina: intakes 2023 and odd years following (2025, 2027, etc.)
Saskatoon: intakes 2023 and even years following (2024, 2026, etc.)
This two-year program, available at either our Saskatoon or Regina campus, combines art with technology, providing you with the essential skills to excel in the constantly evolving digital landscape. You will benefit from a balanced blend of hands-on learning and theoretical knowledge, developing a solid foundation in:
User experience (UX) and user interface (UI) design
Content creation and interactive storytelling
Web design and front-end web development
Virtual reality (VR) and augmented reality (AR)
Audio and video production
Digital marketing and social media strategies
Project management and collaboration
Design and visual communication
2D and 3D animation techniques
Our curriculum stays current with industry trends, incorporating the latest technologies and best practices to ensure you are well-prepared for a successful career. You will work on a variety of projects designed to prepare you for real-world challenges and hone your skills, enabling you to build captivating digital experiences, create immersive virtual worlds, and develop innovative website and applications.
You learn by doing
At Saskatchewan Polytechnic, we believe that the best way to learn is by doing. Our hands-on approach to teaching provides you with the opportunity to work with the latest software, tools, and equipment, allowing you to develop a comprehensive portfolio that highlights your abilities and sets you apart.
Ready to work
Upon graduation, you will be prepared to work in a variety of roles within the interactive design and technology industry, such as web designer, front-end web developer, UX/UI designer, multimedia specialist, content creator, digital marketing professional, and more. With the skills and experience gained from our program, you will be well-positioned to thrive in this rapidly changing job market.
Diploma to degree
Leverage your diploma into the
Bachelor of Applied Management
degree at Sask Polytech with only two years of additional study. Remote classes and part-time options are available.
Career and salary information
Your career
Upon graduation from the Interactive Design and Technology program, you will be equipped with the skills and knowledge to pursue a variety of exciting career paths. You may find opportunities at website design firms, software studios, marketing or advertising agencies, production companies, and other industry sectors. You could work as a front-end web developer, web designer, UX/UI designer, multimedia specialist, digital marketing professional, and more. Your skills will open doors to a rewarding career in the dynamic field of interactive design and technology.
Potential careers
Part-time delivery
This program has one or more courses that you can register for immediately.

To register for individual courses, please view the part-time offerings available in the Courses section below.
Admissions
Admission requirements
Note:
To be successful in the program, you will require basic computer literacy
Alternative admission
Applicants who do not possess the academic qualifications for a program may be admitted if evidence of probable success can be established through an alternative admission assessment. Applicants are automatically considered for alternative admission. However, some specific admission requirements may still need to be met.
ACCUPLACER©
Refer to the ACCUPLACER© cut scores for this program below, and review additional details concerning Alternative Admission using Accuplacer.
250 Reading
245 Writing
4 Writeplacer
Post-secondary
Some programs allow applicants to meet the admission grade level requirement using 15 approved post-secondary credits. Review additional information.
If the program applied to has specific course requirements, they may be met through alternative post-secondary courses. Review already approved courses that may be used for admission purposes for your programs.
Admission method
First Qualified/First Admitted
The First Qualified/First Admitted (FQFA) process is used for the majority of Saskatchewan Polytechnic programs. When we determine that you meet the program's admission requirements, you will be offered admission based on the date you fully qualify for the program. The earlier you provide the appropriate documents and information that qualify you for admission to the next intake, the earlier you might begin your studies. Your application, once qualified, is always considered for the next intake.

Applicants to programs with multiple intakes in an academic year remain in the application pool until the last intake for that academic year has begun. Programs using the FQFA process receive applications year round and maintain an application pool for each academic year. Qualified applicants who are not offered a seat must reapply for the next academic year.

Sponsored programs or programs targeted to specific groups do not accept applications year round or maintain an application pool.
See Admission Processes for more information about this method of admission.
Tuition and fees
Estimates are based on current rates and are subject to change. Amounts for a program may vary by campus. Totals shown here include all mandatory fees as well as approximate cost for books and supplies. Visit the Tuition and Fees web page for a complete breakdown of tuition and fees for this program.

2023-24 academic year

$9,660

Bring your own device

Owning a laptop provides students with the flexibility to learn in and outside the classroom while setting students up for industry. Students are required to bring their own laptop. The laptop must meet or surpass the minimum requirements as specified by software utilized in the classroom. Upon acceptance to the program, detailed specifications and requirements for the laptop will be provided.

The cost of a laptop is included in the year one tuition and fees estimate.
International students
View tuition rates for international students.
Courses
Semester information only pertains to full-time/on-campus students, and part-time/online students should view course prerequisites when scheduling courses.
Get credit for what you know
Prior Learning Assessment and Recognition
Saskatchewan Polytechnic recognizes that adults learn in many different ways. This includes acquiring knowledge and skills through life and work experience or non-formal training.
See link(s) below to get more information about PLAR.
Transfer credit
Many Sask Polytech students benefit from transferring course credit. You may be eligible to transfer credit to Sask Polytech or to another college or university.
Student awards
Thanks to the generosity of donors and alumni, Saskatchewan Polytechnic gives away more than $2 million in student awards during the academic year.
Saskatchewan Polytechnic offers student awards for every certificate and diploma program at every campus. Not all student awards are based on marks - some are based on financial need or things like community or volunteer involvement.
Additional information