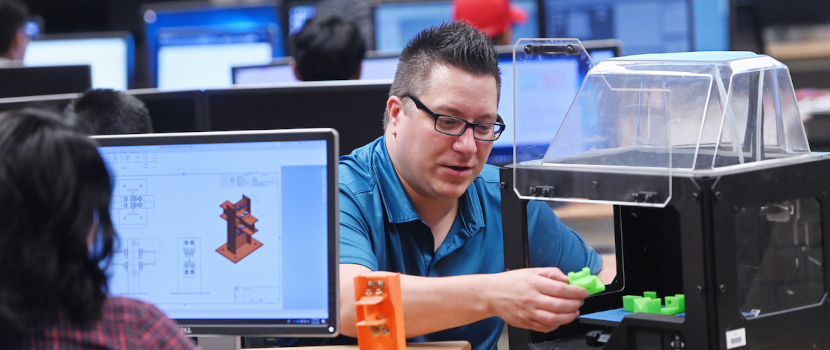 Engineering design and drafting technologists participate in multi-discipline engineering projects and are at the fore of building information modeling (BIM) and the integration of digital transformation technology into project management. As technologists in this dynamic role, we use industry-standard software to collaborate, design, model, draft, coordinate and document projects in many disciplines, such as construction, mining and manufacturing.
Length and location notes
There are five academic semesters and three mandatory four-month paid Co-operative Education work terms.
The Engineering Design & Drafting Technology program is a three-year diploma offered full time at Saskatchewan Polytechnic, Moose Jaw Campus. You'll take five academic semesters and three Co-operative Education work terms. You'll be trained in:
Drafting fundamentals

2D drafting
3D modelling
drafting standards and best practices

Project management

Building information modeling (BIM)
Digital transformation
Digital twins
3D scanning and point cloud data manipulation

Industrial/Commercial structural and mechanical

Structural steel detailing
Fabrication and installation drawings
Mechanical electrical and plumbing (MEP)
Architecture engineering construction (AEC)
Heating, ventilation, and air conditioning (HVAC)

Manufacturing and fabrication

3D parametric modelling
Geometric dimensioning and tolerancing (GD&T)
Weldments and weld symbols
Rapid prototyping

Municipal
Engineering design
Practical experience includes using current industry standard CAD software to design and produce engineering projects in 2D and 3D environments. You'll complete a major project using Building Information Modeling (BIM) Technology by integrating civil, mechanical piping systems and structural design, applying the concepts of project management and carrying out an applied capstone research project.
The co-op work term advantage
Co-operative work terms are paid, so you'll earn while you learn. Saskatchewan Polytechnic arranges your interviews; it's up to you to shine. It's also a chance to develop important "soft skills" in job interviewing, professional attitude, interpersonal communication and more.

Many of our co-op employers require both a valid Saskatchewan Driver's License and a clean Driver's Abstract. For international students, it can take up to 12 months to obtain a Driver's license; therefore, it is to your advantage to come with a Driver's License from your home country if possible. Some opportunities require a Criminal Record Check and/or drug and alcohol testing.
Diploma to degree
Use your diploma to ladder into a
construction management degree
or Bachelor of Applied Management
degree
at Sask Polytech, Bachelor of Engineering Technology Manufacturing or Bachelor of Engineering Technology Petroleum at Cape Breton University, Bachelor of Technology at Memorial University or a BTech (mining) degree at Queen's University.
Learning environment
24 students are accepted each year
Students will experience computer based assignments and project work, lectures, and co-operative work terms
Class hours are 8:30am – 4:30pm Monday to Friday
Students are expected to complete an average of 20 hours of homework per week, outside of class time, time management is important
Career and salary information
Your career
Saskatchewan Polytechnic graduates are sought after as computer-aided draftspersons. Potential employers include engineering firms, construction companies, land surveyors, mining, manufacturing and fabrication companies, utilities and all levels of government. Your work could involve electrical, mechanical and structural design of buildings and other structures, land development or infrastructure projects such as sewer and water facilities.
Potential careers
Admissions
Admission requirements
Grade 12 with Pre-Calculus 30*
Note
Physics 30 is recommended. Physics is not admission requirements; however, it would be extremely helpful to student success in the program.
*Previous Saskatchewan mathematics requirement also accepted:

Alternative admission
Applicants who do not possess the academic qualifications for a program may be admitted if evidence of probable success can be established through an alternative admission assessment. Applicants are automatically considered for alternative admission. However, some specific admission requirements may still need to be met.
ACCUPLACER©
Refer to the ACCUPLACER© cut scores for this program below, and review additional details concerning Alternative Admission using Accuplacer.
250 Arithmetic
240 Advanced Algebra and Functions
256 Quantitative Reasoning, Algebra, and Statistics
250 Reading
245 Writing
Post-secondary
Some programs allow applicants to meet the admission grade level requirement using 15 approved post-secondary credits. Review additional information.
If the program applied to has specific course requirements, they may be met through alternative post-secondary courses. Review already approved courses that may be used for admission purposes for your programs.
Admission method
First Qualified/First Admitted
The First Qualified/First Admitted (FQFA) process is used for the majority of Saskatchewan Polytechnic programs. When we determine that you meet the program's admission requirements, you will be offered admission based on the date you fully qualify for the program. The earlier you provide the appropriate documents and information that qualify you for admission to the next intake, the earlier you might begin your studies. Your application, once qualified, is always considered for the next intake.

Applicants to programs with multiple intakes in an academic year remain in the application pool until the last intake for that academic year has begun. Programs using the FQFA process receive applications year round and maintain an application pool for each academic year. Qualified applicants who are not offered a seat must reapply for the next academic year.

Sponsored programs or programs targeted to specific groups do not accept applications year round or maintain an application pool.
See Admission Processes for more information about this method of admission.
Tuition and fees
Estimates are based on current rates and are subject to change. Amounts for a program may vary by campus. Totals shown here include all mandatory fees as well as approximate cost for books and supplies. Visit the Tuition and Fees web page for a complete breakdown of tuition and fees for this program.

2023-24 academic year

Year 1 - $9,180
Year 2 - $9,790
Year 3 - $3,020
International students
View tuition rates for international students.
Courses
The program follows this academic and co-operative education schedule. Courses are outlined below by semester.
| | September - December | January - April | May - August |
| --- | --- | --- | --- |
| Year 1 | Semester 1 | Semester 2 | Work term 1 |
| Year 2 | Semester 3 | Work term 2 | Work term 3 |
| Year 3 | Semester 4 | Semester 5 | |
Semester information only pertains to full-time/on-campus students, and part-time/online students should view course prerequisites when scheduling courses.
Get credit for what you know
Prior Learning Assessment and Recognition
Saskatchewan Polytechnic recognizes that adults learn in many different ways. This includes acquiring knowledge and skills through life and work experience or non-formal training.
See link(s) below to get more information about PLAR.
All students can apply to write a challenge exam to receive credit for MAT 101. For more information, please contact the Department Head of Arts & Sciences.
Transfer credit
Many Sask Polytech students benefit from transferring course credit. You may be eligible to transfer credit to Sask Polytech or to another college or university.
Transfer credit options vary over time; this information is subject to change. Transfer credit options for this program include:
| Institution | Agreement details |
| --- | --- |
| Cape Breton University | Graduates of the Engineering Design and Drafting Technology Diploma may be eligible for 30 cu in the Bachelor of Engineering Technology Manufacturing degree program, or 36 cu in the Bachelor of Engineering Technology Petroleum degree programs |
| Memorial University | Graduates of this program may be eligible for block transfer into Bachelor of Technology Degree with 39 credit hours (13 courses) to be completed, including a technical project and report |
| Queen's University | Graduates of this program with a minimum Cumulative GPA of 3.0 (75%) may qualify for admission to Queen's University's BTech (Mining) Degree Program. Block transfer of 72 units less the required Customized Bridge Course units will be granted upon admission. Students must pass each prescribed bridge course with a minimum C- in order to progress to Year 3 of the BTech (Mining) Program. |
Student awards
Thanks to the generosity of donors and alumni, Saskatchewan Polytechnic gives away more than $2 million in student awards during the academic year.
Saskatchewan Polytechnic offers student awards for every certificate and diploma program at every campus. Not all student awards are based on marks - some are based on financial need or things like community or volunteer involvement.
Accreditation
Technology Accreditation Canada (TAC) accredits the program at the Technologist level.

TAC is a bold, world class accreditation organization, delivering accreditation services for the engineering technology and applied science profession in Canada.

Professional Registration

Technology Professionals Saskatchewan

Technology Professionals Saskatchewan is the provincial regulatory body for graduates of this Saskatchewan Polytechnic program. As a graduate of an accredited program recognized by Technology Professionals Saskatchewan, your academic training places you on an expedited path towards obtaining professional registration as an Applied Science Technologist (A.Sc.T.) or Certified Technician (C.Tech.). For more information, visit tpsk.ca
Related programs
Civil Engineering Technologies
Design and Manufacturing Engineering Technology
Environmental Engineering Technology
Additional information
Program Head
Kaya Forest
kaya.forest@saskpolytech.ca
306-691-8423