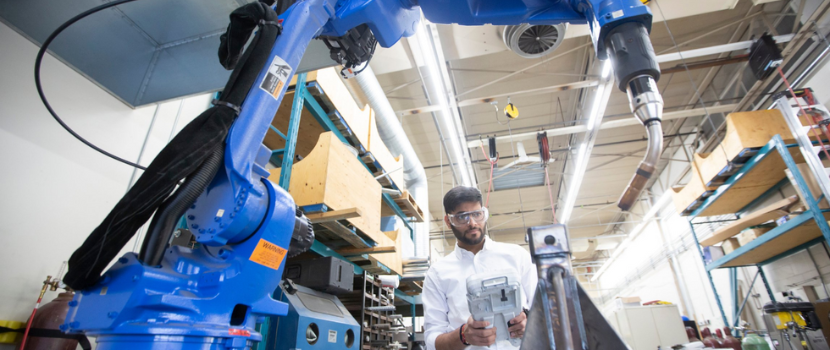 Imagine you could take an idea for a new smart product and bring it to life. Take a conceptual design, optimize it, do mechanical engineering analysis and create a prototype that may include user configurable options, intelligent control and sensors. As you design and prototype, you also plan how it will be manufactured with the latest automation and robotic equipment.
Length
80 weeks (Year 1 - 40 weeks; Year 2 - 40 weeks)
The Design and Manufacturing Engineering Technology program (formerly CAD/CAM Engineering Technology) has mechanical engineering subjects and mechanical design at its core, with specialty areas such as:
Advanced manufacturing (CNC machines, robots, industrial 3D printing)
Mechatronics (Electronics, microcontrollers - Arduino/Raspberry Pi, programming)
Computer systems and networking (Computer hardware, Wi-Fi, networking)
CAD and engineering software (2D/3D CAD, CNC simulation, finite element analysis)
All these capabilities combine to enable smart product and systems design.
Work Integrated Learning methodology uses projects in many of the courses. Students have the opportunity to design and build products to reinforce the theory, rather than just theory and assignments.

Students also have an opportunity to participate in extracurricular activities including our Eco-car project, which is a student designed and built super mileage concept car. The car has placed as high as second in the world at the Shell Eco-marathon Drivers World Championship. There may also be opportunities for students to attend a short two-week international exchange to visit and learn in another country.
The Design and Manufacturing Engineering Technology program is a two-year diploma offered at Saskatchewan Polytechnic, Saskatoon Campus, Idylwyld Dr.
Saskatchewan Polytechnic's experienced instructors and leading-edge lab equipment provide an exceptional hands-on learning experience. The program enables your creativity and gives you the engineering and manufacturing tools and expertise that you need to bring ideas to life.
Career and salary information
Your career
Design and manufacturing engineering technologists are practical thinkers with a flair for creative problem solving. They have a unique ability to visualize how things work and give ideas practical form and function. Career opportunities range from design and drafting, to production quality control, to CNC equipment programming and operation. Or you could work in product design, prototype development, mechatronics, 3D solid modelling, or advanced stress analysis.
Potential careers
Admissions
Admission requirements
Grade 12 with a minimum of 65% in Pre-Calculus 30* and a minimum of 70% in Physics 30
*Previous Saskatchewan mathematics requirement also accepted:

Minimum of 60% in Math B30 and C30
Effective beginning Fall 2021: Minimum of 65% in Math B30 and C30
Alternative admission
Applicants who do not possess the academic qualifications for a program may be admitted if evidence of probable success can be established through an alternative admission assessment. Applicants are automatically considered for alternative admission. However, some specific admission requirements may still need to be met.
ACCUPLACER©
Refer to the ACCUPLACER© cut scores for this program below, and review additional details concerning Alternative Admission using Accuplacer.
250 Arithmetic
240 Advanced Algebra and Functions
256 Quantitative Reasoning, Algebra, and Statistics
250 Reading
245 Writing
Post-secondary
Some programs allow applicants to meet the admission grade level requirement using 15 approved post-secondary credits. Review additional information.
If the program applied to has specific course requirements, they may be met through alternative post-secondary courses. Review already approved courses that may be used for admission purposes for your programs.
Admission method
First Qualified/First Admitted
The First Qualified/First Admitted (FQFA) process is used for the majority of Saskatchewan Polytechnic programs. When we determine that you meet the program's admission requirements, you will be offered admission based on the date you fully qualify for the program. The earlier you provide the appropriate documents and information that qualify you for admission to the next intake, the earlier you might begin your studies. Your application, once qualified, is always considered for the next intake.

Applicants to programs with multiple intakes in an academic year remain in the application pool until the last intake for that academic year has begun. Programs using the FQFA process receive applications year round and maintain an application pool for each academic year. Qualified applicants who are not offered a seat must reapply for the next academic year.

Sponsored programs or programs targeted to specific groups do not accept applications year round or maintain an application pool.
See Admission Processes for more information about this method of admission.
Tuition and fees
Estimates are based on current rates and are subject to change. Amounts for a program may vary by campus. Totals shown here include all mandatory fees as well as approximate cost for books and supplies. Visit the Tuition and Fees web page for a complete breakdown of tuition and fees for this program.

2023-24 academic year

Year 1 - $9,390
Year 2 - $9,420
International students
View tuition rates for international students.
Courses
Semester information only pertains to full-time/on-campus students, and part-time/online students should view course prerequisites when scheduling courses.
Get credit for what you know
Prior Learning Assessment and Recognition
Saskatchewan Polytechnic recognizes that adults learn in many different ways. This includes acquiring knowledge and skills through life and work experience or non-formal training.
See link(s) below to get more information about PLAR.
Transfer credit
Many Sask Polytech students benefit from transferring course credit. You may be eligible to transfer credit to Sask Polytech or to another college or university.
Institution
Agreement details
Cape Breton University
Graduates of the CAD/CAM Engineering Technology Diplomas may be eligible for 30 cu in the Bachelor of Engineering Technology Manufacturing degree program
Lakehead University
Graduates of this program may obtain advanced standing toward a degree in engineering.

Learn more about the agreement at Lakehead University.
Memorial University
Graduates of this program may be eligible for block transfer into Bachelor of Technology Degree with 39 credit hours (13 courses) to be completed, including a technical project and report
Queen's University
Graduates of this program with a minimum Cumulative GPA of 3.0 (75%) may qualify for admission to Queen's University's BTech (Mining) Degree Program. Block transfer of 72 units less the required Customized Bridge Course units will be granted upon admission. Students must pass each prescribed bridge course with a minimum C- in order to progress to Year 3 of the BTech (Mining) Program.
Student awards
Thanks to the generosity of donors and alumni, Saskatchewan Polytechnic gives away more than $2 million in student awards during the academic year.
Saskatchewan Polytechnic offers student awards for every certificate and diploma program at every campus. Not all student awards are based on marks - some are based on financial need or things like community or volunteer involvement.
Accreditation
Technology Accreditation Canada (TAC)

Technology Accreditation Canada (TAC) accredits the program at the Technologist level.

TAC is a bold, world class accreditation organization, delivering accreditation services for the engineering technology and applied science profession in Canada.

Professional registration

Technology Professionals Saskatchewan

Technology Professionals Saskatchewan is the provincial regulatory body for graduates of this Saskatchewan Polytechnic program. As a graduate of an accredited program recognized by Technology Professionals Saskatchewan, your academic training places you on an expedited path towards obtaining professional registration as an Applied Science Technologist (A.Sc.T.) or Certified Technician (C.Tech.). For more information, visit tpsk.ca
Related programs
Engineering Design and Drafting Technology
Mechanical Engineering Technology
Additional information