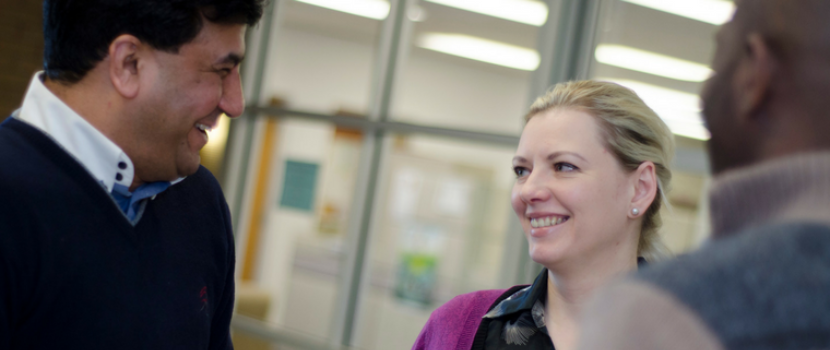 Career Enhancement is an 18-week employment training program for unemployed Saskatchewan residents who want to build their employability skills and confidence to overcome challenges in attaining and maintaining employment.
Sponsorship for program costs including fees, materials, and select employment supports is available for participants. You will learn job search techniques, boost your employability skills, build fundamental computer skills and participate in an individualized professional pathway.
Upcoming intakes
The anticipated session dates for 2023-24 are:
December 4, 2023 – April 12, 2024 (Regina campus)*
March 4 – July 5, 2024 (Regina campus)*
*Individuals out of Regina may have the option to attend virtually (based on demand and available seats).
Due to the demand for seats in the upcoming intake, ensure that you have been actively participating in job search. If English is your second language, please work on it to ensure you can demonstrate the recommended level and consider other obstacles that may prevent you from participating full-time.
Program information
Overview
Career Enhancement, an enhanced career bridging program, is currently offered and supported in partnership with the Saskatchewan Ministry of Immigration and Career Training.
This 18-week program consists of 10 weeks of classroom-based training followed by eight weeks of individualized professional pathways, which may include a volunteer placement. Professional pathways focuses on developing your individual action plan along with dedicated job search. During your skills building program, you will:
Participate in computer training that develops fundamental digital and keyboarding skills;

Self reflection including assessing your skills, values and personal style while identifying your personal employment challenges, gaps and barriers;

Set meaningful and realistic career goals;

Refresh the essential skills most relevant to your career goals;

Enhance the necessary skills for success to secure and maintain employment;

Develop the tools, such as resumes, cover letters, interview skills, you need to conduct a successful job search;

Research the occupations, employers, and jobs that most interest you in the current labour market along with identifying current and future prospective opportunities;

Professional feedback and guidance in your job search

Add a variety of professional development achievements to your portfolio of skills; and,

Use your newly refined skills to connect with the labour market with dedicated job search support and creation of an individualized action plan gaining a greater understanding of career options.
You'll receive:
Sponsored fees and access to online training

.
Support to overcome challenges and obstacles in attaining and maintaining employment.
Individualized coaching.
Not included:
Bus passes or parking fees
Living expenses
This program is eligible for the
Education and Training Incentive (ETI)
; however, you must be eligible for
Saskatchewan Income Support (SIS)
in order to be eligible for ETI.
Career Enhancement graduates may be found in a broad range of occupations and roles, from entry level to professional. The career you target will depend on your qualifications, skills, interests, and the opportunities currently available in your labour market.
Learn more about some of our recent
Career Enhancement graduates
.
Admission requirements
To be considered you must:
Be unemployed or working less than full-time;
Have completed an active job search, and face barriers to obtaining or maintaining employment;
Be at least 16 years of age;
Be legally entitled to work in Canada;
Be a Saskatchewan resident; and,
If English is your additional language, the general measure is Canadian Language Benchmark (CLB) 8 is preferred; however, you will be considered with at least a CLB 6.
Application process
If you are receiving Employment Insurance (EI) or are working with a Worker's Compensation Board (WCB) vocational counsellor, please discuss this program with them.
Career Enhancement intake

Register for and attend an information session.
If you require additional information before registering for an information session, please contact us.

Submit requested forms

A resume, if developed
English language proficiency requirements, if applicable

Intake interview

If you want to proceed with the application process after attending an information session, we will contact you to arrange an intake interview. Interested candidates will be required to complete a pre-program assessment prior to entry.
Information sessions
Seats are limited. You must attend an information session and assessment before being considered.
The in-person information sessions are intended for participants located in Regina and surrounding area:
Wednesday, January 24, 2024, at 1 p.m.

Tuesday, January 30, 2024 at, 10:30 a.m.

Wednesday, February 7, 2024, at 12 p.m.

Tuesday, February 13, 2024, at 9:30 a.m.
Please register by emailing career.enhancement@saskpolytech.ca. After registering, you will receive a confirmation email containing information about location and parking.
Contact us
Please call 306-775-7467 or email career.enhancement@saskpolytech.ca.