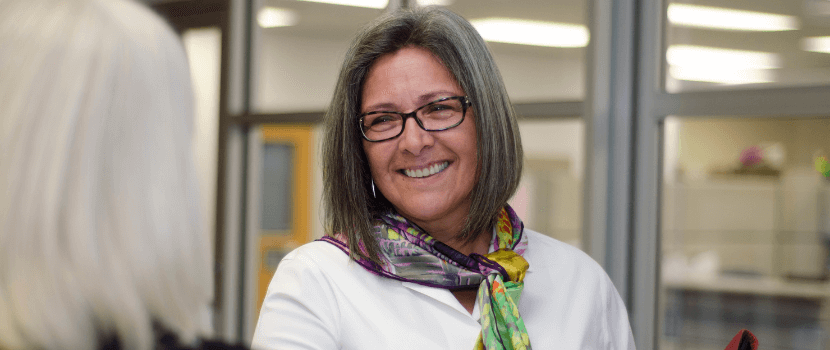 Experience Counts is a 16-week program for unemployed Saskatchewan residents who want to gain the skills, contacts and confidence needed to make a successful transition back to work. Priority will be given to individuals over the age of 55, however, individuals over the age of 50 may be considered if seats are available.
Sponsorship is available to cover fees and materials for eight weeks of classroom-based training where you will learn job search techniques, employability skills training and build fundamental computer skills. Following the classroom training, you will participate in an eight-week work placement.
Upcoming intakes
The anticipated session dates for 2023-24 are:
October 16, 2023 – February 9, 2024*
March 4 – June 21, 2024*
*Individuals outside of Regina may have the option to attend virtually (based on demand and available seats).
Program information
Overview
Experience Counts is a targeted initiative for older workers (TIOW) funded by Saskatchewan's Ministry of Immigration and Career Training.
During your eight weeks of classroom-based training you will:
Explore the four major aspects of life planning and career decision-making
Assess your skills, interests, values and personal style
Build fundamental digital/computer and keyboarding skills
Develop the tools you need to conduct a successful job search, including a professional resume and interviewing skills
Research the occupations and jobs that most interest you
Participate in supported job search activities and basic career services
Develop confidence in a supportive environment
Explore hidden talents, personal interests networking with employers
Following the classroom-based training, you will participate in an individualized professional pathway, which may include a volunteer placement. Professional pathways focuses on developing your individual action plan along with dedicated job search.
You'll receive:
Sponsorship available for program costs

Textbooks and/or access to online course materials
Not included:
Bus passes or parking fees
Living expenses
This program is eligible for the
Education and Training Incentive (ETI)
; however, you must be eligible for
Saskatchewan Income Support (SIS)
in order to be eligible for ETI.
Experience Counts graduates may be found in a broad range of occupations and roles, from entry level to professional. The career you target will depend on your qualifications, skills, interests, and the opportunities currently available in your labour market.
Graduates of Experience Counts have worked in some of the following industries: Administration, finance, government, health care, labour, not for profit, public sector and retail.
Admission requirements
To be considered you must:
Be unemployed or working less than full-time
Targeted for individuals over the age of 55; all those over 50 may be considered
Be legally entitled to work in Canada
Be a Saskatchewan resident
If English is your additional language, have at least a Canadian Language Benchmark (CLB) 6
Have attended an information session and completed pre-project assessments
Application process
Experience Counts intake

Register for and attend an information session.
If you require additional information before registering for an information session, please contact us.

Submit requested forms

A resume, if developed
English language proficiency requirements, if applicable

Intake interview

If you want to proceed with the application process after attending an information session, we will contact you to arrange an intake interview. Priority will be given to individuals over the age of 55, however, individuals over the age of 50 may be contacted if seats are available.
Information sessions
Would you like more information about Experience Counts? Attend an information session which includes a presentation and Q&A.
The in-person information sessions are intended for participants located in Regina and surrounding areas.
Wednesday, January 24, 2024, at 9:30 a.m.
Tuesday, January 30, 2024, at 1 p.m.
Wednesday, February 7, 2024, at 10 a.m.
Tuesday, February 13, 2024, at 2 p.m.
Please register by emailing
career.enhancement@saskpolytech.ca
. After registering, you will receive a confirmation email containing information about location and parking.
Contact us
Please call 306-775-7467 or email career.enhancement@saskpolytech.ca.