Career Enhancement program builds confidence and skills
As newcomers to Canada, Marwa Hassan and Ferdinand Go were facing barriers to employment. With the pandemic, came new employment challenges. Thanks to the Career Enhancement program at Saskatchewan Polytechnic both newcomers overcame these obstacles and successfully gained employment.
The Career Enhancement program, offered through the School of Continuing Education, provides opportunities for students to build their skills and confidence through training and a work placement. Sponsored by the Ministry of Immigration and Career Training, this 18-week free program sets participants up with essential tools to transition to work and a successful career.
Marwa Hassan came to Canada from Egypt with a Bachelor of Architecture and nine years of professional experience. After a year and a half of searching for jobs, Hassan discovered the Career Enhancement program through the recommendation of a previous student. Her goals for the program were to discover her transferable skills and value, as well as learn to network and understand the workplace culture in Canada.
Hassan's work placement came to a halt after just one week due to COVID-19. Her instructor called her in July 2020 to ask if she would be interested in joining another intake that Fall, with the goal of completing a work placement. "At the time, I was so disappointed with everything happening but my instructor was so patient and encouraged me to join," says Hassan, "I am glad I did!"
Hassan says the work placement provided her valuable experience and Canadian references needed to help secure a job. She is now employed with the Canada Food Inspection Agency as an import/export program assistant.
Ferdinand Go received his Bachelor of Science in Foreign Service from the Philippines. He built a career working internationally with over 25 years of customer service and warehouse experience but once in Canada, COVID hit and he was laid off. Go was referred to the Career Enhancement program where he gained essential skills to begin a work placement at the Regina Public Library. He says that Sask Polytech understands the demands of the province's labour market, "Career Enhancement prepares each student to meet those demands by brushing up on computer skills, gaining Canadian work experience and offering guidance on resume writing and interviewing, as well as job coaching."
After completing the Career Enhancement program, Go was offered employment with the Regina Public Library, where he recently secured a permanent position as a customer service associate.
Reflecting on their time in the Career Enhancement program, both Hassan and Go are grateful for the support they received from their instructors and the valuable skills they learned. "The value of all the lessons taught during class only became apparent when I was working again. I was able to immediately apply everything I learned from the program," says Go. Hassan adds that not everything was easy, she faced struggles during the program but was able to overcome them with the help of the Career Enhancement team.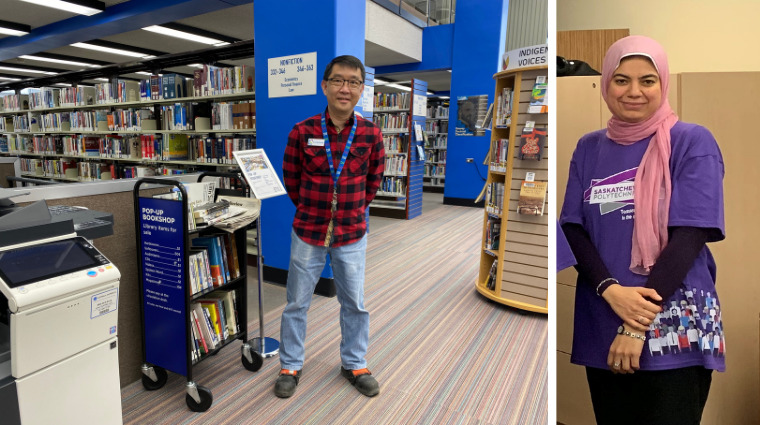 Employer spotlight
Access Communications has also hired Career Enhancement program students for permanent positions Over the years, they have had several work placements including administrative, warehouse and technical roles. Victoria Buehler, HR consultant says the students bring knowledge and experience from different industries and the countries they have lived, which Access values immensely. "For skills, the Career Enhancement program does a fantastic job at preparing its students for the workplace," she says, "I have nothing but great things to say about this program and would highly encourage other employers to reach out and see if this would be a good fit for their organization."
Robiel Teklu, a student from a 2016 work placement just celebrated his five-year anniversary with Access Communications.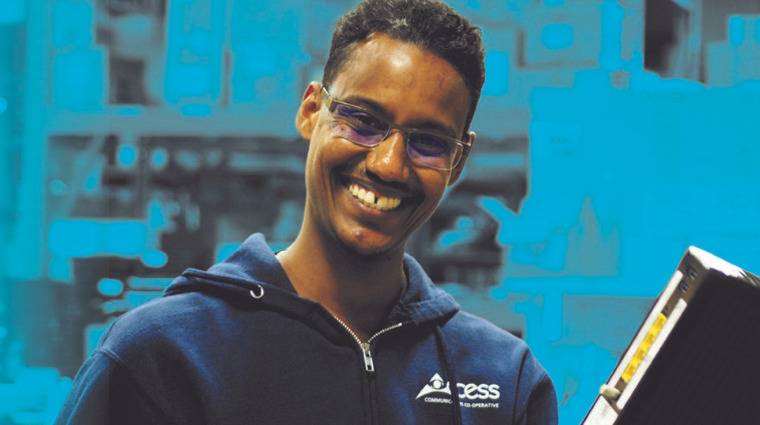 Photo credit: Access Communications
The Sask Polytech Career Enhancement program is currently accepting applications for the April 19 intake. To be eligible, you must be unemployed or working less than full-time, be at least 16 years of age, be a Saskatchewan resident and legally entitled to work in Canada.
For eligibility details and registration information, visit the Career Enhancement webpage.
If interested in the program, please attend an information session, or contact career.enhancement@saskpolytech.ca or 306-775-7467 for more information.
---
Saskatchewan Polytechnic is signatory to the SDG Accord. Sustainable Development Goal alignment is one of the ways Sask Polytech is leading the rise of polytechnic education.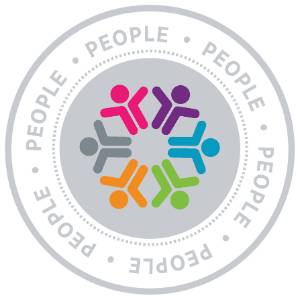 Published March 2022.