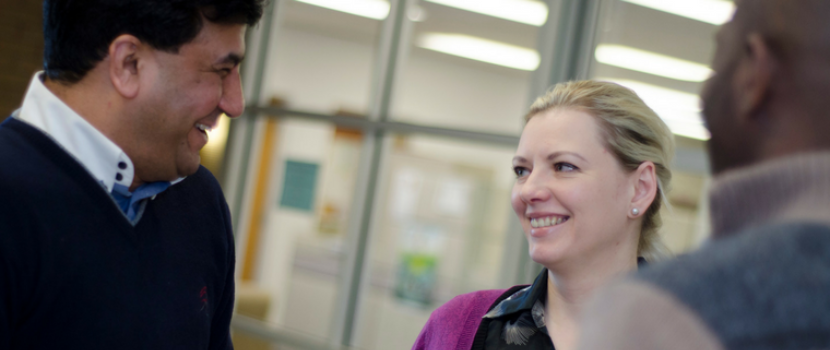 Employers, are you looking for an opportunity to:
Access skilled and motivated workers?
Participate in an educational partnership?
Save on training costs?
Evaluate potential employees?
Reduce hiring risks?
The Career Enhancement program and Experience Counts program can help you find a student that fits your organization!
Work placements
Work placement is training delivered primarily by an employer at the work site. An agreement is made between Saskatchewan Polytechnic and you, whereby the student performs appropriate workplace duties in exchange for training and supervision. On-site training gives you an opportunity to see what a student can do and how a student fits into your organization's culture.
Placement details
Career enhancement students
Our students are job-ready adults who want to work for you. They have recently updated their knowledge and skills in computer applications, employability skills and other workplace essential skills.
Benefit to students:
opportunity to demonstrate their positive work habits
gain experience and network in an occupational area
greater understanding of career options
to be considered for current and future employment opportunities
Matching students with employers
We help match students' skills and career interests to your requirements. The work placement agreement can be cancelled at any time without penalty to either the student or the employer. Many employers hire their students; however, this is not a requirement.
Work placement training
On-site training typically lasts eight weeks. It may be reduced or extended depending on how much training and time are required for the student to learn the job and for you to assess their relevant skills.
You are not required to pay your on-site students. Students remain eligible to collect their sponsorship allowances or benefits while training on-site. Saskatchewan Polytechnic insures students for Workers' Compensation purposes. We monitor the student at the workplace on a regular basis and will meet with you and/or the student's supervisor if any problems arise.
Benefit to your company
Supporting a student benefits your company in several ways:
Eliminate the time required for a new employee to become productive.
Excellent source of temporary and potentially permanent employees.
Make a contribution to lifelong learning.
Students can provide new ideas and stimulating viewpoints.

Career Enhancement programs at Sask Polytech have helped over people gain the skills, contacts and confidence they need to make a successful transition back to work.
Career Enhancement welcomes adults of all ages, with basic education to post-graduate degrees, entry level to professional career backgrounds.
Our training is designed to meet the learning and employment needs of each individual.
If you are interested, please contact one of our team members to discuss what skillsets you are looking for and to find out the dates of the upcoming work placements. Work placements occur throughout the year as multiple intakes are scheduled.
Contact us
Career Enhancement Programs
School of Continuing Education
Saskatchewan Polytechnic Regina Campus
PO Box 556
Regina SK S4S 5X1
Lori Hall
306-775-7577
lori.hall@saskpolytech.ca
Margie Gehl
306-775-7465
margie.gehl@saskpolytech.ca
Jessica Measner
306-775-7476
jessica.measner@gov.sk.ca