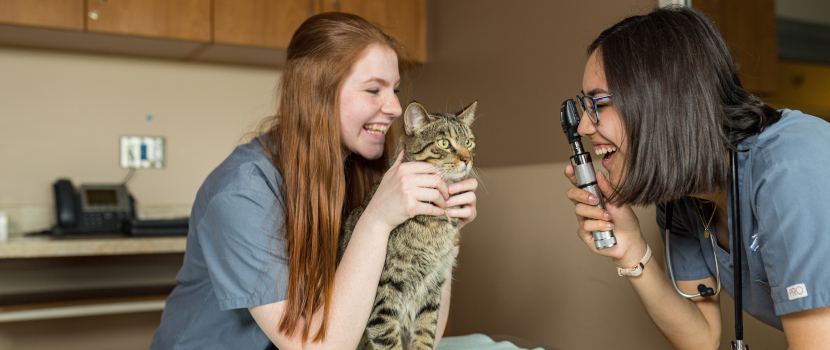 It's more than a love of animals that inspires people to become veterinary technologists - it's also a keen interest in science and medicine. If you're self-motivated and want to be part of a team working to make animal's lives better, veterinary technology could be a great career fit.
Locations(s)
Saskatoon
Online/Distance options available
Length and location notes
Some programs offered online or otherwise by distance (i.e., correspondence) include on-site labs, clinicals, practicums or work experiences. They may be offered course-by-course or full-time, or both, and deliveries may change over time.
Year 1 - 41 weeks; Year 2 - 38 weeks
The two-year CVMA-accredited program has two learning options:
In-person delivery at Saskatoon campus
The program includes traditional in-person labs in basic (anatomy, genetics and chemistry and clinical sciences) and clinical sciences (animal restraint, examination, diagnostic testing, nursing) and clinical rotations at local veterinary facilities.
You will be working with live animals, including dogs, cats, horses, cattle, swine, sheep and rodents.
Students are in classes from 8 a.m. to 4 p.m., Monday through Friday although there may be tours and clinics that start earlier than 8 a.m. or are scheduled on evenings or weekends.
The academic year runs from September through June.
Learning occurs off-site at facilities located in and around Saskatoon, including at the Western College of Veterinary Medicine. Students are expected to provide their own transportation to off-site locations within Saskatoon and surrounding area.
Two, five-week offsite practicums are required in semester five. Students select their locations in consultation with the program, but must include both small animal and large animal practice, or mixed animal practice.
There are 26 applicants accepted into the first year of the program.
Blended distance delivery
A total of eight distance seats are available.
Applicants must find a mixed-animal veterinary practice to support in-clinic learning for the duration of this 2-year program. Practices must be licensed and in good standing with their provincial veterinary regulartory body and provide access to dog, cat, horse, and cattle cases.
The program includes:

distance lectures available both in-person and asynchronously
distance discussions in real-time time (approximately 2-5 hours per week)
self-study labs
learning at the clinical site
student travel to Saskatoon campus six times throughout the program. There is a 3-5 day mid-term residency in each of semesters 1 through 5, and a 5-week residency in semester 6.

Students should plan for a 40-hour week between on-line lectures and discussions, and a required 1-2 days per week spent in clinics.
The academic year runs from September through June in Year 1, and September through July in Year 2.
The opportunity for part-time studies is available upon specific request; however, students with loans should consult with their granting agency to ensure loan-requirements can be fulfilled. Semesters five and six cannot be taken on a partial load basis.
For more information about this program refer to the frequently asked questions.
Career and salary information
Your career
As a veterinary technologist, your skills are in demand at veterinary clinics and hospitals, livestock operations, animal shelters, diagnostic labs, research facilities, zoos and game farms. There are also job opportunities with government agencies and in sales. You might also use your skills as the owner/operator of your own kennel or training facility.
Potential careers
Admissions
Admission requirements
Grade 12 with a minimum of 70% in each of the following subjects: Biology 30, Chemistry 30, and Foundations of Math 30 or Pre-Calculus 30*
A combined average of 70% in English Language Arts A30 and English Language Arts B30
40 hours documented veterinarian-supervised volunteer or work experience
Completion of mandatory orientation
Note
The program offers eight distance education seats. These students will complete the program through a combination of synchronous and asynchronous learning via distance (80%) and in-person residencies (20%) at the start/end of terms.
Applicants may apply to either the in-person or distance option.
Application process for in-person option:

Step 1: Submit application form and application fee. On the application form, under Program Information - location, select the Saskatoon option. This holds your place in the admissions queue.
Step 2: Submit final academic transcripts.
Step 3: Complete required minimum of 40 clinic volunteer hours (or equivalent activities) and submit required Volunteer Hours Form by August 1st.

Application process for distance option:

Complete Steps 1 to 3 as described for in-person option. On the application form, under Program Information - location, select the online or evening or distance option.
It is the student's responsibility to secure a partnership with a qualified clinic.
Submit the Host Clinic Form any time after Step 1 is completed. Submitting the Host Clinic Form moves your application to the distance delivery option.

All steps must be completed prior to program start date.
Veterinary Technology program-specific admissions forms:


The Volunteer Hours Form describes the requirement for a minimum of 40 hours of volunteer/work experience in a veterinary clinic or equivalent experience. Hours must be completed within 5 years of expected entry to the program. The completed form is to be submitted by the veterinary practice upon completion of volunteer hours and must be received by August 1st of the year of expected entry to the program.
The Host Clinic Form is an agreement between a mixed animal practice (Host Clinic), Clinic Mentor and applicant whereby the Host Clinic and Clinic Mentor agree to support the applicant through provision of space, clinical cases, direct supervision and mentorship for the duration of the distance program. This form can be submitted by the student.

For answers to common application questions, review Frequently Asked Questions
Students require proof of protective rabies titer in order to take part in live animal activities including clinical site placements. A rabies immunization clinic is arranged by the program.
Students must be registered, as a student member, with the Saskatchewan Veterinary Medical Association (SVMA) in any term they are registered in the program. Registration is arranged by the program at the start of term; membership cost is paid directly by the student.
Accepted applicants are required to provide evidence of 2015 WHMIS Globally Harmonized System (GHS) certification upon admission into the program. Recertification will be required every three years to remain current. The cost of WHMIS certification is your responsibility.
Students require travel in and around Saskatoon to attend labs and clinical placements. Students may be required to relocate to complete clinical practicus.
*Previous Saskatchewan mathematics requirement also accepted:

Minimum of 70% in a 30-level math
Alternative admission
Applicants who do not possess the academic qualifications for a program may be admitted if evidence of probable success can be established through an alternative admission assessment. Applicants are automatically considered for alternative admission. However, some specific admission requirements may still need to be met.
ACCUPLACER©
Refer to the ACCUPLACER© cut scores for this program below, and review additional details concerning Alternative Admission using Accuplacer.
250 Arithmetic
252 Quantitative Reasoning, Algebra, and Statistics
256 Reading
250 Writing
4 Writeplacer
Post-secondary
Some programs allow applicants to meet the admission grade level requirement using 15 approved post-secondary credits. Review additional information.
If the program applied to has specific course requirements, they may be met through alternative post-secondary courses. Review already approved courses that may be used for admission purposes for your programs.
Admission method
First Qualified/First Admitted
The First Qualified/First Admitted (FQFA) process is used for the majority of Saskatchewan Polytechnic programs. When we determine that you meet the program's admission requirements, you will be offered admission based on the date you fully qualify for the program. The earlier you provide the appropriate documents and information that qualify you for admission to the next intake, the earlier you might begin your studies. Your application, once qualified, is always considered for the next intake.

Applicants to programs with multiple intakes in an academic year remain in the application pool until the last intake for that academic year has begun. Programs using the FQFA process receive applications year round and maintain an application pool for each academic year. Qualified applicants who are not offered a seat must reapply for the next academic year.

Sponsored programs or programs targeted to specific groups do not accept applications year round or maintain an application pool.
See Admission Processes for more information about this method of admission.
Tuition and fees
Estimates are based on current rates and are subject to change. Amounts for a program may vary by campus. Totals shown here include all mandatory fees as well as approximate cost for books and supplies. Visit the Tuition and Fees web page for a complete breakdown of tuition and fees for this program.

2023-24 academic year

Year 1 - $10,420
Year 2 - $9,820
Courses
Semester information only pertains to full-time/on-campus students, and part-time/online students should view course prerequisites when scheduling courses.
Year 2; Semesters 5 and 6 - Most of these courses will be taken at the University of Saskatchewan's Western College of Veterinary Medicine.
You must successfully complete all courses in Semesters 1 through 4 before enrolling in Semester 5. Semesters 4, 5, and 6 courses cannot be taken on a partial load basis.
Get credit for what you know
Prior Learning Assessment and Recognition
Saskatchewan Polytechnic recognizes that adults learn in many different ways. This includes acquiring knowledge and skills through life and work experience or non-formal training.
See link(s) below to get more information about PLAR.
Transfer credit
Many Sask Polytech students benefit from transferring course credit. You may be eligible to transfer credit to Sask Polytech or to another college or university.
| Institution | Agreement details |
| --- | --- |
| University of Lethbridge | Graduates of this program with minimum 2.50 GPA may be admitted into the Post-Diploma B.Sc. (Agricultural Studies) or Post-Diploma B.A. (Agricultural Studies) at the University of Lethbridge. If admitted, the graduate will be 3rd year degree level student in the Faculty of Arts and Sciences. |
| Athabasca University | Graduates of this program may be eligible for block transfer of 60 credit units into the Bachelor of Science Post Diploma program or 30 credit units toward BSc (PD) with Majors in Applied Mathematics, Computing Information Systems and/or Human Science. |
Accreditation
Canadian Veterinary Medical Association
Our Veterinary Technology program is accredited by the Canadian Veterinary Medical Association. This qualifies you to write the North American Veterinary Technology Exam (VTNE). To work as a Registered Veterinary Technologist in Saskatchewan, you need a diploma from an accreditted program and to pass the VTNE.
Live animal use
Animal use in teaching and research at Saskatchewan Polytechnic is subject to ethics approval and review. As part of this federal mandate, all incident reports are investigated in accordance with Canadian Council for Animal Care best practices. Access the Animal Welfare and Concern Reporting form to earn more about procedures for reporting animal welfare concerns.
Additional information