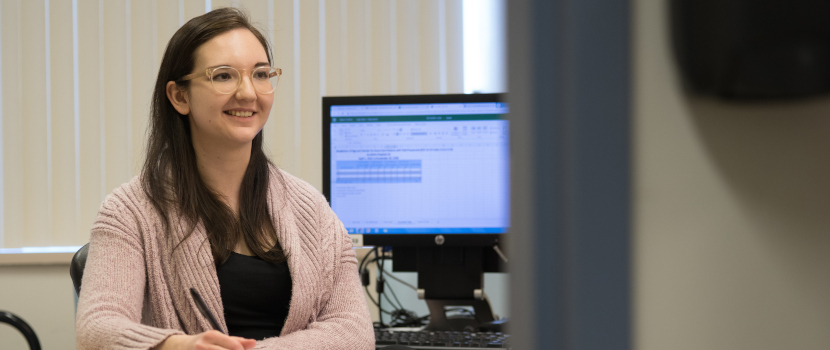 Health Information Management (HIM) professionals connect the worlds of health and data and ensure we accurately tell the health story of each patient.
Start date
Full-time studies (over 2 years) - September to June (71 weeks)
Part-time studies (over 3, 4, or 5 years) - start your studies with general courses in any term and then join the HIM studies in September
Length
You can complete your studies in HIM over 2, 3, 4 or 5 years. If you choose to complete the program in 2 years, it is recommended that you study full-time and are not employed during this timeframe.
Completion requires 71 weeks (121 credits and 1815 hours) of study. Please contact our office at 1-306-775-7639 for more information about start dates and study options.
Locations(s)
Online/Distance options available
Length and location notes
Some programs offered online or otherwise by distance (i.e., correspondence) include on-site labs, clinicals, practicums or work experiences. They may be offered course-by-course or full-time, or both, and deliveries may change over time.
The importance of quality health information to make crucial decisions is ever present for health care professionals and leaders. Society is dependent on health information to guide many aspects of our daily lives. Our HIM program will prepare you with the skills and knowledge to be at the forefront of managing critical health information.
HIMs work in a variety of settings. They are leaders of healthcare teams and work as practitioners, coordinators or analysts within health authorities, cancer and government agencies. They work as privacy and informatics analysts, in educational settings, and in public health surveillance. This unique skill set can also open doors to roles with police forces, law, insurance and pharmaceutical firms.
Specific competencies that you will develop through the program include:
Data collection and coding;
Electronic health information management;
Information privacy, security and confidentiality;
Interpretation and analysis of health data;
Access to and protection of health information; and
Record and systems management.
Delivery format
Health Information Management is a nationally accredited two-year diploma program offered in a hybrid model. Theory components of your program will be delivered virtually and you'll have many opportunities to connect with faculty and other students. You will participate in courses via your computer at a scheduled time of day, and/or pick up the lecture via a video link at your convenience. Your assignments will involve you working at home as individuals or in teams.
The program is designed in a flexible format to allow you to meet your own professional and personal goals. You can join us for a full-time schedule of classes and complete the program in two years, or you can choose a path to complete your studies in three, four, or five years. Our team is there to guide you along your journey and to assist you with designing the course plan that works for you.
Applied learning
Applied hands-on learning is the cornerstone of Saskatchewan Polytechnic's vision for education and allows you to hone the skills you've learned throughout the HIM program. Our partners in industry are excited to work with and mentor our students and you'll work on projects with them, gain real world experience and make important industry connections. We work with employers (where you live) to allow you to complete these experiences as part of your studies. At times some travel or a virtual experience is needed, but whenever possible we work with you to create engaging and on-site practice experiences.
Diploma to degree
Ladder your diploma into the Bachelor of Applied Management degree at Saskatchewan Polytechnic with only two years of additional study. Remote classes and part-time options are available.
Your HIM diploma is a great start in your life-long learning journey and allows you to transfer into a variety of degree programs and to be considered for the graduate studies at the Johnson-Shoyama Graduate School of Public Policy.
Career and salary information
Your career
Health Information Management graduates work as information management practitioners, coordinators and analysts in many different areas of health care including hospital admitting, quality management, research and statistics, information systems, utilization management and risk management. Look for positions with health regions, government agencies, community clinics, long-term care facilities, home care agencies and mental health or outreach programs. Or transfer your skill set into other areas such as education, law enforcement, insurance and research.
Potential careers
Part-time delivery
In order to graduate and receive a credential for this program, part-time students must apply and be admitted to the program before taking CLIN 101 and PATH 272.
You can join us for a full-time schedule of classes and complete the program in two years (full-time), or you can choose a path to complete your studies in three, four, or five years (part-time). The part-time option is designed in a flexible format to allow you to meet your own professional and personal goals. The program must be completed within five years, and has multiple pathways for full-time and part-time students.
Classes are offered through the core HIM program and through the Arts and Sciences department. Courses offered through the Arts and Sciences department may be offered throughout the year. Students taking the part-time option generally join in with the full-time students but take a reduced courseload. Although the program typically starts the last week in August, both part-time and full-time students can also choose to take classes from the list at the bottom of this page throughout the year.
Out of province students will ideally have their practicums in their home province. It may take up to a year to place out-of-province students in practicum sites in their home province, so early communication is essential.
Students who have not yet applied to the program may take some classes as an unclassified student. You may take the following courses as an unclassified student prior to being accepted into the program:
APHY 100
APHY 200
COMP 179
COMP 174
COMP 175
COMP 176
COMM 262
ENGL 100 or ENGL 101
MED 161
To register for individual courses, please view the part-time offerings available in the Courses section below.
Admissions
Admission requirements
Grade 12 with a minimum overall average of 70% in the following subjects: English Language Arts A30, English Language Arts B30, Foundations of Math 30 or Pre-Calculus 30*, one 30-level science (one of Biology, Chemistry or Physics)
Minimum keyboarding speed of 30 words per minute with 90% accuracy (5-minute testing report to be submitted with transcripts). (Testing is available through a Saskatchewan Polytechnic Test Centre).
English Language Requirement for Health Information Management (See program-specific ELP)
Note
Accepted applicants will be required to provide evidence of a Criminal Record Check upon admission into the program. At the discretion of the practicum/clinical agency, you may be declined access to a clinical or work placement based on the contents of the Criminal Record Check. The cost of the Criminal Record Check is your responsibility.
Practicum placements are located throughout Saskatchewan or in a student's home province; therefore, all students must be willing to relocate in order to complete their practicum experiences.
Accepted applicants are required to provide evidence of 2015 WHMIS Globally Harmonized System (GHS) certification upon admission into the program. Recertification will be required every three years to remain current. The cost of WHMIS certification is your responsibility.
*Previous Saskatchewan mathematics requirement also accepted:

Alternative admission
Applicants who do not possess the academic qualifications for a program may be admitted if evidence of probable success can be established through an alternative admission assessment. Applicants are automatically considered for alternative admission. However, some specific admission requirements may still need to be met.
ACCUPLACER©
Refer to the ACCUPLACER© cut scores for this program below, and review additional details concerning Alternative Admission using Accuplacer.
250 Arithmetic
258 Quantitative Reasoning, Algebra, and Statistics
256 Reading
250 Writing
5 Writeplacer
Post-secondary
Some programs allow applicants to meet the admission grade level requirement using 15 approved post-secondary credits. Review additional information.
If the program applied to has specific course requirements, they may be met through alternative post-secondary courses. Review already approved courses that may be used for admission purposes for your programs.
Admission method
First Qualified/First Admitted
The First Qualified/First Admitted (FQFA) process is used for the majority of Saskatchewan Polytechnic programs. When we determine that you meet the program's admission requirements, you will be offered admission based on the date you fully qualify for the program. The earlier you provide the appropriate documents and information that qualify you for admission to the next intake, the earlier you might begin your studies. Your application, once qualified, is always considered for the next intake.

Applicants to programs with multiple intakes in an academic year remain in the application pool until the last intake for that academic year has begun. Programs using the FQFA process receive applications year round and maintain an application pool for each academic year. Qualified applicants who are not offered a seat must reapply for the next academic year.

Sponsored programs or programs targeted to specific groups do not accept applications year round or maintain an application pool.
See Admission Processes for more information about this method of admission.
Tuition and fees
Estimates are based on current rates and are subject to change. Amounts for a program may vary by campus. Totals shown here include all mandatory fees as well as approximate cost for books and supplies. Visit the Tuition and Fees web page for a complete breakdown of tuition and fees for this program.

2023-24 academic year

Year 1 - $9,440
Year 2 - $8,110
Courses
Semester information only pertains to full-time/on-campus students, and part-time/online students should view course prerequisites when scheduling courses.
Students must be admitted to the program before taking CLIN 101 or PATH 272.
Get credit for what you know
Prior Learning Assessment and Recognition
Saskatchewan Polytechnic recognizes that adults learn in many different ways. This includes acquiring knowledge and skills through life and work experience or non-formal training.
See link(s) below to get more information about PLAR.
Transfer credit
Many Sask Polytech students benefit from transferring course credit. You may be eligible to transfer credit to Sask Polytech or to another college or university.
| Institution | Agreement details |
| --- | --- |
| Athabasca University | Graduates of this program may be eligible for block transfer of 36 credit units toward a Bachelor of Health Administration Post Diploma degree program. |
| Thompson Rivers University | Graduates of this program is granted a maximum of 60 transfer credits into the Bachelor of Health Science. |
| Toronto Metropolitan University (formerly Ryerson University) | Graduates of this program with a 70% GPA may earn credit in the Bachelor of Health Administration. |
Student awards
Thanks to the generosity of donors and alumni, Saskatchewan Polytechnic gives away more than $2 million in student awards during the academic year.
Saskatchewan Polytechnic offers student awards for every certificate and diploma program at every campus. Not all student awards are based on marks - some are based on financial need or things like community or volunteer involvement.
Accreditation
Canadian Health Information Management Association (CHIMA)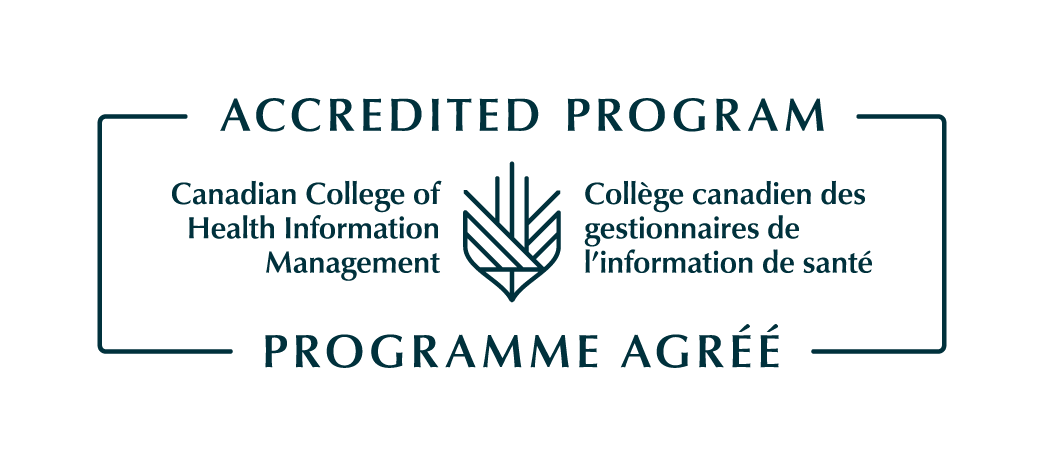 Health Information Management is the only diploma program in Saskatchewan accredited by the Canadian Health Information Management Association (CHIMA). Having a CHIMA-recognized diploma qualifies you to write the national certification exam and gain industry recognition as a Health Information Management (HIM) professional.
Additional information