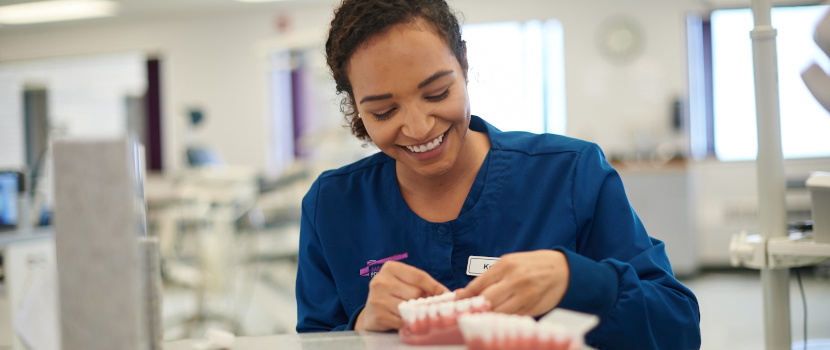 The Dental Hygiene program is subject to the competitive admission process.

Applications open on October 1st and close on February 15th, for the following academic year. On February 15th, paper applications are accepted until 4:30 p.m., and online applications are accepted until 11:59 p.m. (Saskatchewan times). All supporting documentation is required by 4:30 p.m. (Saskatchewan time) on March 1st.
As a dental hygienist, it's your job to provide preventive, educational and therapeutic dental hygiene services to a wide range of clients - from the very young to the very old. Whether you work in a private dental practice or for a health district, in an educational system or for a government agency, you'll need excellent manual dexterity and good people skills.
Length and location notes
Year 1 - 40 weeks; Year 2 - 40 weeks; Year 3 - 40 weeks
Dental Hygiene is a nationally accredited three-year advanced diploma program offered at Saskatchewan Polytechnic, Regina Campus. Problem solving and critical thinking skills are vital, because a big part of your job is effectively assessing clients and providing treatment plans. Lifelong learning is also important, because you'll participate in continuing education to stay abreast of changes in technology and techniques. Classroom and lab work combined with clinical experiences and health promotion activities prepare you to deliver a high standard of service in assessment, diagnosis, planning, implementation and evaluation of dental hygiene care. Your studies will focus on:
oral health education and promotion
clinical practice
provision of ethical and professional dental hygiene care
International applicants are not currently considered for admission to this competitive program.
Hands-on learning in our dental clinic
Hands-on learning in the dental clinic at Saskatchewan Polytechnic, Regina Campus is a great way to integrate classroom learning with real-world practice. Under the supervision of licensed dentists and dental hygienists, you will receive first-hand experience in providing comprehensive dental hygiene care including assessment of oral health, instruction in oral self-care, exposing dental X-rays and more.
Diploma to degree
Ladder your diploma into the Bachelor of Applied Management degree at Saskatchewan Polytechnic with only two years of additional study. Remote classes and part-time options are available.
This Saskatchewan Polytechnic advanced diploma program will also allow graduates to access one-year Dental Hygiene degree completion programs offered by Dental Hygiene baccalaureate programs.
Learning environment
26 students are accepted each year.
As a student, you will experience a combination of classroom and clinical instruction in the newly renovated on-campus

Dental Clinic.
Our enclosed and individualized operatories, upgraded ventilation, lighting, dental chairs and equipment provide a great environment for both students and clients.
Class hours are 8:30 a.m. - 4:30 p.m. daily with 30-40 hours of homework each week outside of class time.
All courses have an online course system, Brightspace, that provides powerful tools to help supplement your learning.
Lab courses involve instructor demonstration, hands-on participation and peer group activities.
Regular attendance is expected, as well as active participation in group work and effective course management.
Career and salary information
Your career
Dental hygienists work in both public and private sectors. General dental practices are major employers, but there also are job opportunities in specialized dental practices, community clinics, health care institutions, educational facilities and government agencies.
Potential careers
Admissions
Admission requirements
Grade 12 with a minimum overall average of 70% in English Language Arts A30, English Language Arts B30, Biology 30, Chemistry 30, and one of Foundations of Mathematics 30 or Pre-Calculus 30*
*Previous Saskatchewan mathematics requirement also accepted:
One of Math A30, B30, C30, or Calculus 30
Note
Standard First Aid and CPR Heartsaver 'C' AED or equivalent are required prior to entry into the Dental Hygiene program and must be current to the year of the program.
Accepted applicants are required to provide evidence of 2015 WHMIS Globally Harmonized System (GHS) certification upon admission into the program. Recertification will be required every three years to remain current. The cost of WHMIS certification is your responsibility.
Admission method
Competitive
The competitive admissions process is used for programs where the number of qualified applicants regularly exceeds the number of spaces available. In competitive programs, higher admission requirements and/or additional selection criteria may be required. The application period for this program is October 1 to February 15, each academic year. All supporting documentation is required by 4:30 p.m. (Saskatchewan time), March 1.
See Admission Processes for more information about this method of admission.
Selection criteria
Phase I for High School Graduates:

The high school competitive score will be compared to any grade point averages(s) (UGPA) presented for a minimum of 15 passed post-secondary credit units to a maximum of 30 of the most recent credit units from recognized post-secondary institutions. The highest score will be considered for the applicant's final competitive score.

Phase I for Current High School Students: The competitive score is calculated from final marks provided by March 1. Conditional admission may be granted on this basis. Current high school students must order transcripts to be sent directly to Saskatchewan Polytechnic at the end of Semester 1 and the end of Semester 2 of the grade 12 year. The final grade 12 mark will be used where the course is completed. The final grade 11 mark will be used only in the absence of the grade 12 mark in the same subject.
Phase II: Additional selection criteria will be applied to those with the highest averages in Phase I:

Admission Average = 70%
Candidate Portfolio = 20% *
Relevant Post-secondary Education = 10%

* Saskatchewan Polytechnic must receive your Candidate Portfolio by April 15.

For more information about the admission requirements and selection criteria for this program, refer to the Dental Hygiene Frequently Asked Questions.

For required information on preparing your application, refer to the Dental Hygiene Program Portfolio Guide.

You may find it helpful to print extra copies of the Validation Form for Work/Volunteer Experiences.
Tuition and fees
Estimates are based on current rates and are subject to change. Amounts for a program may vary by campus. Totals shown here include all mandatory fees as well as approximate cost for books and supplies. Visit the Tuition and Fees web page for a complete breakdown of tuition and fees for this program.

2023-24 academic year

Year 1 - $10,630
Year 2 - $18,140
Year 3 - $12,770
Courses
Semester information only pertains to full-time/on-campus students, and part-time/online students should view course prerequisites when scheduling courses.
Get credit for what you know
Prior Learning Assessment and Recognition
Saskatchewan Polytechnic recognizes that adults learn in many different ways. This includes acquiring knowledge and skills through life and work experience or non-formal training.
See link(s) below to get more information about PLAR.
Transfer credit
Many Sask Polytech students benefit from transferring course credit. You may be eligible to transfer credit to Sask Polytech or to another college or university.
| Institution | Agreement details |
| --- | --- |
| Athabasca University | Graduates of this program may be eligible for block transfer of 60 credit units into the Bachelor of Science Post Diploma program or 30 credit units toward BSc (PD) with Majors in Applied Mathematics, Computing Information Systems and/or Human Science. |
| Thompson Rivers University | Graduates of this program is granted a maximum of 84 transfer credits into the Bachelor of Health Science. |
| University of Regina/First Nations University of Canada | Graduates of this program may be accepted in to the Faculty of Arts or the Faculty of Kinesiology and Health Studies at the University of Regina or the First Nations University of Canada with 60 credit hours of block transfer. |
Student awards
Thanks to the generosity of donors and alumni, Saskatchewan Polytechnic gives away more than $2 million in student awards during the academic year.
Saskatchewan Polytechnic offers student awards for every certificate and diploma program at every campus. Not all student awards are based on marks - some are based on financial need or things like community or volunteer involvement.
Accreditation
Commission on Dental Accreditation of CanadaThe Dental Hygiene program is accredited by the Commission on Dental Accreditation of Canada. When you graduate, you're eligible to write Canadian and American national certification exams. With examination success, you'll also be eligible for licensure by the Saskatchewan Dental Hygienists' Association.
Related programs
Additional information