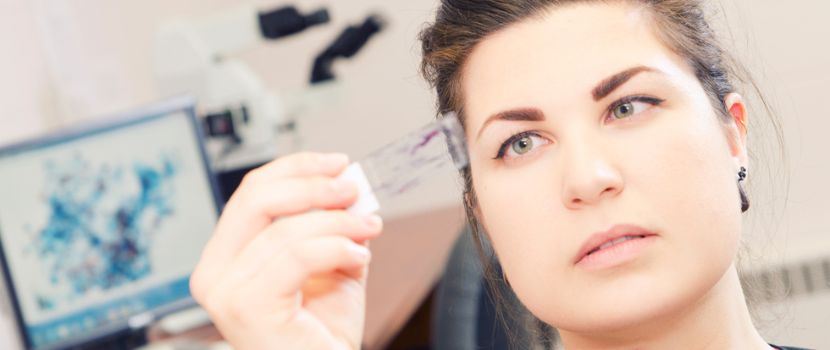 Delivery of this program is suspended for the 2024-2025 academic year.
Cytotechnology is the microscopic study of cells for disease, and cytotechnologists are its trained practitioners. They are front-line investigators who use their skills to help health care teams solve complex puzzles of disease and illness.
Length and location notes
Year 1 - 41 weeks; Year 2 - 45 weeks
International applicants are not currently considered for admission to this program.
Saskatchewan Polytechnic's nationally accredited two-year Cytotechnology diploma program emphasizes a hands-on approach to learning. You'll develop the knowledge and skill necessary to diagnose disease by identifying alterations in cell morphology (forms).
Your studies will focus on:
introductory anatomy, physiology and molecular biology
gynecologic, respiratory and aspiration cytopathology
hematology
immunology
First-year classroom learning is augmented by lab work, where you will learn to perform basic procedures and begin developing your detection skills. During your 46 weeks of clinical experience, you will participate in six separate practicums, each focused on building your knowledge and skills in specific areas and techniques.
Diploma to degree
Diploma graduates are eligible to take the Bachelor of Applied Management degree right here at Saskatchewan Polytechnic with only two years of additional study. Remote classes and part-time options are available.
Use your Cytotechnolgy diploma to ladder into a degree program at Athabasca University (Alberta). A degree is usually required if you are interested in moving into management or teaching positions.
How does it fit?
Cytotechnologists are natural scientists - people who are curious about the human body and enjoy using microscopes to explore its inner workings. Cytotechnology is a profession that demands a high degree of accuracy, strong decision-making skills and the ability to take responsibility for your work.
Learning environment
Each year four students are accepted to this program. Students will experience a mix of traditional lectures, practical labs and clinical practicums increasing in length as the program progresses.
For this program, there is a heavy workload with 15 - 20 hours/week of homework. Classes are Monday - Friday with variable hours between 8 a.m. and 7 p.m. Clinical practicum hours will coincide with health care hours. Clinical practicum hours can start as early as 7 a.m.
Lectures and practical labs:
Clinical practicum experience:
One week in Saskatoon
45 weeks in Regina
Career and salary information
Your career
Graduates certified by the Canadian Society for Medical Laboratory Science can work anywhere in Canada. Most cytotechnologists work in hospital or private clinical laboratories in large urban centres.
Day-to-day responsibilities generally include preparing slides for microscopic examination; evaluating cells for the presence of cancer, precancerous changes or infection and providing interpretations to pathologists. Your interests could also take you in a different direction - to a career in education or sales, for example.
Potential careers
Admissions
Admission requirements
Grade 12 with English Language Arts A30, English Language Arts B30, Foundations of Math 30 or
Pre-Calculus 30*, Physical Science 20*, Chemistry 30 and Biology 30
Minimum of 70% in Foundations of Math 30 or Pre-Calculus 30 and each science
English Language Requirement (see Program-Specific ELP Requirements section)
*Previous Saskatchewan mathematics and physics requirements also accepted:
Minimum of 70% in Math B30
Minimum of 70% in Physics 20
Note
Physics 30 will not be substituted for Physical Science 20 or Physics 20.
Accepted applicants will be required to provide evidence of a Criminal Record Check and Vulnerable Sector Search upon admission into the program. At the discretion of the practicum agency, you may be declined access to a clinical or work placement based on the contents of the Criminal Record Check and Vulnerable Sector Search. The cost of the Criminal Record Check and Vulnerable Sector Search is your responsibility.
Accepted applicants are required to provide current immunization records and meet Saskatchewan Polytechnic immunization requirements prior to entry into clinical practicum.
You must attend an informational meeting with program personnel.
Accepted applicants are required to provide evidence of current N95 respirator mask testing prior to start of clinical practicums as directed by the program. N95 respirator mask testing is valid for two (2) years from the date of completion. Retesting may be required during your studies. The cost of N95 respirator mask testing is your responsibility.
Accepted applicants are required to provide evidence of 2015 WHMIS Globally Harmonized System (GHS) certification upon admission into the program. Recertification will be required every three years to remain current. The cost of WHMIS certification is your responsibility. Register for WHMIS.

Accepted applicants will be required to provide evidence of Transferring Lifting Repositioning (TLR®) Object Moving certification or Safe Moving and Repositioning Techniques (SMART®) certification upon admission to the program. TLR® or SMART® certification is valid for three (3) years from the date of completion. Recertification may be required during your studies. The cost of TLR® or SMART® certification is your responsibility. Register for TLR.


Alternative admission
Applicants who do not possess the academic qualifications for a program may be admitted if evidence of probable success can be established through an alternative admission assessment. Applicants are automatically considered for alternative admission. However, some specific admission requirements may still need to be met.
ACCUPLACER©
Refer to the ACCUPLACER© cut scores for this program below, and review additional details concerning Alternative Admission using Accuplacer.
250 Arithmetic
252 Quantitative Reasoning, Algebra, and Statistics
256 Reading
250 Writing
5 Writeplacer
Post-secondary
Some programs allow applicants to meet the admission grade level requirement using 15 approved post-secondary credits. Review additional information.
If the program applied to has specific course requirements, they may be met through alternative post-secondary courses. Review already approved courses that may be used for admission purposes for your programs.
Admission method
First Qualified/First Admitted
The First Qualified/First Admitted (FQFA) process is used for the majority of Saskatchewan Polytechnic programs. When we determine that you meet the program's admission requirements, you will be offered admission based on the date you fully qualify for the program. The earlier you provide the appropriate documents and information that qualify you for admission to the next intake, the earlier you might begin your studies. Your application, once qualified, is always considered for the next intake.

Applicants to programs with multiple intakes in an academic year remain in the application pool until the last intake for that academic year has begun. Programs using the FQFA process receive applications year round and maintain an application pool for each academic year. Qualified applicants who are not offered a seat must reapply for the next academic year.

Sponsored programs or programs targeted to specific groups do not accept applications year round or maintain an application pool.
See Admission Processes for more information about this method of admission.
Tuition and fees
Estimates are based on current rates and are subject to change. Amounts for a program may vary by campus. Totals shown here include all mandatory fees as well as approximate cost for books and supplies. Visit the Tuition and Fees web page for a complete breakdown of tuition and fees for this program.

2023-24 academic year

Program suspended.

Additional program costs that students are responsible for include:
Criminal Record Check with Vulnerable Sector Search
Immunizations

no cost if immunizations are completed with Sask Polytech health nurse.
completed outside of Saskatchewan Polytechnic range from $90 to $120 for Hepatitis B series

Mask FIT Testing – both required

N95 - approx. $75 to $125
Mask Fit testing is recommended to be updated annually, however, it is mandatory to be updated every two years. If expiry date occurs during programming student must re-submit proof of testing to the program. Cost of re-testing is the student's responsibility.

WHMIS 2015 - Globally Harmonized System (GHS) certification
Courses
Semester information only pertains to full-time/on-campus students, and part-time/online students should view course prerequisites when scheduling courses.
Labs, projects and practicums are used to actively involve you in the learning process and allow you to apply learned theory as you develop your skills.
Get credit for what you know
Transfer credit
Many Sask Polytech students benefit from transferring course credit. You may be eligible to transfer credit to Sask Polytech or to another college or university.
| Institution | Agreement details |
| --- | --- |
| Athabasca University | Graduates of this program may be eligible for block transfer of 60 credit units into the Bachelor of Science Post Diploma program or 30 credit units toward BSc (PD) with Majors in Applied Mathematics, Computing Information Systems and/or Human Science. |
| Thompson Rivers University | Graduates of this program is granted a maximum of 69 transfer credits into the Bachelor of Health Science. |
Student awards
Thanks to the generosity of donors and alumni, Saskatchewan Polytechnic gives away more than $2 million in student awards during the academic year.
Saskatchewan Polytechnic offers student awards for every certificate and diploma program at every campus. Not all student awards are based on marks - some are based on financial need or things like community or volunteer involvement.
Accreditation
Accreditation Canada/EQual Canada has accorded the Cytotechnology program full accredited status for a 6 year term.
Saskatchewan Polytechnic's Cytotechnology program is an accredited program. Program content is based on the Canadian Society for Medical Laboratory Science competency profile, with topics added as appropriate for addressing local needs.

Graduates are eligible to write the national Canadian Society for Medical Laboratory Science (CSMLS) exam, which allows you to work anywhere in Canada. You are also eligible for licensure with the Saskatchewan Society of Medical Laboratory Technologists (SSMLT).
The cost of CSMLS national certification examination is the responsibility of the student. For more information, see www.csmls.org/About-Us/What-We-Do/Certification.aspx.
Related programs
Combined Laboratory and X-Ray Technology
Additional information