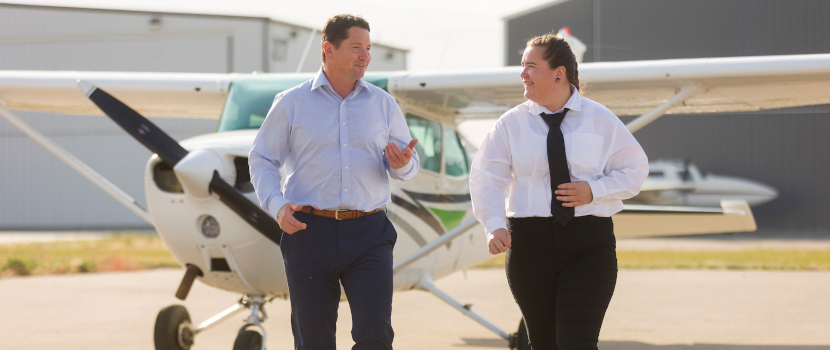 Take to the skies with Saskatchewan Polytechnic's Commercial Pilot program. The growing aviation industry means qualified pilots are in demand—there's never been a better opportunity to build your career as a commercial pilot.This program is one of the most innovative, highly-respected programs in Canada, with excellent industry support and local carriers actively recruiting our students. When you graduate, you'll have your Commercial Pilot Licence with multi-engine instrument rating or single-engine instrument rating.
The Commercial Pilot diploma program provides a strong foundation in the basic principles of aviation. You'll alternate ground school training sessions at Saskatchewan Polytechnic, Saskatoon Campus, Koyl Ave. with actual flying experience at a Saskatchewan flight school, with advantages including low congestion and many hours of sunshine every year!
You'll learn about:
theory of flight
aircraft Engines, airframes, and systems
electronic theory
flight operations
Canadian aviation regulations
aviation business, cultural awareness, mathematics, physics and communication
crew resource management and human factors
meteorology
navigation
multi Engine & Instrument Flying
State-of-the-art flight simulator
Saskatchewan Polytechnic's new
ALSIM flight simulator
puts you in the pilot's seat for take-off and landing at any airport in North America. Programmable real-life scenarios give you risk-free experience flying in all kinds of weather and dealing with emergencies and standard operating procedures. The simulator has multiple single- and multi-engine configurations.
Experience and mentorship
Ground school classes are led by experienced instructors who know the aviation business. Your classes offer a unique opportunity to talk one-on-one with experienced pilots and other aviation professionals, getting an inside view on finding a job, building your career and developing your skills.
Diploma to degree
Diploma graduates are eligible to take the
Bachelor of Applied Management
degree right here at Saskatchewan Polytechnic with only two years of additional study. Remote classes and part-time options are available.
Career and salary information
Your career
Commercial aviation is expanding. There are job opportunities for qualified commercial pilots with charter and scheduled airlines, large corporations, courier companies, commuter airlines, flight schools, crop sprayers, aerial photography and survey companies, airline and airport administration and more. Your first job will probably be in a ground position with a smaller operator, where you'll be expected to demonstrate commitment and professionalism as you work your way into flying positions.
For more information about a career as a professional pilot, visit the Air Transport Association of Canada (ATAC) or Saskatchewan Aviation Council websites.
Potential careers
*For current airline pilot pay information, please contact the program head.
Admissions
Admission requirements
Grade 12
Category 1 Medical Certificate from a Transport Canada approved medical examiner; (it can take up to two months to receive this certificate; you may wish to plan your application to the program accordingly)
Note
Physics 30, Pre-Calculus 20 and Foundations of Mathematics 30 are recommended
To obtain pilot licenses and ratings, students will be required to complete Transport Canada examinations and flight tests. Further, students may be required to demonstrate English language proficiency by means of a Transport Canada Formal Aviation Language Proficiency Demonstration (additional fees apply). If students do not successfully complete the required examinations, demonstrations, and flight tests within the hours allotted, they will be required to continue outside program hours and cover the extra cost or be involuntarily withdrawn from the program.
Students must pass all courses in a term to successfully complete the term. Students who fail or withdraw from one or more courses in a term may be prohibited from continuing in the program and be required to apply for re-admission. When students are permitted to continue in the program, it is their responsibility to present evidence of successful completion of the failed course(s) to Enrolment Services either before the end of the next term or before the credential is awarded, whichever condition is specified.
Applicants who possess a valid Private Pilot License - Aeroplane issued by Transport Canada at the time of application will be granted transfer credit for the following courses: FLGT 100, FLGT 101, FLGT 102, FLGT 103 and FLGT 104 for the next September intake. Applicants will be required to complete a Transfer Credit Request Form (pdf) and present a valid Aviation Document Booklet to the Program Head for verification after an application is received. Program entry will be delayed to November/December. The start date will be communicated by the Program Head. Tuition will be reduced as transferable course fees will not be charged and flight fees will be reduced by 70% accordingly. Please see the Tuition and Fees section for more information.
Alternative admission
Applicants who do not possess the academic qualifications for a program may be admitted if evidence of probable success can be established through an alternative admission assessment. Applicants are automatically considered for alternative admission. However, some specific admission requirements may still need to be met.
ACCUPLACER©
Refer to the ACCUPLACER© cut scores for this program below, and review additional details concerning Alternative Admission using Accuplacer.
250 Arithmetic
247 Quantitative Reasoning, Algebra, and Statistics
250 Reading
245 Writing
Post-secondary
Some programs allow applicants to meet the admission grade level requirement using 15 approved post-secondary credits. Review additional information.
If the program applied to has specific course requirements, they may be met through alternative post-secondary courses. Review already approved courses that may be used for admission purposes for your programs.
Admission method
First Qualified/First Admitted
The First Qualified/First Admitted (FQFA) process is used for the majority of Saskatchewan Polytechnic programs. When we determine that you meet the program's admission requirements, you will be offered admission based on the date you fully qualify for the program. The earlier you provide the appropriate documents and information that qualify you for admission to the next intake, the earlier you might begin your studies. Your application, once qualified, is always considered for the next intake.

Applicants to programs with multiple intakes in an academic year remain in the application pool until the last intake for that academic year has begun. Programs using the FQFA process receive applications year round and maintain an application pool for each academic year. Qualified applicants who are not offered a seat must reapply for the next academic year.

Sponsored programs or programs targeted to specific groups do not accept applications year round or maintain an application pool.
See Admission Processes for more information about this method of admission.
Tuition and fees
Estimates are based on current rates and are subject to change. Amounts for a program may vary by campus. Totals shown here include all mandatory fees as well as approximate cost for books and supplies. Visit the Tuition and Fees web page for a complete breakdown of tuition and fees for this program.

Year one fees include flight time and related costs to qualify for a Private Pilot's License. Year two fees include additional flight time and related costs to qualify for the Commercial Pilot's License.

2023-24 academic year

Full program: $78,500

This estimate includes:
Year one - $26,680 Pilot's License training fee
Year two - $51,490 Pilot's License training fee
This program is only eligible during semester 2 (year 1), semester 3, semester 4 and work term 2 (year 2) for the Canada-Saskatchewan student loan program.
International students
View tuition rates for international students.
Courses
Semester information only pertains to full-time/on-campus students, and part-time/online students should view course prerequisites when scheduling courses.
Semester Dates are to be determined
Get credit for what you know
Prior Learning Assessment and Recognition
Saskatchewan Polytechnic recognizes that adults learn in many different ways. This includes acquiring knowledge and skills through life and work experience or non-formal training.
See link(s) below to get more information about PLAR.
Transfer credit
Many Sask Polytech students benefit from transferring course credit. You may be eligible to transfer credit to Sask Polytech or to another college or university.
Student awards
Thanks to the generosity of donors and alumni, Saskatchewan Polytechnic gives away more than $2 million in student awards during the academic year.
Saskatchewan Polytechnic offers student awards for every certificate and diploma program at every campus. Not all student awards are based on marks - some are based on financial need or things like community or volunteer involvement.
Additional information
Flight school partners: