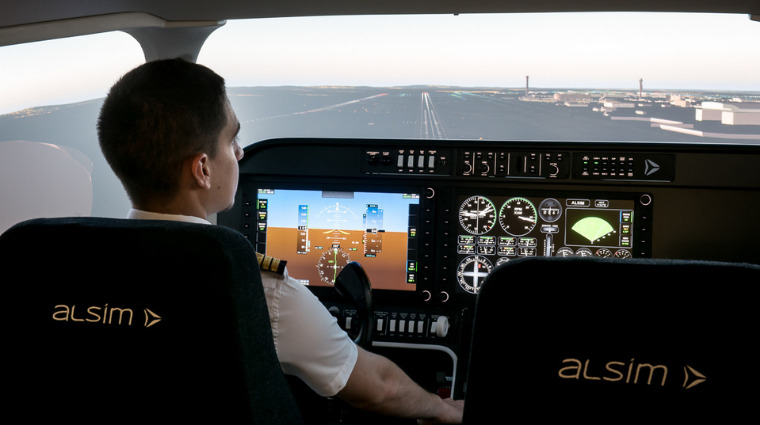 December 21, 2021 – Saskatchewan Polytechnic is upgrading its fleet with a new AL250 flight simulator. The ALSIM flight simulator provides commercial pilot students programmable real-life scenarios that include flying in all kinds of weather and dealing with emergencies and standard operating procedures, risk free.
Sask Polytech's previous ALSIM simulator, which we have owned since 2011, has multiple configurations which include single engine, multi-engine, piston engine, turbine engine and jet aircraft. The new AL250 simulator has six configurations that represent several different types of piston aircraft. It includes the latest ALSIM VFR Visual System and technology that sends vibration cues that mimic actions like the engine starting to enhance the feeling of flying. It also contains a real Garmin GTN650XI and has a level two rating by Transport Canada, able to instrument proficiency checks.
"The AL250 will be an integral part of Saskatchewan Polytechnic's newly revamped Commercial Pilot diploma program. Moreover, Sask Polytech, along with other ALSIM Canadian clients like Canada Training Solutions (CTS), are helping create a cost-effective, aviation-focused artificial intelligence," Dr. Scott Firsing of ALSIM's North America office explains. "The artificial intelligence uses data from the AL250 flight simulator. This data will help improve flight training that can be approved to occur within flight simulators. This will help lower the cost and improve the effectiveness of flight simulator training. Innovations like this will help us move safely into a prosperous next chapter of commercial flight."
"We are excited our commercial pilot students will have the opportunity to train on the new AL250 simulator," says Paul Carter, Sask Polytech School of Transportation dean. "This simulator will augment the training of our students and will be used to upskill existing pilots as they add to their qualifications. We look forward to providing many years of high quality, effective training with this simulator. We are also excited to know that technical data generated by its use will support the case being made to increase the overall use of artificial intelligence in flight training."
Sask Polytech's Commercial Pilot diploma program provides a strong foundation in the basic principles of aviation. Students alternate ground school training sessions with actual flying experience.
Learn more about the School of Transportation, Commercial Pilot diploma program.