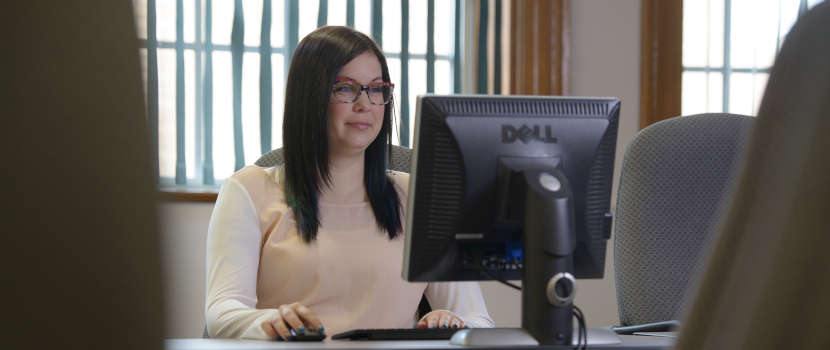 Practical training in accounting can be a tremendous asset, whether you want to broaden your career options, meet changing job requirements or start your own business. It helps to have a good head for numbers, but the real key to success in the field is attention to detail and accuracy.
Start date
Varies. View course offerings.
Locations(s)
Online/Distance options available
Length and location notes
It is offered on a course-by-course basis through Continuing Education (evenings and Saturdays, and by Distance Education (online).
Some programs offered online or otherwise by distance (i.e., correspondence) include on-site labs, clinicals, practicums or work experiences. They may be offered course-by-course or full-time, or both, and deliveries may change over time.
You'll receive practical training in:
Accounts receivable and accounts payable;
Accounting for partnerships, shareholder equity, pension plans;
Accounting software and information systems;
Bookkeeping;
Fundamentals of auditing, finance and taxation; and
Payroll
You'll develop a solid foundation in basic accounting theory, but the focus is on practical application. At Saskatchewan Polytechnic, hands-on exercises and projects help you translate knowledge into skills.
All courses are available through a combination of distance education and night classes in Regina and Saskatoon.
Courses align with professional accounting designation requirements. You can pursue professional designations to build your earning potential.
Career and salary information
Your career
The Accounting certificate qualifies you for entry-level jobs such as accounts payable/accounts receivable clerk, bookkeeper and payroll clerk. If you're already working, adding accounting skills to your resume opens doors to other jobs and promotions. You can also put the practical skills to work in your own business.
Every organization needs individuals with accounting skills. Jobs are available in health care, education, hospitality, non-profit, transportation, finance, manufacturing, natural resources, construction, government and more.
Do you need help deciding if these careers could be a good fit for you? Contact Career Counselling Services. Do you already know this is the program you want to take but need more detailed information or help applying? Connect with a recruitment advisor.
Potential careers
Part-time delivery
Students do not apply to this program, but take courses part time and apply to graduate (pdf) through Enrolment Services once all courses are completed.
You are not required to take a minimum number of courses per session when you take the courses online. Generally, all requirements must be completed within four years for a certificate, and five years for a diploma. (As per Policy # 114.)
A certificate from this program may be obtained given the following:
A pass mark of at least 50% has been earned in all courses. A grade point average (GPA) of 60% is required to graduate.
Once all courses toward a certificate have been completed, it is your responsibility to apply for graduation (pdf). The fee for this evaluation is $75 (fee subject to change).
If you have questions or need academic advising, contact Twyla Verhelst.

To register for individual courses, please view the part-time offerings available in the Courses section below.
Admissions
Admission requirements
Note: You do not apply or have admission requirements assessed for this program. You take courses through Continuing Education. Once you have successfully completed all the courses in the program, simply apply to graduate.
Admission method
Not applicable at this time
Tuition and fees
For tuition information, view individual course information.
Courses
Semester information only pertains to full-time/on-campus students, and part-time/online students should view course prerequisites when scheduling courses.
Students who completed ACCT 236 (Accounting Information Systems) before June 30, 2021, do not need to complete ACCT 219 (Managment Information Systems). These are not equivalent courses; however, ACCT 236 will be accepted in place of ACCT 219 as long as the program is completed within five years of starting.
Get credit for what you know
Prior Learning Assessment and Recognition
Saskatchewan Polytechnic recognizes that adults learn in many different ways. This includes acquiring knowledge and skills through life and work experience or non-formal training.
See link(s) below to get more information about PLAR.
Transfer credit
Many Sask Polytech students benefit from transferring course credit. You may be eligible to transfer credit to Sask Polytech or to another college or university.
Student awards
Thanks to the generosity of donors and alumni, Saskatchewan Polytechnic gives away more than $2 million in student awards during the academic year.
Saskatchewan Polytechnic offers student awards for every certificate and diploma program at every campus. Not all student awards are based on marks - some are based on financial need or things like community or volunteer involvement.
Related programs
Additional information
Twyla Verhelst
Student advisor
School of Business Continuing Education