Revised June 2023
The purpose of this guide is to provide a step-by-step walk through of how to complete the online application form for international students. This guide uses screen shots of the actual application form with notations to complete the form accurately and completely. This guide also includes additional suggestions and recommendations.
Get started
Start the application process by clicking the Apply Now! button on the Apply to Sask Polytech Programs page.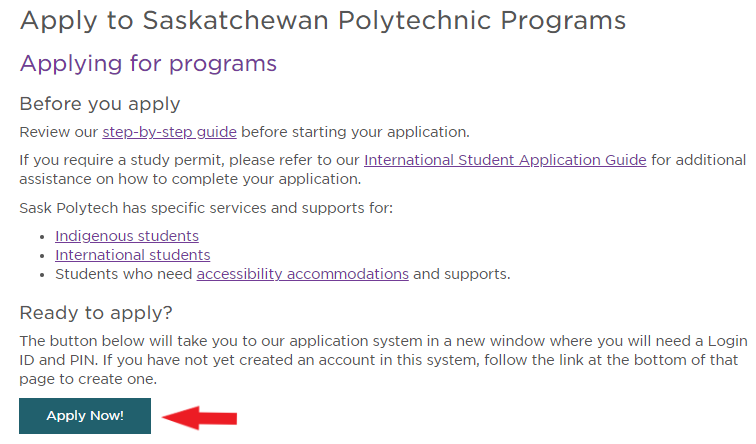 Create your login ID and PIN
Each applicant must have a unique Login ID.
To create a new application, click on user account creation.

Once you have created an account, you can log in under that account again to submit another application or edit your information.
Agents: If you use the same ID for different students, you won't be able to re-apply and alter applications using that ID.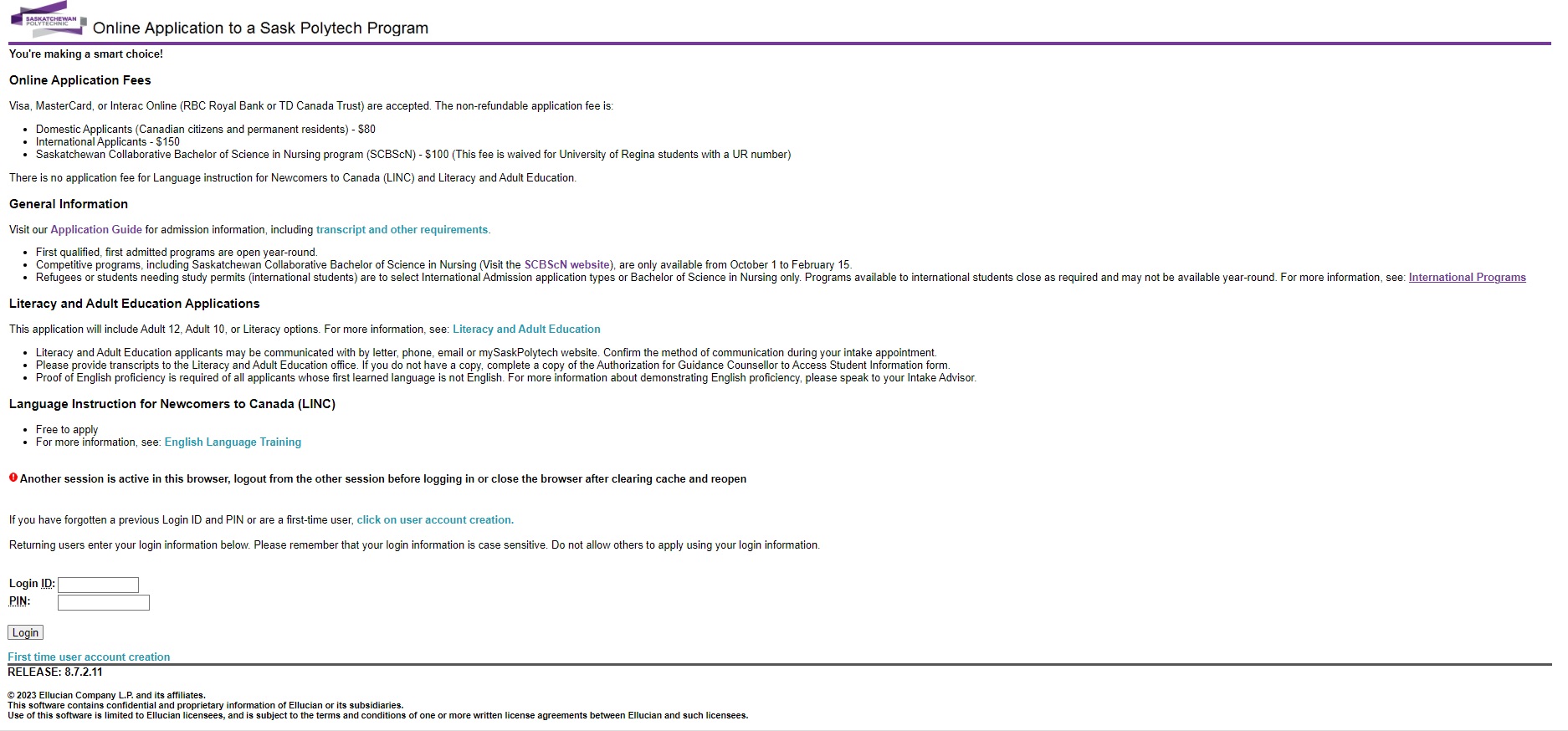 Select the application type

Select the appropriate application from the Application Type drop down menu.
To apply as an International student to:
a certificate or diploma, select application type International Admission.
a degree level program or post-graduate certificate program, select application type International Admission Degree.
the Saskatchewan Collaborative Bachelor of Science in Nursing, select application type Bachelor of Science in Nursing.



Click Continue.
Start your application

Do not use all caps. Using all caps delays the processing of the application as they will need to be re-entered.
Be prepared to make payment when you have completed the application form. The form will not be considered complete until payment has been made.
Select Application Term from the Admission Term drop down menu.

You are always applying for the next available intake. Check the program listing to see what programs are available.
If you want to be considered for a specific intake, you must let us know. Send an email to international@saskpolytech.ca after you submit your application form so we can roll your application to that intake.

Ensure the name entered matches the name on your passport and transcripts. This ensures we can match any documents submitted with your application.

Last Name = surname or family name

Click on Fill Out Application to continue.
Application checklist

This is the page you see when you once you have entered your name. It is also the page you'll see when you return to your application after you have created your account initially, logged out and returned. This provides a quick way to review and edit each section of the application.
Click on Name to continue.
Enter your name

Ensure the name matches the name on your passport and supporting documentation (transcripts, IELTs, etc.).
"Nickname" refers to the name a student usually uses on a day-to-day basis.
If you have applied or attended before, include your student ID number in the last field.
International information

Field labelled Visa: As an international student, select Student Visa from the list of options.
Field labelled Visa Number: If you already have a Study Permit, enter your visa number and expiry date.
Field labelled Visa Expiration Date: If you already have a Study Permit, enter the expiry date OR Select None if you do not currently have a Canadian visa.
Proof of English Language Proficiency is required for all non-exempt countries. Check the English Language Requirements chart for details.
If you want to enroll in our Learn English courses, please indicate this in the last field as shown above.
Address and phone

Enter your current mailing address and phone number at the top.
If you are an agent applying on behalf of an applicant, select the official agency's name and information from the drop down menu. Remember, agent information must be included at the point of application if you want to be recognized as the agent of record for this student. It cannot be added retroactively.
Click Continue.
Personal information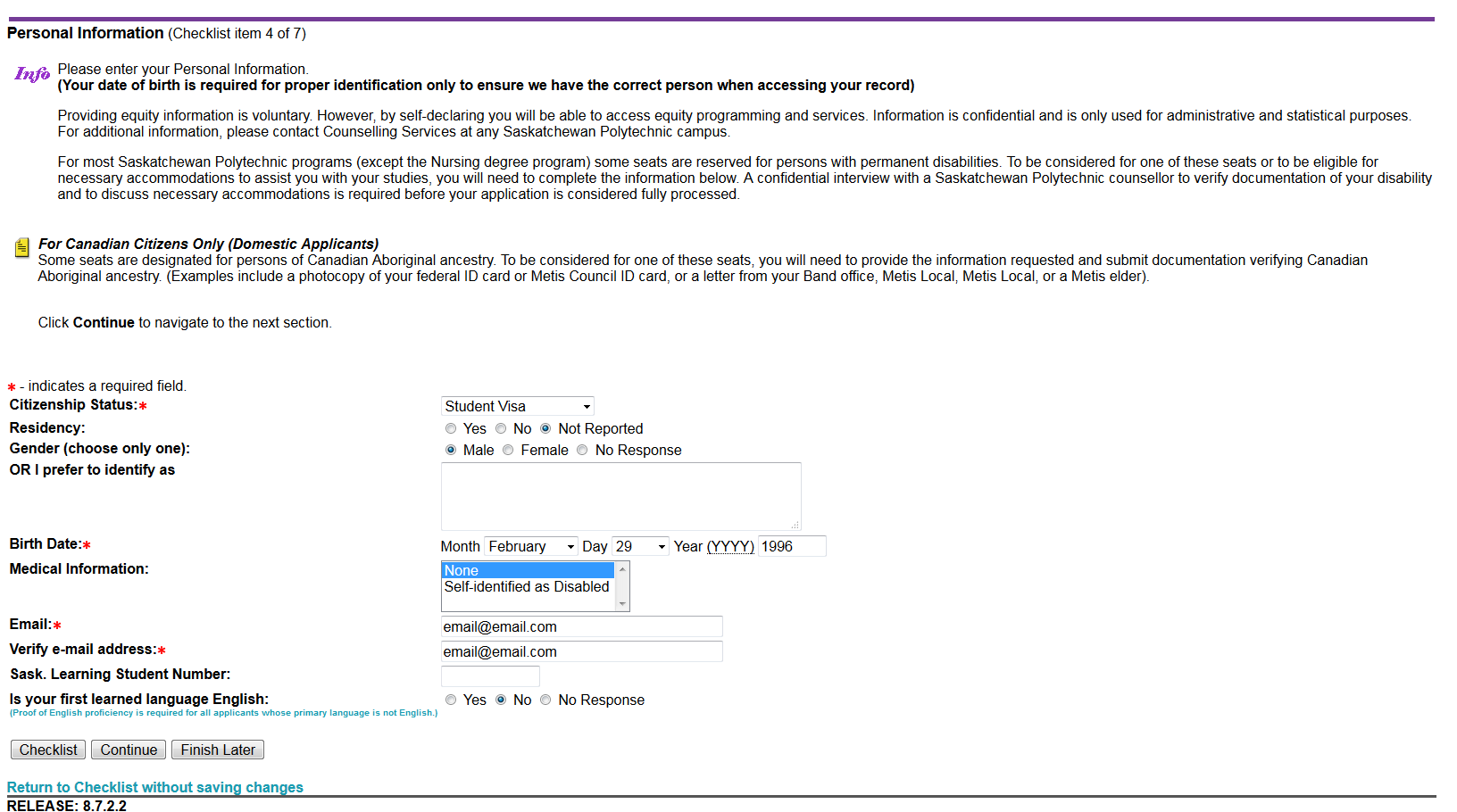 As an international student, choose Student Visa for citizenship status
If you have a disability (learning or physical), please identify this here. Knowing this in advance allows us to work with you to put provisions in place to support your learning at Saskatchewan Polytechnic.
We conduct all correspondence with the student via email. Please ensure the student's email is valid.

If you are an agent applying on behalf of the student, use the student's email address here.

Click Continue.
Planned course of study

Choose your program.

Programs currently available will be listed in the drop-down menu. If the program is not offered as a selection, this means that:

The program is not available to international students or;
The program is filled to capacity, and applications are not currently being accepted for that program.

Should you want to switch programs after an offer has been made, you must submit another application.

Click Continue.
High School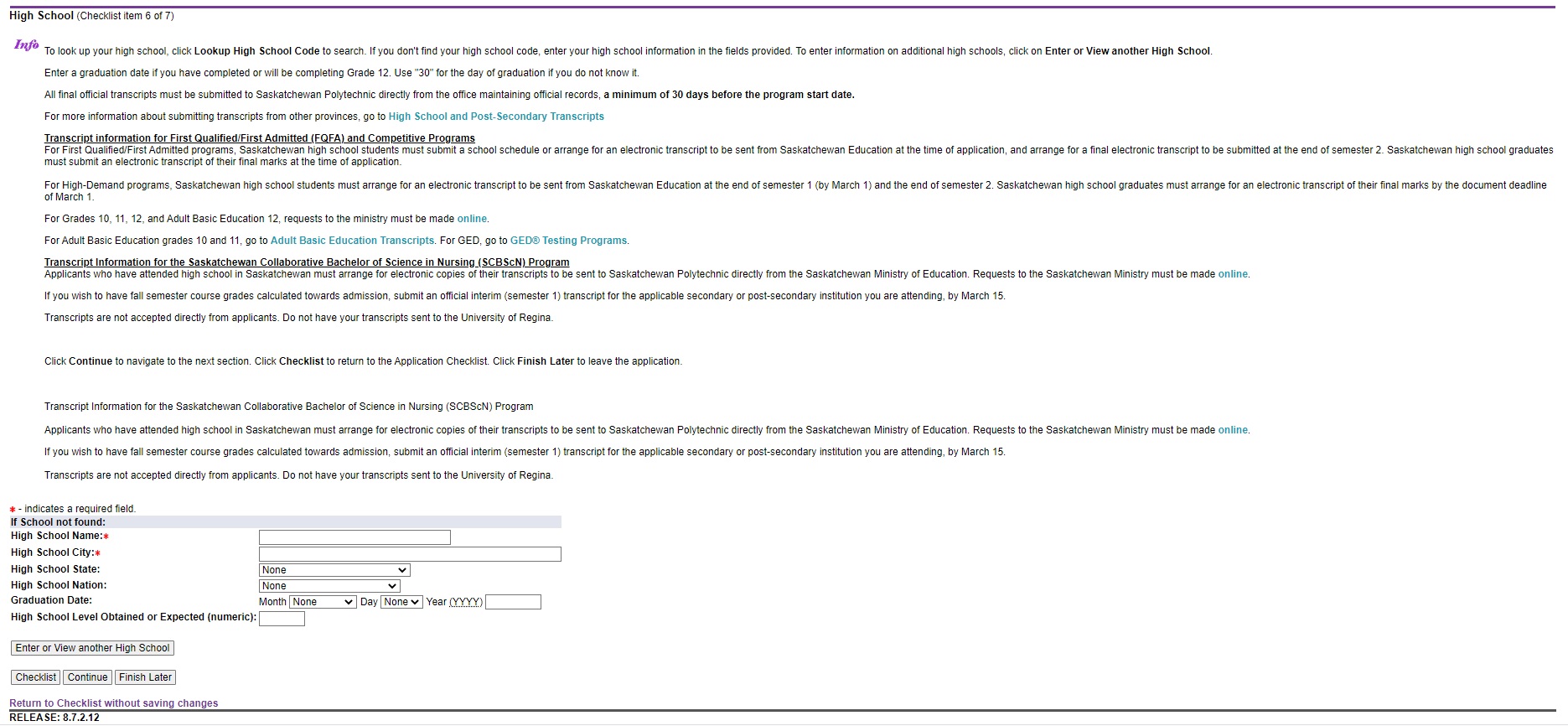 Enter the high school name and city as required.

If you are still enrolled in Grade 12 when applying, include your expected graduation date.
High school information is required even if you are applying for a post-graduate program.

Include these transcripts with your other documents.
Click Continue.
Previous college

If you have previous post-secondary education, include this information when applying.

Our assessors look to these transcripts if an application is lacking at the high school level. (For example, you don't have math in grade 12 but do in post-secondary).
In addition, if you plan to apply for transfer credit, Enrolment Services will only consider education declared at the point of application for transfer credit. If you present these documents later, they will not be considered.

Click Continue.
Is the application checklist completed?

A green check mark will be displayed beside each section you have completed. From this screen, you can click on the various headings to review your submission.
Click on Application is Complete to save and continue.
Fee payment disclaimer

On the fee payment page, please read the acknowledgment carefully.
When you are ready to continue, click on Proceed to Secure Payment Processor.
Payment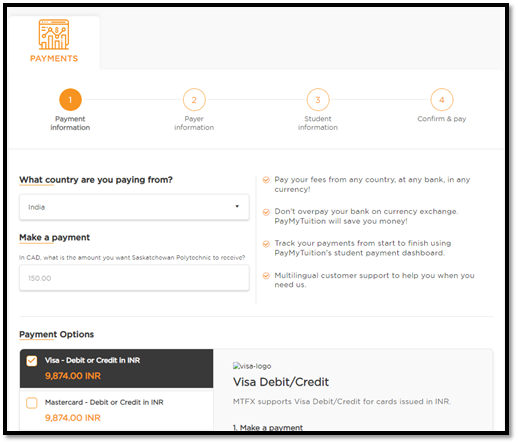 1. You will be taken to the PayMyTuition portal to complete your payment.
2. Complete the payment information.
3. Click Next.

4. Complete the payer and student information.
5. Click Next.
6. Review the information and click Confirm.

7. Click the Pay Now button.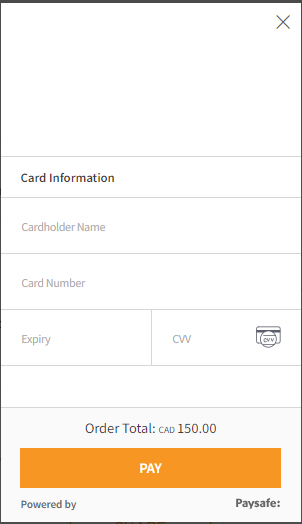 8. Enter your credit card information and click the PAY button.
9. After successful payment, you will be returned to the Signature Page which will indicate successful payment.
An application submission is not complete until the payment has been processed. If the transaction is declined, your application has not been submitted.

10. You will receive emails from PayMyTuition indicating that payment is pending and then again when it has been successfully completed.
Contact us
Contact International Education.