International Education Guide to Completing the International Student Application Form
revised April 2018
The purpose of this guide is to provide a step-by-step walk through of how to complete the online application form for international students. This guide uses screen shots of the actual application form with notations to complete the form accurately and completely. In addition, this guide includes additional suggestions and recommendations.
Getting Started
Click on "Apply Now" under the International Heading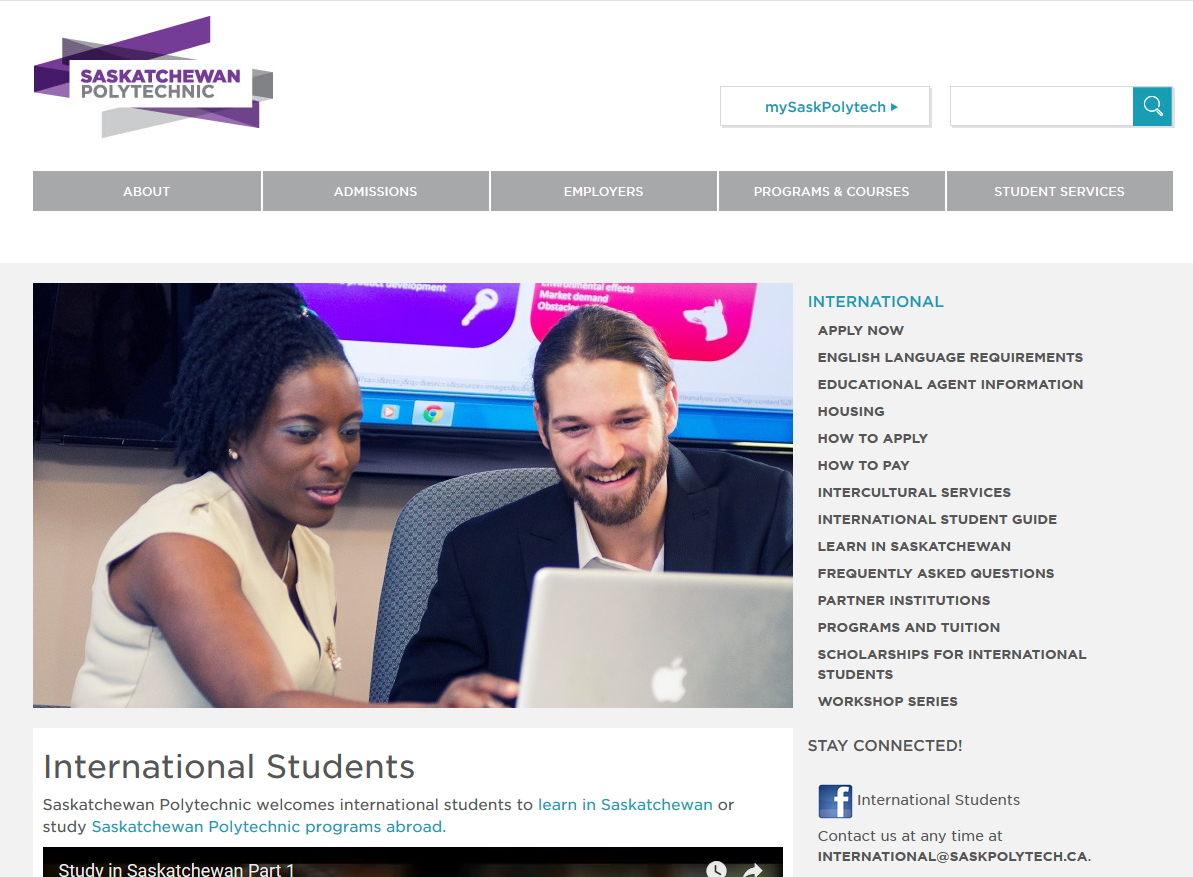 ---
Creating Your Login ID and PIN
Each application must have a unique Login ID. To create a new application select "First time user account creation." If you use the same ID for different students, you won't be able to re-apply and alter applications using that ID. Once an account has been created, you can log in under that account again to submit another application for that student or edit information.
Do not use ALL CAPS. Using all caps will delay the processing of the application as they will need to be re-entered.
Be prepared to make payment when you have completed the application form. The form will not be considered complete until payment has been made.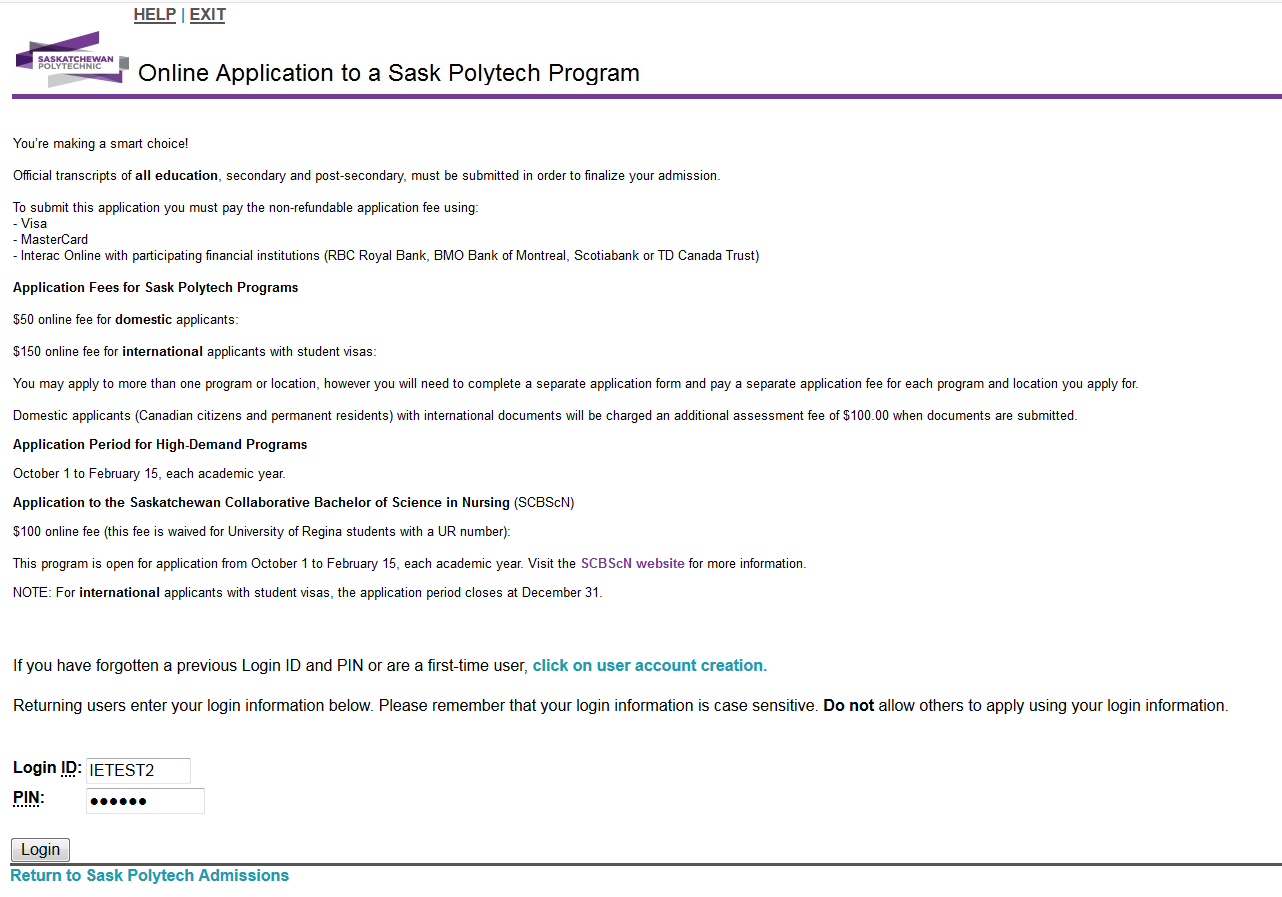 ---
Select the Application Type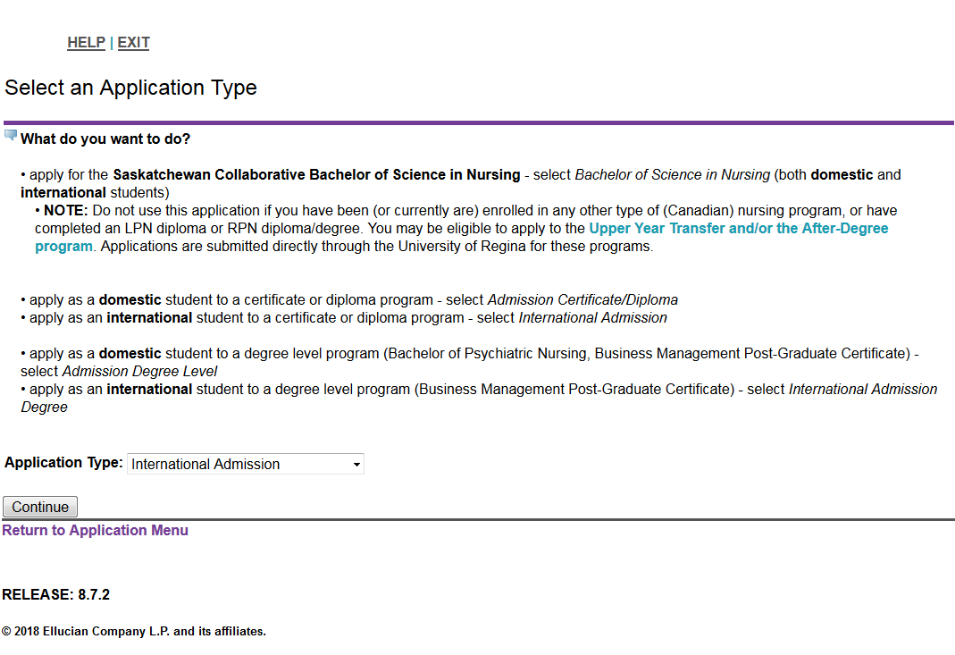 Select the appropriate application from the Application Type drop down menu.
To apply as an International Student to:
a certificate or diploma, select application type International Admission.

a degree level program (Post-Graduate Certificate), select application type International Admission Degree

the Saskatchewan Collaborative Bachelor of Science in Nursing, select application type Bachelor of Science in Nursing
Click "Continue".
---
Starting Your Application
Select "Application Term" from the "Admission Term" drop down menu.
You are always applying for the next available intake. Check the program listing to see what programs are available.
If you want to be considered for a specific intake, you must let us know. Send an email to international@saskpolytech.ca after you submit your application form so we can roll your application to that intake.
Ensure the name entered matches the name on your passport and transcripts. This ensures we can match any documents submitted with your application.
Last Name = surname or family name
Click on "Fill Out Application" to continue.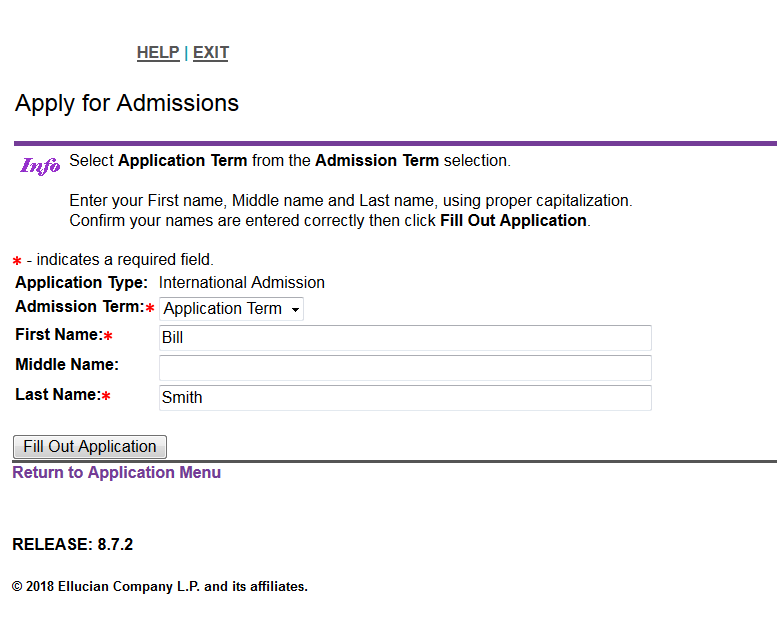 Programs with a January intake
Auto Body Technician (Regina)
Business (Moose Jaw)
Continuing Care Assistant (Prince Albert)
Commercial Pilot (Saskatoon)
Hairstylist (Prince Albert)
Office Education (Prince Albert and Regina)
Program with a fall intake (August/September)
All programs, except Commercial Pilot
---
Application Checklist
This is the page you see when you once you have entered your name. It is also the page you'll see when you return to your application after you have created your account initially, logged out and returned. This provides a quick way to review and edit each section of the application.
Click on "Name" to continue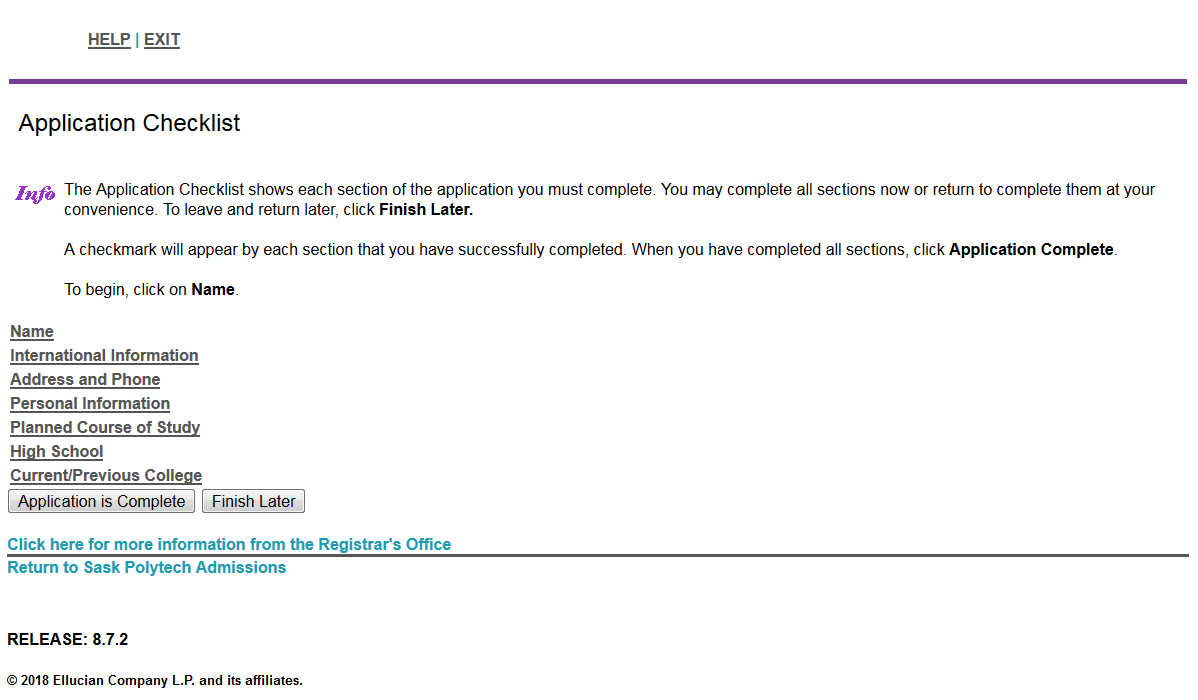 ---
Entering Your Name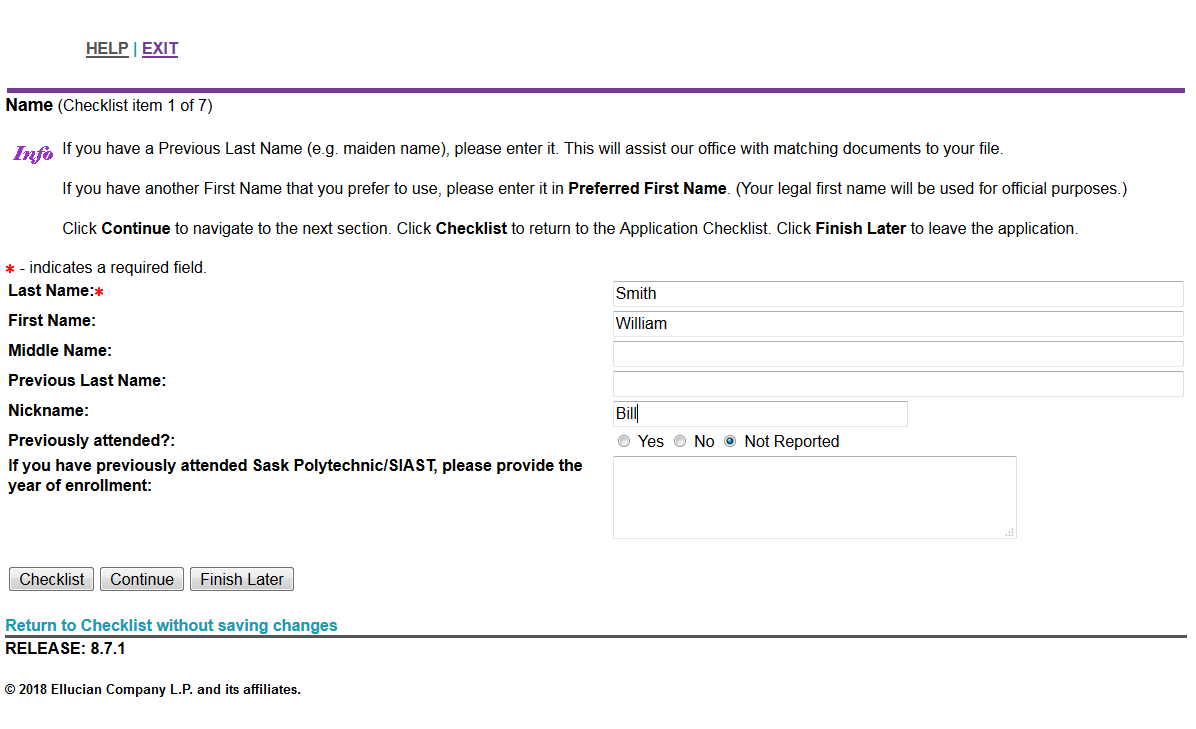 Ensure the name matches the name on your passport and supporting documentation (transcripts, IELTs, etc.)
"Nickname" refers to the name a student usually uses on a day-to-day basis.
If you have applied or attended before, include your student ID number in the last field.
---
International Information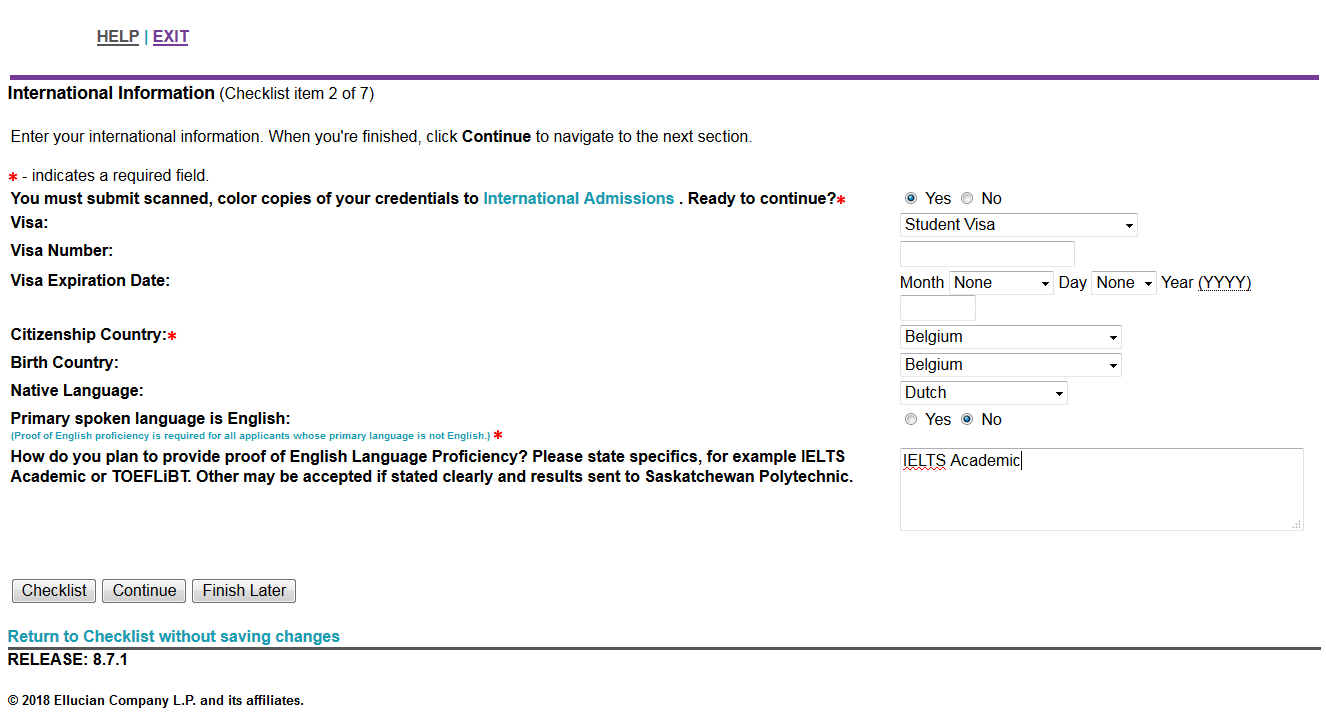 Clicking on this link will load an e-mail window allowing you to attach copies of transcripts and other documentation. Colour PDF copies are preferred though JPG are acceptable.
You can also email the documents to internationaldocuments@saskpolytech.ca.
All supporting documents should be in one e-mail. If this isn't possible (because of the size of the e-mail) be sure to include your full name and DOB in the subject line. Do not send compressed/zipped files.


Agents, please submit one email per applicant.

Enter your visa number and expiry date, if applicable. Select "None" if you do not currently have a Canadian visa.
Proof of English Language Proficiency is required for all non-exempt countries. Check the English Language Requirements chart for details.
Click "Continue"
---
Address and Phone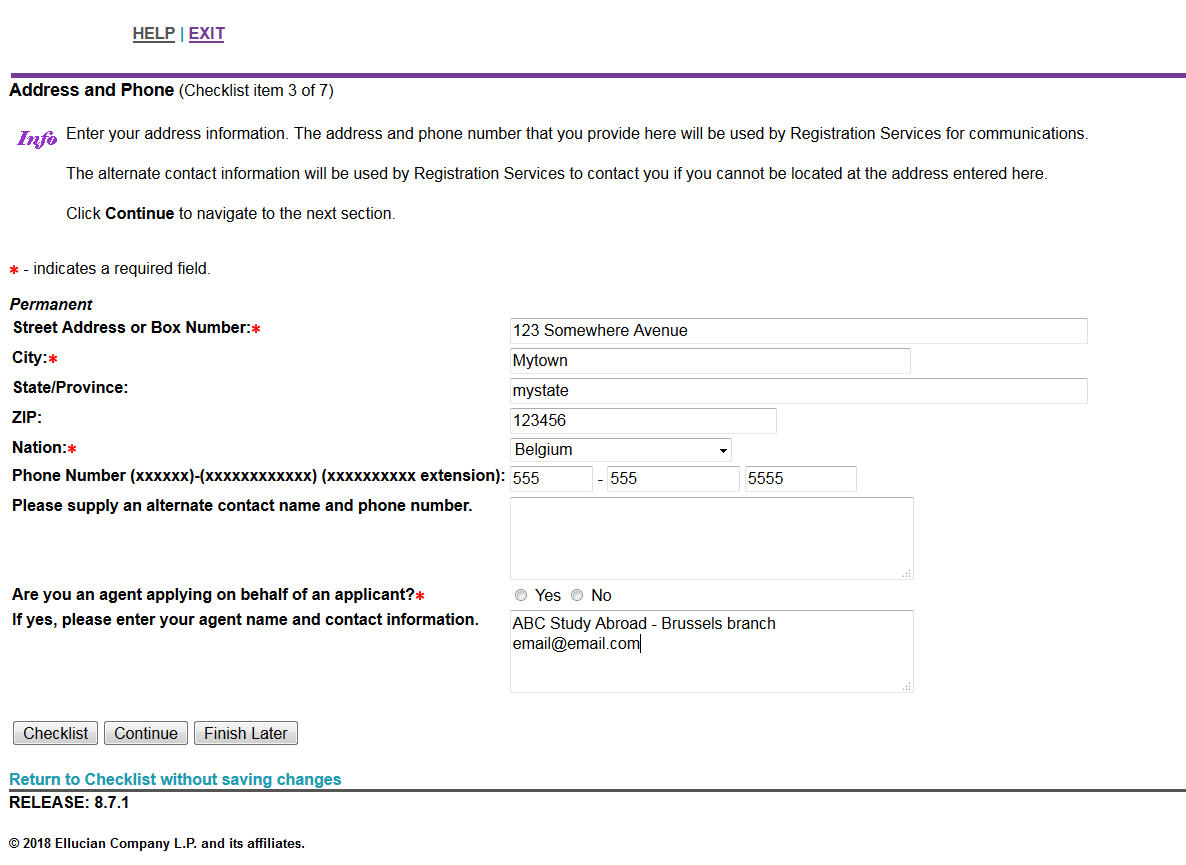 Enter your correct mailing address and phone number at the top.
If you are an agent applying on behalf of an applicant, enter the official agency's name and information at the bottom of this area. Do not include the individual counsellor's name.
Click "Continue"
---
Personal Information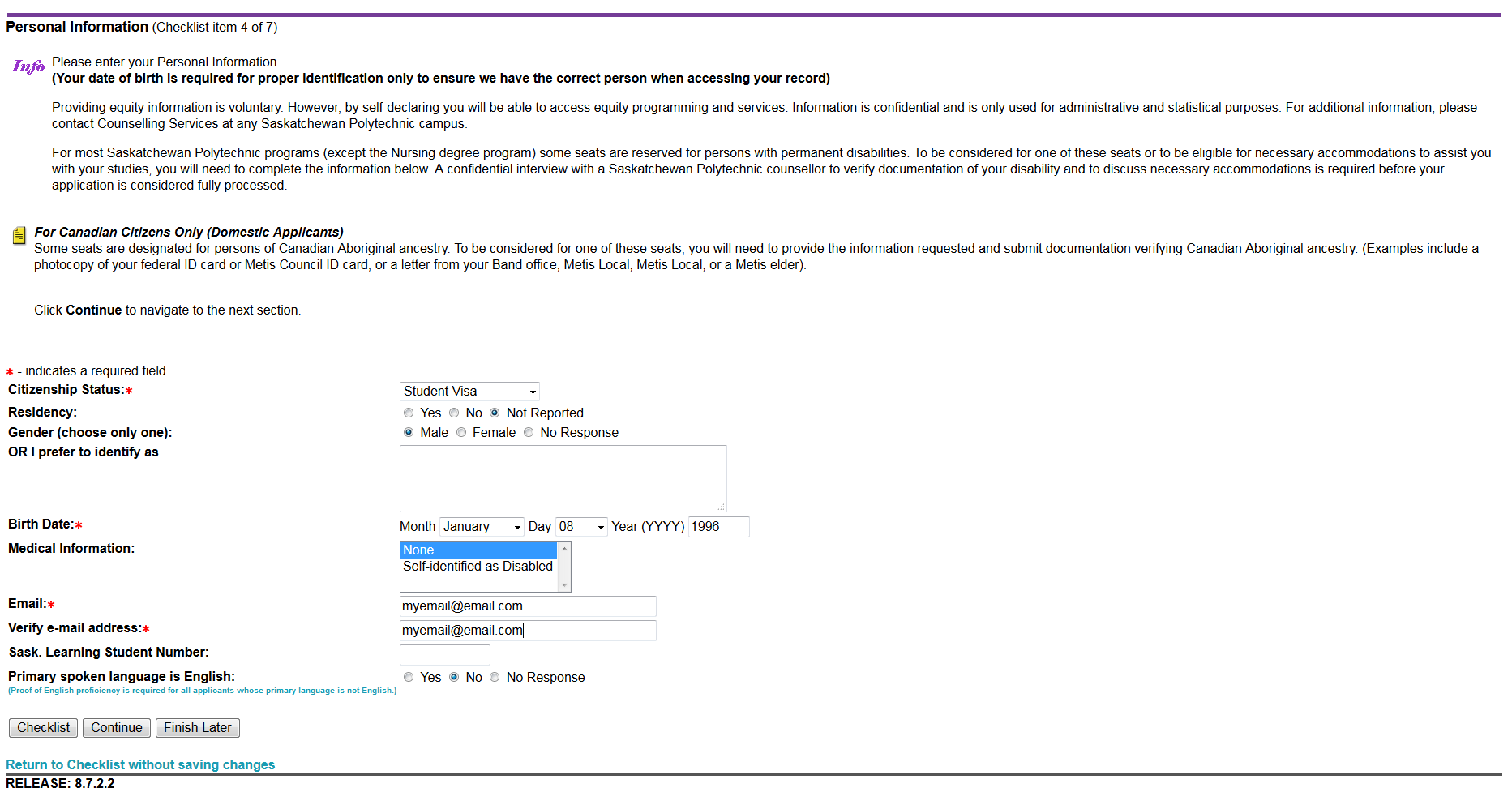 As an international student, choose "Student Visa" for citizenship status
If you have a disability (learning or physical), please identify this here. Knowing this in advance allows us to work with you to put provisions in place to support your learning at Saskatchewan Polytechnic.

We conduct all correspondence with the student via email. Please ensure the student's e-mail is valid. If you are an agent applying on behalf of the student, use the student's email address here. Put you agency email address in the agency contact information on the previous screen.
---
Planned Course of Study

Programs currently available will be listed in the drop-down menu. If the program is not offered as a selection, this means that:
The program is not available to international students or;
The program is filled to capacity and applications are not currently being accepted for that program.
The availability of programs will vary throughout the year as we admit students and students withdraw (lack of funds, denial of visa, etc.)
If you are offered a seat, your application is closed. Should you want to switch programs after an offer has been made, you can submit (and pay for) another application.
---
High School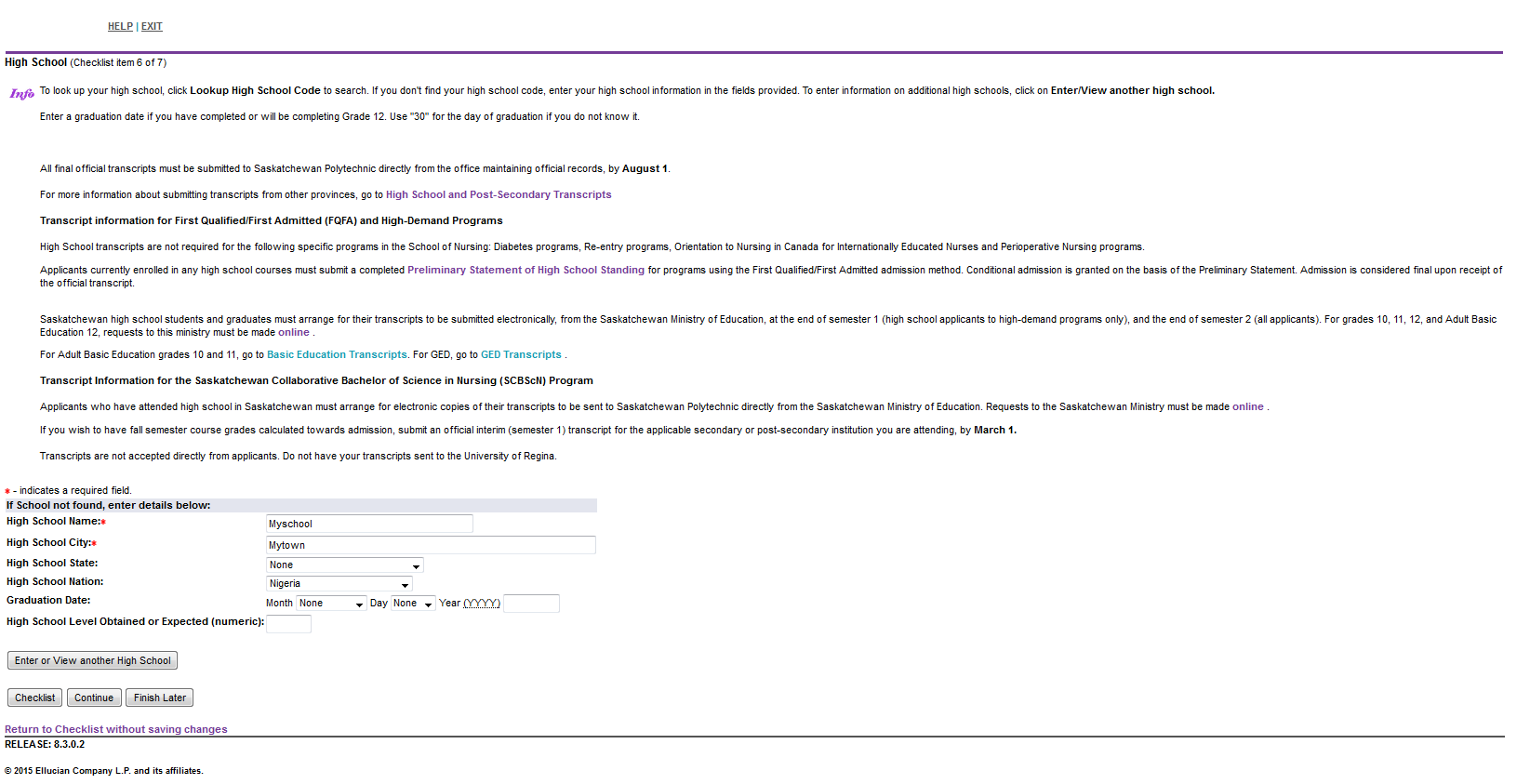 Enter the high school name and city as required.
If you are still enrolled in Grade 12 when applying, include your expected graduation date.
---
Previous College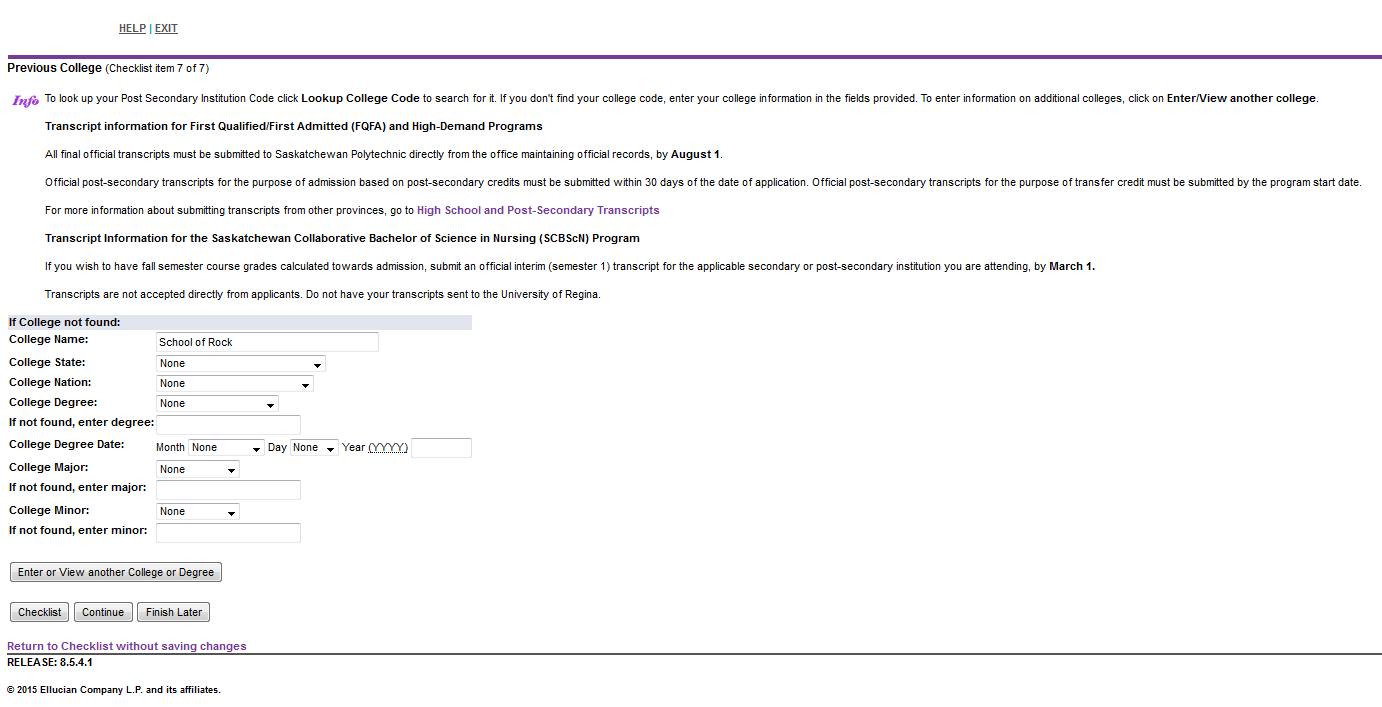 If you have previous post-secondary education, it is to your advantage to include this information when applying. Our assessors look to these transcripts if an application is lacking at the high school level. (For example, you don't have a math in grade 12 but do in post-secondary).
In addition, if you plan to apply for transfer credit, Registration Services will only consider education declared at the point of application for transfer credit.
Students applying for a post-grad certificate or degree must provide information on your degree here.
Include these transcripts with the other documents.
---
Application Checklist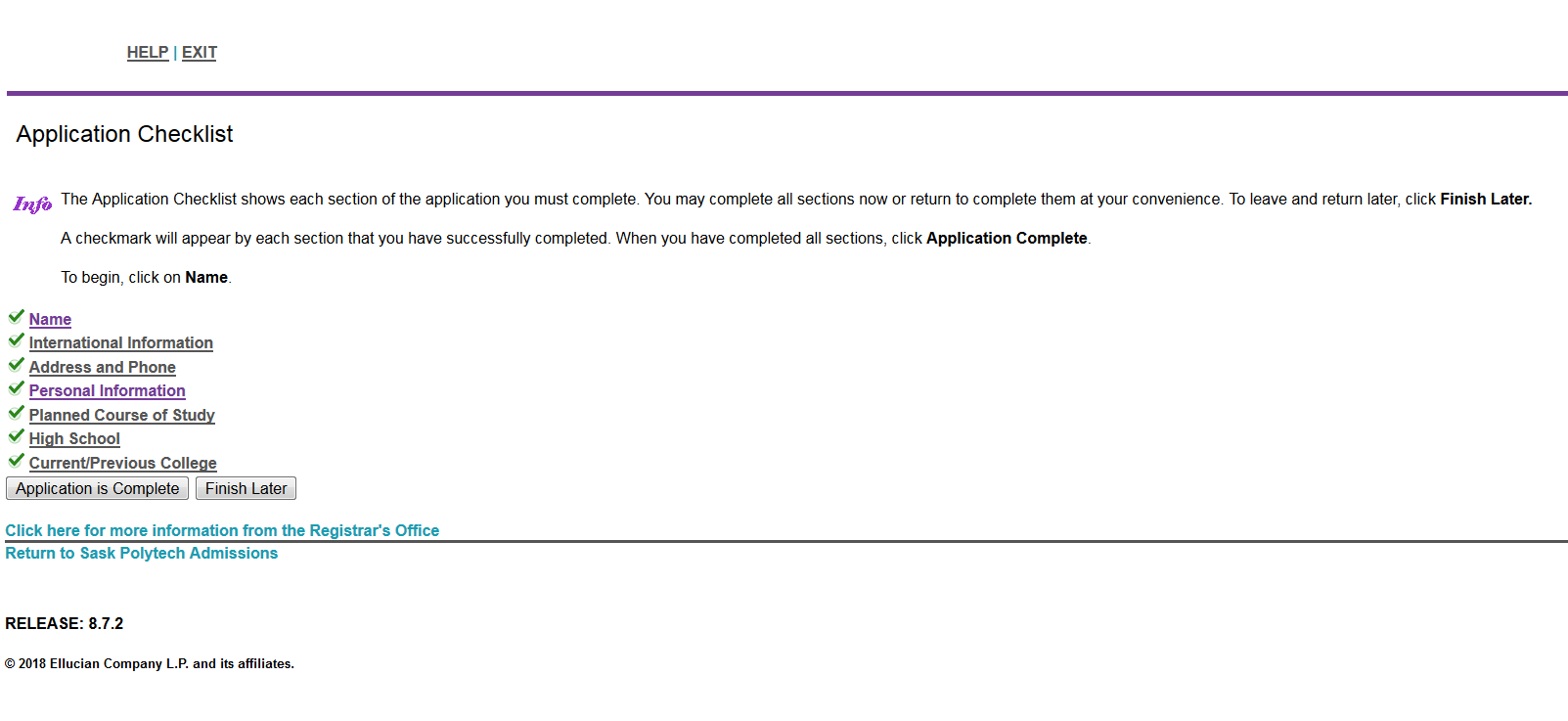 From this screen, you can click on the various headings to review your submission.
Click on "Application is Complete" to save and continue.
---
Fee Payment

On the fee payment page, please read the disclaimer and click on "Proceed to Secure Payment Provider Page" to continue.
---
Payment

After paying your application fee you'll receive a confirmation and electronic receipt.