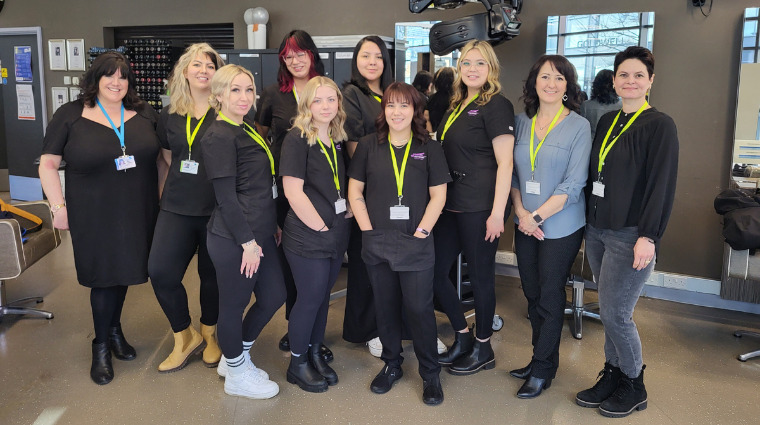 Students from the Hairstyling diploma program at Saskatchewan Polytechnic's Prince Albert campus spent a week in the United Kingdom in March practicing their trade and exploring the local culture. This global learning experience was funded by the Global Skills Opportunity Fund (GSO) which aims to empower post-secondary institutions to increase the participation of Canadians in international learning opportunities — especially Indigenous students, students with disabilities and those from low socio-economic backgrounds who have traditionally faced barriers to participation.
Cardiff and Vale College (CAVC) in Cardiff, Wales welcomed Sask Polytech students for a tour and classes with local students in the Hair and Beauty program. Although they found techniques and practices similar to hairstyling back home, the biggest difference was their level of creativity. "Most of the trainers in the hair and beauty program had backgrounds in the dramatic arts. It offered our students a new perspective and gave them the confidence to be more creative and innovative with their work," says program head Louise Benson.
Learning at CAVC was only a portion of their experience. Students took in local cuisine, culture and history with a Welsh food tasting tour, Welsh language sessions, Cardiff Castle tour and a stop at St. Fagans National Museum of History. They also got to spend time exploring London which included a tour and presentation at Goldwell Academy, a hairdressing and salon training ground. For student Martie Mcleod, the experience was eye-opening. "It was the first time I've ever been on a plane," she says. "Everything was different, they drove on the other side of the road, that was kind of scary. The food, even the french fries tasted different."
"This was an incredible opportunity for our students. Not only did they get to travel and have an amazing cultural experience, but they were able gain valuable practice time in four master classes," says Benson. The master class training at CAVC provided students extra training hours in colouring, cutting, lightening and hair up.
"It was super fun learning new techniques. I want to do more of it," says student Teneil Wilkinson. Both Wilkinson and Mcleod enjoyed hair shaping using synthetic hair in the hair up class and learning new balayage techniques. "I loved them. Doing balayage was fun and the hair shaping was something new that we haven't been taught before," says Mcleod. "I've been practicing the balayage technique and the butterfly cut. They gave us a step-by-step how-to guide, I love doing the butterfly cut," adds Wilkinson. Students received their master class certificates during a special event on May 1 at Prince Albert campus.
Both students are grateful for the opportunity and would highly recommend a global learning experience. "I'm so thankful for this opportunity and hope to be able to grow from the many learnings," says Wilkinson.
Global Skills Opportunity, the Government of Canada's national outbound student mobility pilot program, made this international experience possible. It is an integral component of the Government of Canada's International Education Strategy and is administered jointly by Universities Canada and Colleges and Institutes Canada (CICan). Projects are designed, implemented and managed by participating universities and colleges across the country. GSO's vision is to expand the horizons of Canadian students from coast to coast and improve Canada's competitiveness on the world stage.
Sask Polytech is committed to global engagement, which includes providing opportunities for Sask Polytech students to participate in global study abroad opportunities. In addition to technical skills, employers are increasingly looking for graduates with global skills. Studying abroad can provide improved intercultural communication, greater flexibility and increased global knowledge. To learn more about the International Study Abroad opportunities at Sask Polytech, visit International Mobility (saskpolytech.ca). 
Update: this trip will take place again in 2024!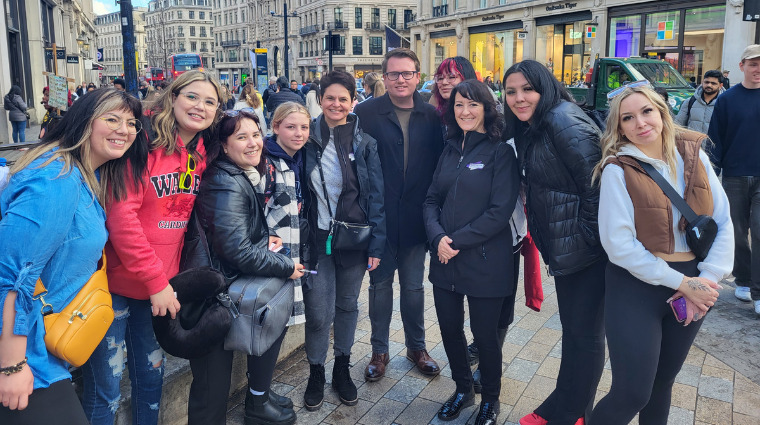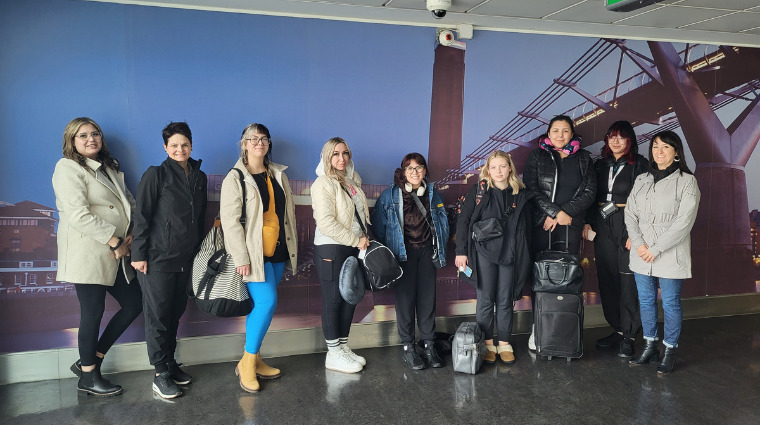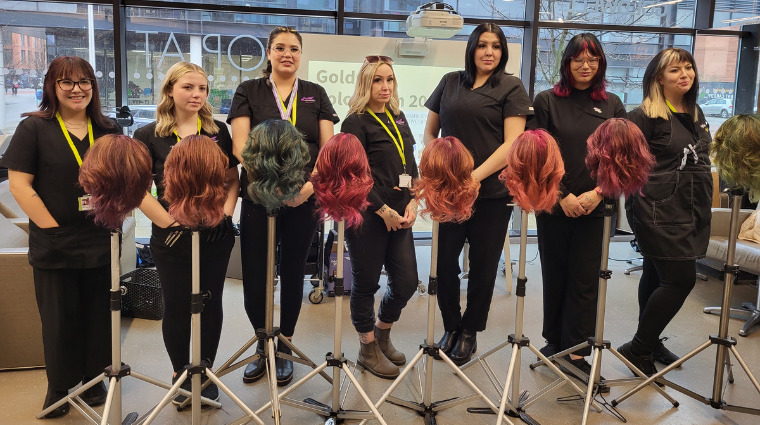 Visit the Hairstylist diploma (saskpolytech.ca) for more information on the program.

Book an appointment at the Sask Polytech Salon & Spa.
Many full-time programs still have available seats for fall 2023. Find a program and apply today.