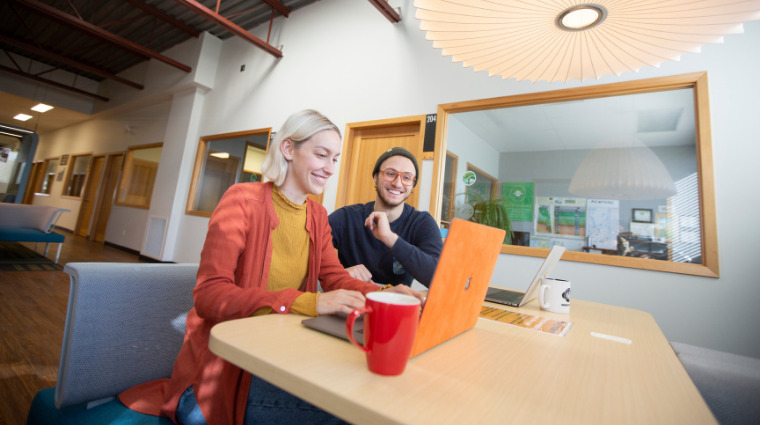 A consortium of Saskatchewan organizations have partnered to assist small businesses to grow their business online.
April 19, 2022 – Saskatchewan Polytechnic is creating work-integrated learning opportunities for post-secondary students interested in assisting small businesses grow their e-commerce and digital presence online. These opportunities are made possible by Connected Saskatchewan, a consortium of Saskatchewan organizations that are working to implement digital enhancement strategies for Saskatchewan businesses over the next three years.
Connected Saskatchewan is the Saskatchewan delivery agent for the Government of Canada's Canada Digital Adoption Program – Grow Your Business Online and includes Saskatchewan Economic Development Alliance (SEDA), Saskatchewan Polytechnic, Economic Development Regina and Digital Main Street.
Saskatchewan students and recent graduates will be eligible to apply to co-op positions and employment opportunities created by Connected Saskatchewan. The Canada Digital Adoption Program will support 384 e-commerce advisor placements over three years, with the first cohort starting on May 2, 2022. Applications are currently being accepted for the first cohort of 32 advisors. This is a multi-year agreement, additional work terms will be offered in the future.
"This is an amazing employment opportunity for students and helps Saskatchewan small businesses develop their e-commerce footprint," says Dr. Larry Rosia, Sask Polytech president and CEO. "We are creating paid work-integrated learning opportunities for students and alumni, where they receive guidance from faculty and Digital Main Street to deliver value-added services to small businesses in support of the Saskatchewan economy."
Sask Polytech, along with Digital Main Street, will provide successful applicants one week of intensive training on e-commerce tools and cybersecurity best practices. Each cohort of applicants will be ready to help an estimated 3,100 small businesses over the course of the three-year program. Each e-commerce advisor will work with a handful of small businesses during their work term. Faculty and Digital Main Street will continue to make ongoing educational resources available to the e-commerce advisors throughout their work term.
"Sask Polytech's focus on applied learning and history of successful industry partnerships makes them a great post-secondary education partner for Connected Saskatchewan," says Verona Thibault, SEDA CEO.
"Expanding our existing programming and being able to partner with Sask Polytech and this entire consortia in Saskatchewan is a very exciting opportunity. We look forward to working together to create meaningful work placements for youth, as well as supporting as many small businesses across as we can across the Province," says Darryl Julott, managing lead for Digital Main Street.
"Entrepreneurs and small businesses are the backbone of our economy, and Economic Development Regina (EDR) is excited to work with all of the Connected Saskatchewan partners to ensure more Saskatchewan entrepreneurs have the resources they need to digitize their growing businesses," EDR Events and Conventions Business development manager Brendan Manz says. EDR will participate in and provide strategic advice to the partnership management team, conduct business outreach and engage key partner groups including Women Entrepreneurs of Saskatchewan, the Council for Entrepreneurship Growth, the Regina Chamber of Commerce, to promote the program.
Saskatchewan students and recent graduates can apply to be e-commerce advisors through the Sask Polytech website at saskpolytech.ca/digitaladoption.
Connected Saskatchewan supports the socio-economic health and competitiveness of municipalities and First Nations. Eligible businesses for the Connected Saskatchewan program will receive a micro-grant of up to $2,400 to help with costs related to improving their digital presence and will be supported by a network of e-commerce advisors.
---
Saskatchewan Polytechnic is signatory to the SDG Accord. Sustainable Development Goal alignment is one of the ways Sask Polytech is leading the rise of polytechnic education.