2016 Award Recipients
Program Partnership Award
The Program Partnership Award is presented to an organization, individual or individuals, who have made a notable contribution to the development of a new or existing Saskatchewan Polytechnic program.
Presented to the Saskatchewan Wildlife Federation
Receiving the award on behalf of the Saskatchewan Wildlife Federation are Clark Schlutz, provincial director and board representative for the Hannin Creek Educational Facility and Laurel Waldner, education coordinator.
The Hannin Creek Educational Facility near Candle Lake, Saskatchewan, provides unparalleled opportunities for learning and applied research, all made possible by a partnership between the Saskatchewan Wildlife Federation and Saskatchewan Polytechnic.
The two organizations joined forces several years ago to develop the concept for a shared facility that would meet the needs of each partner. The concept became a plan and the plan became reality.
Both the facility and its location on the Northern Great Plains are truly unique. Students practice skills such as surveying, mapping and monitoring, water quality testing, as well as bird and fish species identification and anatomy.
New and advanced technologies, such as unmanned aerial vehicles and hydro-acoustic sonar, are used in the natural environment to help students prepare to meet industry's increasingly sophisticated, complex demands. When they graduate and enter the workforce, students will be able to share the potential of new technologies with their employers.
The Saskatchewan Wildlife Federation's one-of-a-kind collaborative partnership with Sask Polytech makes it possible for the Federation to offer a wide range of programs for the public and other organizations, such as canoeing, shelter building and survival. Forest firefighters and other groups rent the facility for training.
The Saskatchewan Wildlife Federation is a valued partner of Saskatchewan Polytechnic. By working together, our organizations have opened up a whole new world of opportunities that will help shape a whole new generation of conservationists.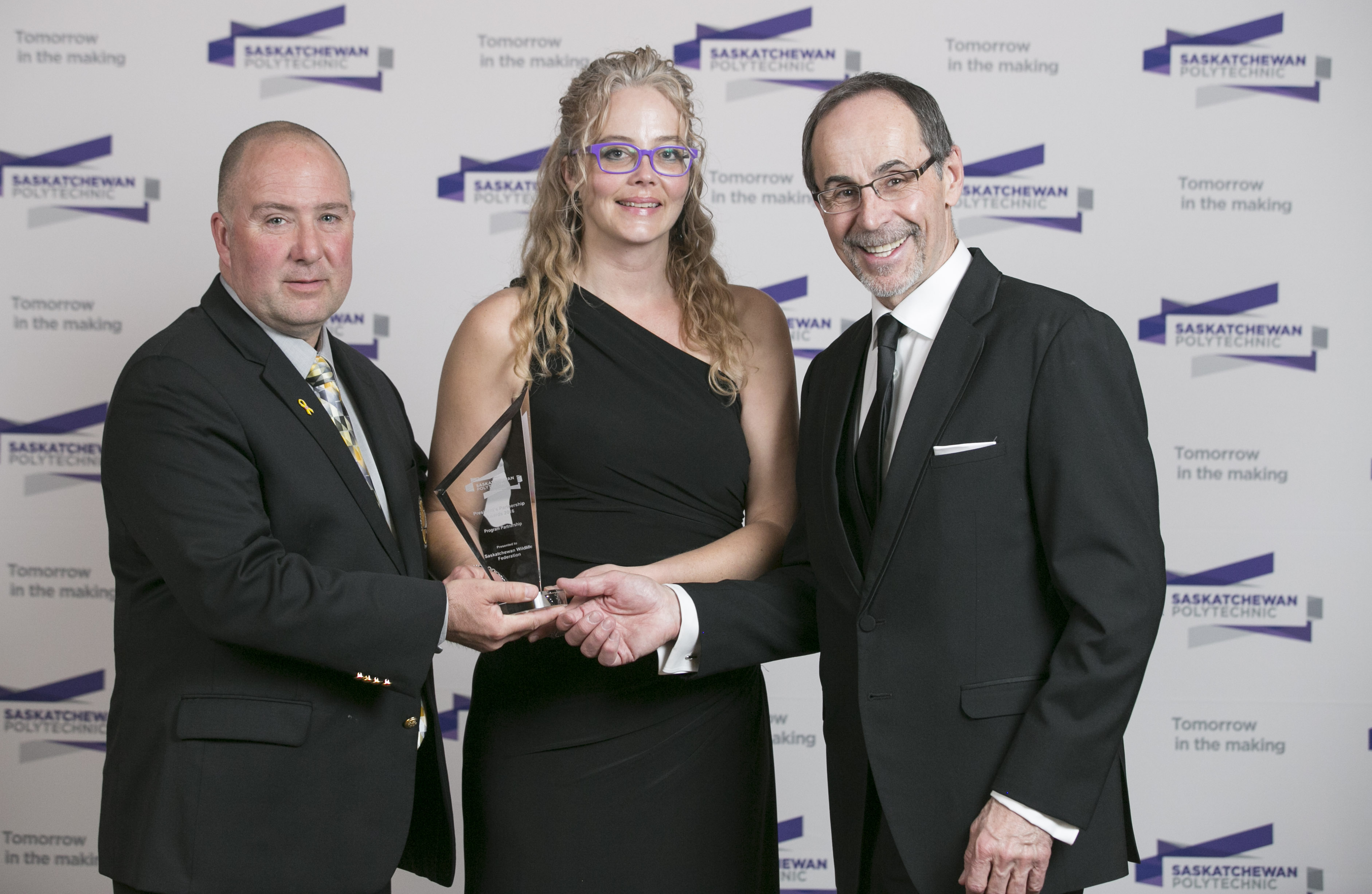 Alumni Partnership Award
The Alumni Partnership Award is presented to an alumnus, alumna or alumni who have advanced the reputation of Saskatchewan Polytechnic and/or made a notable contribution to Saskatchewan Polytechnic through a variety of means.
Presented to Brad Darbyshire
Born and raised in Saskatchewan's great North, Brad is a proud member of the Buffalo River Dene Nation and a proud alumnus of the Sask Polytech Heavy Equipment Mechanic program, class of 2000.
Brad began his career after completing the Sask Polytech Heavy Equipment Mechanic program. Following graduation, Brad began work with AREVA Resources Canada, where in 2000, he successfully achieved his Red Seal designation.
Developing a robust Aboriginal workforce within the Saskatchewan economy is of high priority to Brad.
When Athabasca Basin Development Corporation and Graham Construction recruited him, Brad accepted the opportunity to become the first employee of Points Athabasca–one of the largest Aboriginal owned contracting companies in Saskatchewan and Western Canada.
Under Brad's leadership as operations manager, general manager, seven years on the Points Athabasca Board of Directors, and ultimately CEO–Points Athabasca's mandate to employ Aboriginal people from the Athabasca region resulted in the highest employment rate the communities had ever experienced - and created an opportunity for Aboriginal people from across the province to participate in Saskatchewan's economy.
Recently, Brad was appointed vice-president, Saskatchewan Operations for Lynco Eagle, an industrial general contractor that was formed through a partnership which includes the Saskatoon Tribal Council and its seven First Nations communities. Brad looks to apply his experience and leadership to advance the interests of community stakeholders by creating employment and equity for future generations to come. Brad believes that only through complete integration of strong community values and good business practices will the next level of Aboriginal business success be achieved
In the community, Brad has been involved with a variety of organizations including the White Buffalo Youth Lodge, a non-profit that focuses on outreach to inner city youth experiencing poverty, social issues and opportunity shortfalls. The White Buffalo Youth Lodge is of special importance to Brad because he believes economic development will be the path forward for many young people struggling to participate in the wealth of our province, and that the business community support and creativeness will be vital to eliminating the disparity of our less fortunate.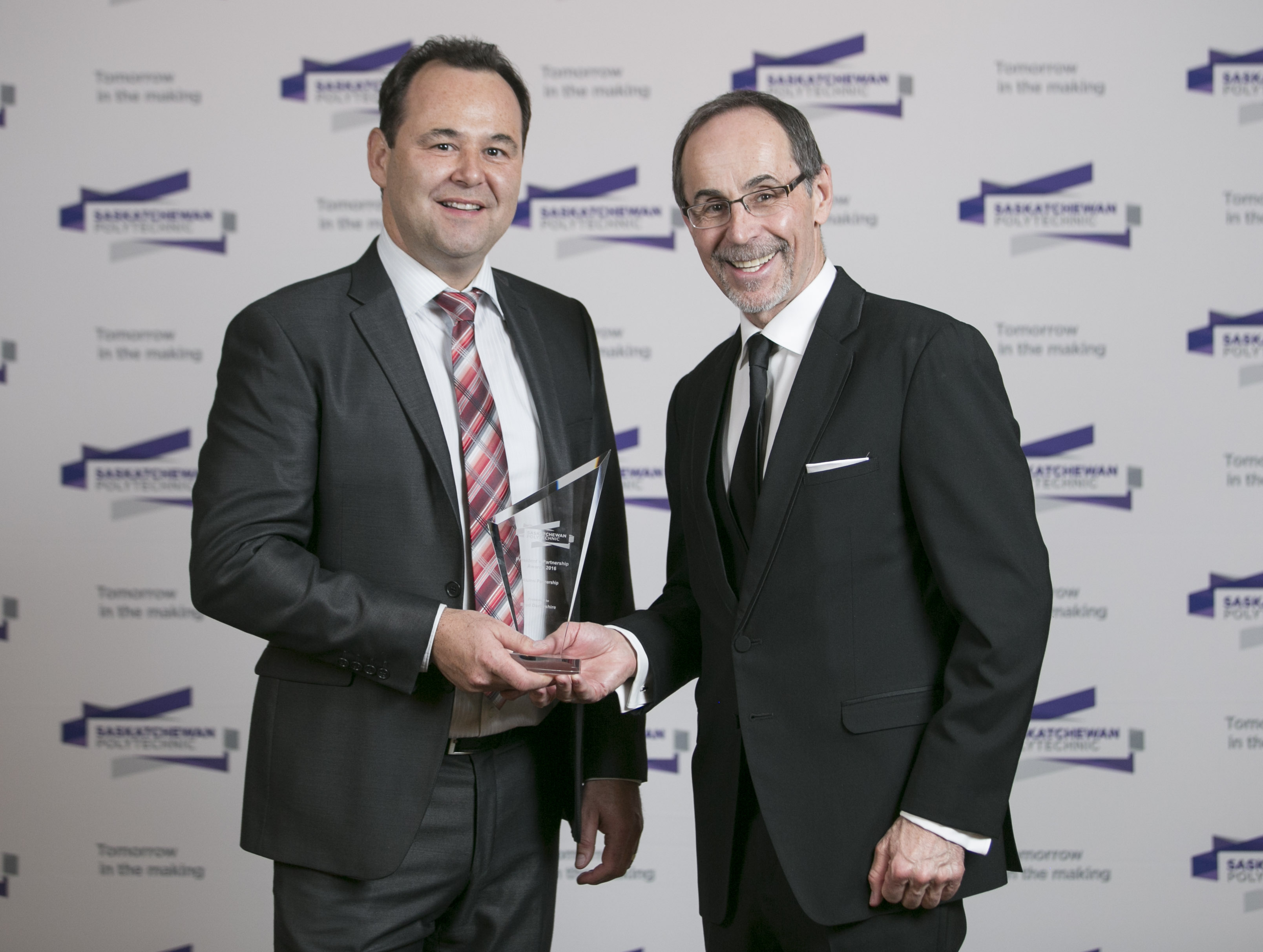 Industry Partnership Award
The Industry Partnership Award is presented to an industry partner that has supported Saskatchewan Polytechnic's overall mission through a variety of means and over a period of time.
Presented to Husky Energy
Receiving the award on behalf of Husky Energy, is Ed Connolly, senior vice-president, Heavy Oil, Husky Energy.
One of Canada's largest and most established integrated energy companies, Husky has a long history of support for educational programs and institutions. Sask Polytech is part of that history.
Like many Sask Polytech industry partners, Husky Energy helps to ensure that Sask Polytech's program curriculua are relevant and responsive to industry needs through its membership in a program advisory council.
But Husky doesn't stop there... they provide work placements, summer job opportunities, on-site tours of their Lloydminster operations, lunch and learn sessions and in-class presentations. They attend the Business and Industry Dinners to further engage and recruit students. And they hire our graduates.
Like Sask Polytech, Husky looks beyond what is needed now. Husky also looks to the future and what will be needed in the future.
At the end of 2013, Husky Energy provided support to a project that significantly enhanced training capacity for Sask Polytech's Power Engineering Technology program. The support clearly reflected the value of that program to the energy industry.
The donation has improved facilities in the Power Engineering Technology program. Previously, the program's training lab closed during summer, when there was no outlet for the energy generated by the lab's boilers. Husky has helped resolve this problem. Now, the capacity of the lab will increase by 25 per cent, to more than 200 students a year.
The scholarships created through Husky Energy's support will allow dozens of students to receive financial support for their studies.
Husky Energy considers its gift to Saskatchewan Polytechnic an investment in industry and in the skilled workforce necessary for its continued growth.
Saskatchewan Polytechnic considers its partnership with Husky Energy something to celebrate and is proud to recognize the contribution of Husky Energy to Sask Polytech by presenting it with the 2016 President's Industry Partnership Award.