2015 Award Recipients
Program Partnership Award
The Program Partnership Award is presented to an organization, or individual, or individuals, who have made a notable contribution to the development of a new or existing Saskatchewan Polytechnic program.
Presented to the Faculty of Nursing, University of Regina.
Receiving the award on behalf of the University of Regina are Dr. Vianne Timmons, president and vice-chancellor, University of Regina and Dr. david Gregory, dean, Faculty of Nursing, University of Regina.
The relationship between the University of Regina's Faculty of Nursing, and Sask Polytech's School of Nursing has in a relatively short period of time, made long lasting changes to nursing education in our province.
In 2010, the two post-secondary institutions established a partnership to develop and deliver a brand new degree program in nursing. The Saskatchewan Collaborative Bachelor of Science in Nursing (SCBScN) program, welcomed 345 students in the fall of 2011. Through the efforts of the university's Faculty of Nursing and Sask Polytech's School of Nursing, and their desire to work together in developing innovative and efficient models for delivering nursing education, an accelerated option for the nursing degree was soon offered, and in August of 2014, 54 students graduated.
The collaborative relationship has already resulted in a second new program, the Collaborative Nurse Practitioner program; the first joint master's program in Canada this is offered online.
In addition to the development and delivery of new programming, Dr. david Gregory, the University of Regina's Dean of Nursing, has served as Scholar-in-Residence for Sask Polytech's School of Nursing. As well, the institutions have collaborated in the publication of manuscripts and presentations at conferences.
The Faculty of Nursing, University of Regina, is a valued partner of Sask Polytech. By working together, these institutions are better able to meet the needs of students across Saskatchewan.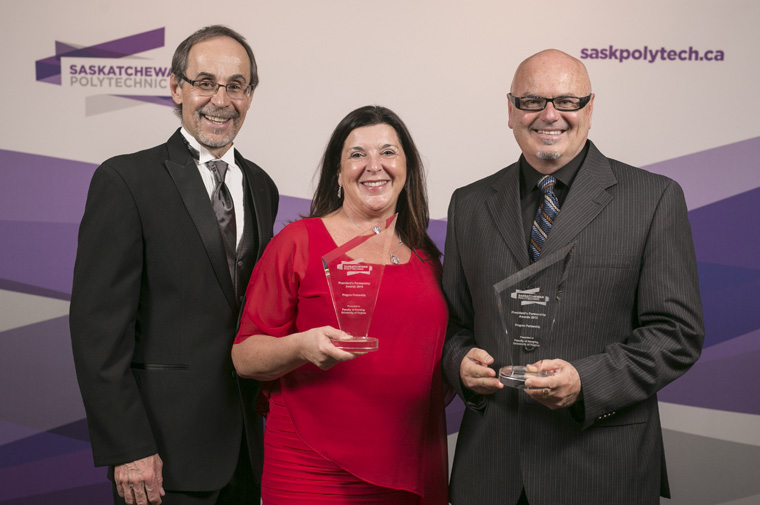 Alumni Partnership Award
The Alumni Partnership Award is presented to an alumnus or alumni who have advanced the reputation of Saskatchewan Polytechnic and/or made a notable contribution to Saskatchewan Polytechnic through a variety of means.
Presented to Steve McLellan.
Steve McLellan is the CEO of the Saskatchewan Chamber of Commerce, a position he has held since 2007. Mr. McLellan has held several senior positions in the Saskatchewan business community including 18 years with Tourism Regina and Tourism Saskatchewan.
In 1979 Mr. McLellan graduated from the Hotel Administration diploma program at Saskatchewan Polytechnic (Saskatoon campus). He also holds two industry certifications from Saskatchewan Tourism Education Council. Mr. McLellan began working in the hospitality industry while still attending Sask Polytech, and for 11 years was in the restaurant business as an owner and manager.
He has served on dozens of local, provincial and national boards of directors and was elected as chair on many of them. Mr. McLellan is a recipient of the Saskatchewan Centennial Medal and the Queen's Jubilee Medal. He was named by Sask Business magazine as one of Saskatchewan's 2011 "Men of Influence."
As a lifelong resident of Saskatchewan he understands and firmly believes in the potential that exists in the people and businesses within this province. He contributes time and energy to several charities and non-profits.
Mr. McLellan has been an advocate, ambassador, and partner to Sask Polytech. His efforts on behalf of Sask Polytech have extended the reach of Sask Polytech into the business community throughout our province. Mr. McLellan is an inspiration to students, and Sask Polytech is proud to recognize his contributions with this award.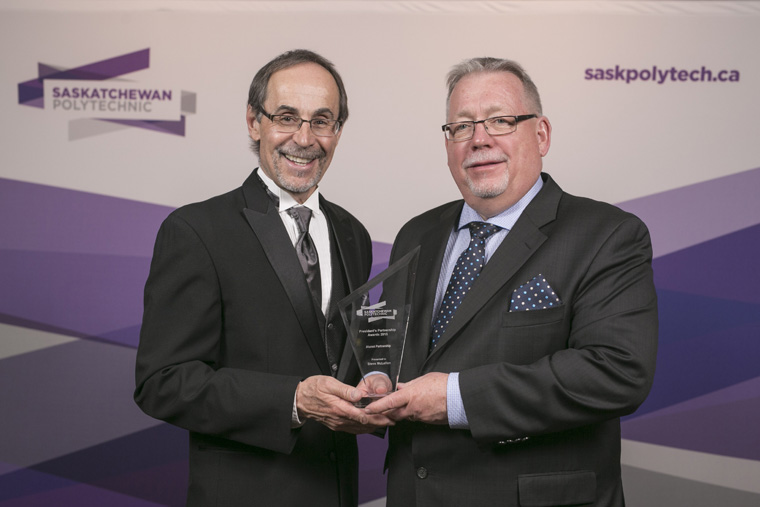 Industry Partnership Award
The Industry Partnership Award ispresented to an industry partner that has supported Saskatchewan Polytechnic's overall mission through a variety of means and over a period of time.
Presented to Cameco Corporation
Receiving the award on behalf of Cameco Corporation, Alice Wong, Senior Vice President and Chief Corporate Officer, Cameco Corporation
Cameco Corporation has partnered with Sask Polytech for more than a decade. Through participation in a number of Program Advisory Councils, Cameco employees, many who are Sask Polytech alumni, ensure that Sask Polytech's program curriculums are relevant and responsive to industry needs.
Cameco provides practicum and Co-operative Education placements, and engages Sask Polytech students through a variety of activities.
In 2005, Cameco, took a leadership role in supporting the development of two mobile training labs that allowed Sask Polytech to increase training capacity and access to trades training in remote areas of northern Saskatchewan. Three years later, support from Cameco helped Sask Polytech move forward with plans for student family housing at our Prince Albert campus. Prior to its official opening in late 2009, all 36 units had been rented. By enhancing access to affordable housing, the complex enables students to bring their dependents to Prince Albert to study, and in doing so, supports student success.
Most recently, Cameco has established as student awards program to support Sask Polytech students from the far north; the first student awards program of this type at Sask Polytech.
Cameco has been an industry leader in ensuring that Sask Polytech students, particularly those from the far north, have access to the education and skills training that will make our province grow and prosper.