Our logo celebrates the energy, optimism and progression inherent at our school. With an upward forward momentum, the energy path transforms from grey to vibrant purple, speaking both to the passion and positive transformation of the brand.
Our visual identity makes a statement about the way we meet our professional responsibilities to our publics. It must reflect Saskatchewan Polytechnic's high standards and reinforce the Saskatchewan Polytechnic concept of educational excellence. It is essential that all Saskatchewan Polytechnic programs, services and facilities follow the visual identity program specifications in a consistent and professional manner.
To maintain consistent visual identity, logo guidelines must be followed and strictly adhere to our Terms of Use. Please review before downloading a logo.
If you have any questions, please e-mail communications@saskpolytech.ca. To review our full graphic standards manual, please download at right.
Logo download
The logo is available in a variety of formats, depending on usage and background colour. Backgrounds should be limited to neutrals (white, black, grey) or a colour from our brand palette.


Choosing the right format

Brand palette
Our brand palette is vibrant and powerful and symbolizes our commitment to helping realize the full potential of our students, our partners and our province.

Minimum size
In order to preserve legibility, the logo should not be used smaller than the established minimum size (1.25" minimum width).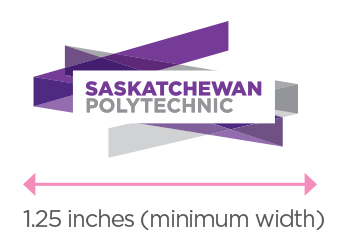 Clear space
When placing the logo, it is important to allow surrounding clear space that will prevent outside elements from encroachment.
Clear space is proportionate to the letter "O" in 'POLYTECHNIC' - please allow for four times the width of the letter 'O' on all sides of the logo. This rule applies to any version of the Saskatchewan Polytechnic logo.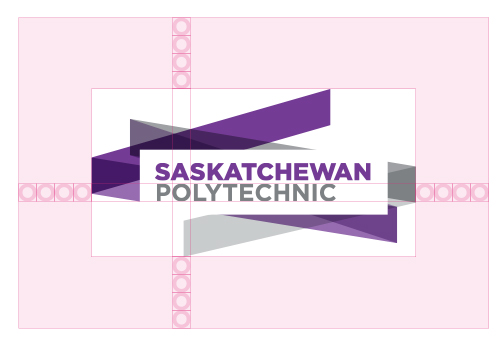 Terms of use
The Saskatchewan Polytechnic logo may only be used in official materials, documents or communications produced by or for the institution. The identity cannot be modified or altered in any way and must be presented in approved colours and font only as outlined in these guidelines. It may not be used for commercial use or by an unauthorized individual or organization. Saskatchewan Polytechnic reserves the right in its sole discretion to terminate or modify permission to display the logo, and may request that third parties modify or delete any use of the logo that, in Saskatchewan Polytechnic's sole judgement, does not comply with these guidelines or might otherwise impair Saskatchewan Polytechnic's rights in the logo. Saskatchewan Polytechnic further reserves the right to object to unfair uses or misuses of its trademarks or other violations of applicable law.