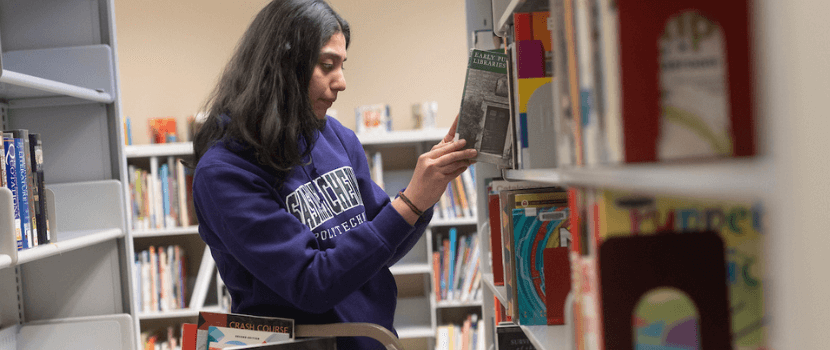 Today's library technologist is tech-savvy, socially engaged and passionate about life-long learning. It's a great career for anyone interested in literacy, learning and innovation. Library techs are in demand—because libraries have become the go-to place for everything from traditional books to e-books, multi-media and online resources.
Start date
August every second year
Length and location notes
This program has one intake every second year (even numbered years only).
Year 1 - 36 weeks; Year 2 - 36 weeks
Saskatchewan Polytechnic's two-year Library and Information Technology diploma program has been developed in accordance with the Canadian Library Association Guidelines to address ongoing advances in technology and changing library user needs. Offered at our Saskatoon campus, the program prepares you to support librarians in any type of library—or to manage day-to-day operations on your own in a small library.
You'll take a variety of introductory academic courses to familiarize yourself with a wide variety of subjects, from world history to literature. You'll discuss the impact of new technologies, the political and economic factors impacting information sharing, the benefits and risks of digital storage, and more. Through lectures, labs and hands-on projects, you'll develop knowledge and skills in:
acquisitions, circulation and interlibrary loans
archives and records management
computer-based and traditional library management
database searching and reference research
descriptive and subject cataloguing
programming and public relations
reader assistance
website design and social media
Library technologists get asked a lot of questions. Your assignments reflect the kind of requests you might get, and you'll learn to use a wide range of resources to find answers.
Work experience is an integral part of your learning. You'll participate in 2 three-week practicums, one in a Saskatoon public library, one in another community library. It's a chance to apply theory to practice, and class projects to a real working environment.
Get a global learning experience
As a student in this program, you can sharpen your intercultural skills. You may have an opportunity to study and learn abroad. Learn more about
global learning experiences
at Sask Polytech.
Career and salary information
Your career
The potential job market for library technologists is bigger and broader than many know. There are career opportunities in municipal public libraries, regional public libraries, northern libraries and the Saskatchewan Provincial Library. There are also jobs in university, polytechnical and regional colleges, public and separate school divisions, health regions, government departments, archives, research centres and private businesses.
You could work on the front line helping library users or behind the scenes in a technical capacity. Although a diploma does not qualify you as a librarian, it does open doors to working in supervisory or managerial roles in library service units or small libraries.
For more information, contact the Student Employment Services at the Saskatchewan Polytechnic campus nearest you.
Potential careers
Part-time delivery
Part-time students may take the following courses prior to admission, but must apply and be accepted to the program thereafter, in order to graduate and receive a credential: LIB 191, LIB 192, LIT 182, LIT 183, ORTN 190, PRPL 284. To register for individual courses, please view the part-time offerings available in the Courses section below.
Admissions
Admission requirements
Grade 12 with a minimum 60% average in English Language Arts A30 and English Language Arts B30
Note
Accepted applicants are required to provide evidence of a Criminal Record Check and Vulnerable Sector Search during the first term of the program. At the discretion of the work experience agency/school, you may be declined access to a work experience based on the contents of the Criminal Record Check and Vulnerable Sector Search. The cost of the Criminal Record Check and Vulnerable Sector Search is your responsibility.
Alternative admission
Applicants who do not possess the academic qualifications for a program may be admitted if evidence of probable success can be established through an alternative admission assessment. Applicants are automatically considered for alternative admission. However, some specific admission requirements may still need to be met.
ACCUPLACER©
Refer to the ACCUPLACER© cut scores for this program below, and review additional details concerning Alternative Admission using Accuplacer.
253 Reading
247 Writing
4 Writeplacer
Post-secondary
Some programs allow applicants to meet the admission grade level requirement using 15 approved post-secondary credits. Review additional information.
If the program applied to has specific course requirements, they may be met through alternative post-secondary courses. Review already approved courses that may be used for admission purposes for your programs.
Admission method
First Qualified/First Admitted
The First Qualified/First Admitted (FQFA) process is used for the majority of Saskatchewan Polytechnic programs. When we determine that you meet the program's admission requirements, you will be offered admission based on the date you fully qualify for the program. The earlier you provide the appropriate documents and information that qualify you for admission to the next intake, the earlier you might begin your studies. Your application, once qualified, is always considered for the next intake.

Applicants to programs with multiple intakes in an academic year remain in the application pool until the last intake for that academic year has begun. Programs using the FQFA process receive applications year round and maintain an application pool for each academic year. Qualified applicants who are not offered a seat must reapply for the next academic year.

Sponsored programs or programs targeted to specific groups do not accept applications year round or maintain an application pool.
See Admission Processes for more information about this method of admission.
Tuition and fees
Estimates are based on current rates and are subject to change. Amounts for a program may vary by campus. Totals shown here include all mandatory fees as well as approximate cost for books and supplies. Visit the Tuition and Fees web page for a complete breakdown of tuition and fees for this program.

2023-24 academic year

$6,670
International students
View tuition rates for international students.
Courses
Semester information only pertains to full-time/on-campus students, and part-time/online students should view course prerequisites when scheduling courses.
Get credit for what you know
Prior Learning Assessment and Recognition
Saskatchewan Polytechnic recognizes that adults learn in many different ways. This includes acquiring knowledge and skills through life and work experience or non-formal training.
See link(s) below to get more information about PLAR.
Transfer credit
Many Sask Polytech students benefit from transferring course credit. You may be eligible to transfer credit to Sask Polytech or to another college or university.
| Institution | Agreement details |
| --- | --- |
| Athabasca University | Graduates of LIT may be eligible for block transfer of 60 credit units into the Bachelor of Professional Arts with Majors in Communication Studies, Human Services, Governance, Law & Management, and/or Criminal Justice. |
Student awards
Thanks to the generosity of donors and alumni, Saskatchewan Polytechnic gives away more than $2 million in student awards during the academic year.
Saskatchewan Polytechnic offers student awards for every certificate and diploma program at every campus. Not all student awards are based on marks - some are based on financial need or things like community or volunteer involvement.
Related programs
Additional information