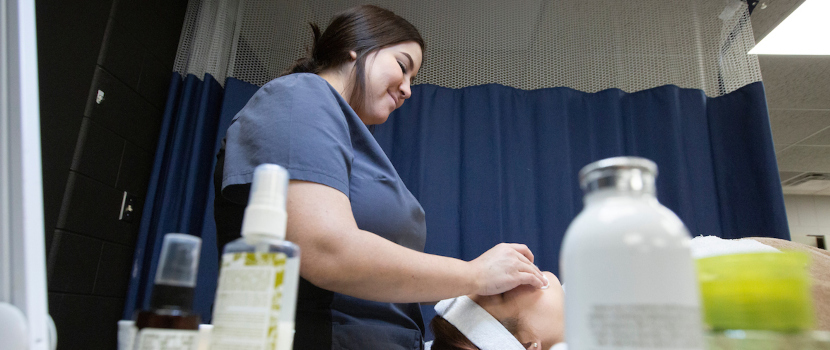 This program is currently not offered on a part-time basis.
Esthetician-Skin Care Technician is a certificate program that provides knowledge and skill development in preventative skin care and treatments to keep skin healthy and attractive.
Start date
Prince Albert - September
Saskatoon -TBD
Locations(s)
Prince Albert, Saskatoon
Length and location notes
Prince Albert - September
Saskatoon - TBD
If you are interested in adding your name to the list for the Saskatoon program offering, please fill out the form.
At the Saskatchewan Polytechnic Salon & Spa, you will receive training in:
skin care and facials
make-up and application techniques
eyebrow shaping
waxing and tinting
eyelash application and tinting
manicures
pedicures
epilation/unwanted hair removal
specialized skin care
spa and body treatments
Career and salary information
Your career
Graduates may find employment in salons, spas and wellness centres.
Potential careers
Part-time delivery
Students do not apply to this program, but take courses part time and apply to graduate (pdf) through Enrolment Services once all courses are completed.

To register for individual courses, please view the part-time offerings available in the Courses section below.
Admissions
Admission requirements
Alternative admission
Applicants who do not possess the academic qualifications for a program may be admitted if evidence of probable success can be established through an alternative admission assessment. Applicants are automatically considered for alternative admission. However, some specific admission requirements may still need to be met.
ACCUPLACER©
Refer to the ACCUPLACER© cut scores for this program below, and review additional details concerning Alternative Admission using Accuplacer.
Not applicable at this time
Post-secondary
Some programs allow applicants to meet the admission grade level requirement using 15 approved post-secondary credits. Review additional information.
If the program applied to has specific course requirements, they may be met through alternative post-secondary courses. Review already approved courses that may be used for admission purposes for your programs.
Admission method
First Qualified/First Admitted
The First Qualified/First Admitted (FQFA) process is used for the majority of Saskatchewan Polytechnic programs. When we determine that you meet the program's admission requirements, you will be offered admission based on the date you fully qualify for the program. The earlier you provide the appropriate documents and information that qualify you for admission to the next intake, the earlier you might begin your studies. Your application, once qualified, is always considered for the next intake.

Applicants to programs with multiple intakes in an academic year remain in the application pool until the last intake for that academic year has begun. Programs using the FQFA process receive applications year round and maintain an application pool for each academic year. Qualified applicants who are not offered a seat must reapply for the next academic year.

Sponsored programs or programs targeted to specific groups do not accept applications year round or maintain an application pool.
See Admission Processes for more information about this method of admission.
Tuition and fees
Estimates are based on current rates and are subject to change. Amounts for a program may vary by campus. Totals shown here include all mandatory fees as well as approximate cost for books and supplies. Visit the Tuition and Fees web page for a complete breakdown of tuition and fees for this program.

2023-24 academic year

$16,110
Courses
Semester information only pertains to full-time/on-campus students, and part-time/online students should view course prerequisites when scheduling courses.
Get credit for what you know
Prior Learning Assessment and Recognition
Saskatchewan Polytechnic recognizes that adults learn in many different ways. This includes acquiring knowledge and skills through life and work experience or non-formal training.
See link(s) below to get more information about PLAR.
Transfer credit
Many Sask Polytech students benefit from transferring course credit. You may be eligible to transfer credit to Sask Polytech or to another college or university.
Student awards
Thanks to the generosity of donors and alumni, Saskatchewan Polytechnic gives away more than $2 million in student awards during the academic year.
Saskatchewan Polytechnic offers student awards for every certificate and diploma program at every campus. Not all student awards are based on marks - some are based on financial need or things like community or volunteer involvement.
Related programs
Additional information
Ashley Dugan
Continuing Education Consultant
School of Continuing Education