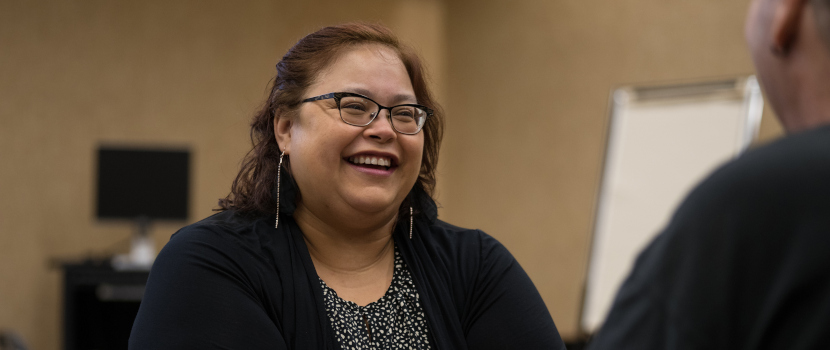 The Business Management post-graduate certificate is an eight-month program that provides a unique opportunity for professionals who want to advance their careers through the development of leadership and management knowledge and skills. The program will prepare students with an existing bachelor's or master's degree to assume leadership and managerial roles in Saskatchewan and Canadian public and private enterprise.
Start date
September (Semester 1 – September to December; Semester 2 – January to April) - all campuses
January (Semester 1 – January to April; Semester 2 – September to December) - Moose Jaw and Prince Albert only
Locations(s)
Moose Jaw, Prince Albert, Regina
Students will develop skills and knowledge in fields of management, accounting, marketing, leadership, business communications, and cross-cultural business practices.You will apply theory to real-world situations in business simulations, case studies and group projects, and use industry standard software in your courses. Your combination of core and elective courses will prepare you for progression into career opportunities requiring strong leadership and management skills.
Students whose prior degrees are in non-business subjects may want to pursue additional business training at Saskatchewan Polytechnic. Graduates from the Business Management post-graduate certificate may qualify for advanced standing in other Saskatchewan Polytechnic business certificate and diploma programs, including specialized training in Human Resources, Marketing, Accountancy, Insurance, Financial Services, and Management.
Career and salary information
Your career
Graduates from Saskatchewan Polytechnic business programs are in demand. You will find opportunities in diverse occupations and sectors, including positions as administrative supervisors, general administrators, and managers in the natural resources, health, service, trade, and transportation sectors.
Admissions
Admission requirements
A conferred bachelor's degree in any discipline from a recognized post-secondary institution
Admission method
First Qualified/First Admitted
The First Qualified/First Admitted (FQFA) process is used for the majority of Saskatchewan Polytechnic programs. When we determine that you meet the program's admission requirements, you will be offered admission based on the date you fully qualify for the program. The earlier you provide the appropriate documents and information that qualify you for admission to the next intake, the earlier you might begin your studies. Your application, once qualified, is always considered for the next intake.

Applicants to programs with multiple intakes in an academic year remain in the application pool until the last intake for that academic year has begun. Programs using the FQFA process receive applications year round and maintain an application pool for each academic year. Qualified applicants who are not offered a seat must reapply for the next academic year.

Sponsored programs or programs targeted to specific groups do not accept applications year round or maintain an application pool.
See Admission Processes for more information about this method of admission.
Tuition and fees
Estimates are based on current rates and are subject to change. Amounts for a program may vary by campus. Totals shown here include all mandatory fees as well as approximate cost for books and supplies. Visit the Tuition and Fees web page for a complete breakdown of tuition and fees for this program.

2023-24 academic year

$12,920 (Semesters 1 and 2)
International students
View tuition rates for international students.
Courses
Semester information only pertains to full-time/on-campus students, and part-time/online students should view course prerequisites when scheduling courses.
Get credit for what you know
Prior Learning Assessment and Recognition
Saskatchewan Polytechnic recognizes that adults learn in many different ways. This includes acquiring knowledge and skills through life and work experience or non-formal training.
See link(s) below to get more information about PLAR.
Student awards
Thanks to the generosity of donors and alumni, Saskatchewan Polytechnic gives away more than $2 million in student awards during the academic year.
Saskatchewan Polytechnic offers student awards for every certificate and diploma program at every campus. Not all student awards are based on marks - some are based on financial need or things like community or volunteer involvement.
Related programs
Additional information
This program can be bundled with another post-graduate certificate