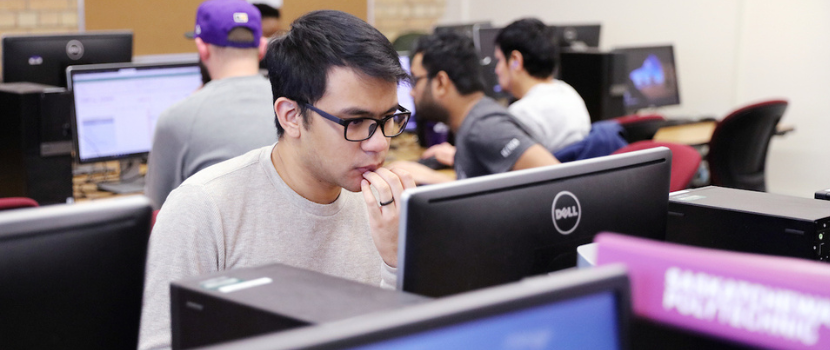 Information technology, business software, mobile platforms—information systems are reinventing the way we do business. Computer-savvy people with programming and development skills are in demand in the business world. When your skill set includes training in business solution development, you're a hot commodity.
Locations(s)
Moose Jaw, Regina
Length and location notes
There is a mandatory six-month paid Co-operative Education work term between Semesters 2 and 3. Semesters and co-op work term time patterns are listed in Courses below.
Business Information Systems (BIS) is a two-year diploma program offered full-time at Saskatchewan Polytechnic, Moose Jaw Campus. It includes four academic semesters and a six-month paid co-operative education work term.
The Business Information Systems program starts with a solid foundation in business basics with a focus on information technology functions and learning how to use them to develop meaningful business solutions. This includes training in:
Software development languages (Visual Studio.NET, Java, COBOL);
Computer hardware, networking and operating systems (Windows, Unix and Linux);
Data gathering, modeling and database management systems (Oracle, SQL Server 2000);
Retrieval techniques of databases and programming languages (SQL, PLSQL, ADO.NET, JDBC); and
Target platforms, including Windows application development, networked software development, web application development (XHTML, JavaScript, ASP, Java).
You'll use cutting edge technology in servers, programming and mobile apps. You'll have opportunities to develop or enhance actual production applications, and build hands-on skills in systems analysis, design methodologies and project management.
Career and salary information
Your career
You're job-ready at graduation. You could work as a software developer, systems analyst, programmer analyst, web/mobile app developer or help desk support. As you gain experience, explore opportunities in IT management or build specialized skills in database administration, advanced web development, project and network management. You could also build a name for yourself as a private consultant or independent contractor.
Potential careers
Admissions
Admission requirements
Grade 12 with any 30-level mathematics course or with ICTC FIT (Information and Communication Technology Council Focus on IT) certificate
Alternative admission
Applicants who do not possess the academic qualifications for a program may be admitted if evidence of probable success can be established through an alternative admission assessment. Applicants are automatically considered for alternative admission. However, some specific admission requirements may still need to be met.
ACCUPLACER©
Refer to the ACCUPLACER© cut scores for this program below, and review additional details concerning Alternative Admission using Accuplacer.
250 Arithmetic
254 Quantitative Reasoning, Algebra, and Statistics
247 Reading
243 Writing
Post-secondary
Some programs allow applicants to meet the admission grade level requirement using 15 approved post-secondary credits. Review additional information.
If the program applied to has specific course requirements, they may be met through alternative post-secondary courses. Review already approved courses that may be used for admission purposes for your programs.
Admission method
First Qualified/First Admitted
The First Qualified/First Admitted (FQFA) process is used for the majority of Saskatchewan Polytechnic programs. When we determine that you meet the program's admission requirements, you will be offered admission based on the date you fully qualify for the program. The earlier you provide the appropriate documents and information that qualify you for admission to the next intake, the earlier you might begin your studies. Your application, once qualified, is always considered for the next intake.

Applicants to programs with multiple intakes in an academic year remain in the application pool until the last intake for that academic year has begun. Programs using the FQFA process receive applications year round and maintain an application pool for each academic year. Qualified applicants who are not offered a seat must reapply for the next academic year.

Sponsored programs or programs targeted to specific groups do not accept applications year round or maintain an application pool.
See Admission Processes for more information about this method of admission.
Tuition and fees
Estimates are based on current rates and are subject to change. Amounts for a program may vary by campus. Totals shown here include all mandatory fees as well as approximate cost for books and supplies. Visit the Tuition and Fees web page for a complete breakdown of tuition and fees for this program.

2023-24 academic year

Year 1 - $9,980
Year 2 - $6,920
International students
View tuition rates for international students.
Courses
The program follows this academic and co-operative education schedule. Courses are outlined below by semester.
| | Sept - Dec | Jan - Apr | May - Aug |
| --- | --- | --- | --- |
| Year 1 | Semester 1 | Semester 2 | Work term |
| | Sept - Oct | Nov - Feb | Mar - Jun |
| Year 2 | Work term | Semester 3 | Semester 4 |
Semester information only pertains to full-time/on-campus students, and part-time/online students should view course prerequisites when scheduling courses.
Get credit for what you know
Prior Learning Assessment and Recognition
Saskatchewan Polytechnic recognizes that adults learn in many different ways. This includes acquiring knowledge and skills through life and work experience or non-formal training.
See link(s) below to get more information about PLAR.
Transfer credit
Many Sask Polytech students benefit from transferring course credit. You may be eligible to transfer credit to Sask Polytech or to another college or university.
Transfer credit options vary over time; this information is subject to change. Transfer credit options for this program include:
advanced standing at most Canadian universities and colleges toward courses leading to various degrees, management certificates and/or professional accounting designations
admission to the Post-Diploma Bachelor of Science Program in Computer Science, University of Regina
direct entry to the Post-Diploma Bachelor of Management program, University of Lethbridge
direct entry to the Bachelor of Commerce Degree Completion program, University Canada West
| Institution | Agreement details |
| --- | --- |
| Athabasca University | Graduates of this program may be eligible for block transfer of 60 credit units towards the Bachelor of Management, Bachelor of Commerce, or Bachelor of Human Resources & Labour Relations Post Diploma programs. |
Student awards
Thanks to the generosity of donors and alumni, Saskatchewan Polytechnic gives away more than $2 million in student awards during the academic year.
Saskatchewan Polytechnic offers student awards for every certificate and diploma program at every campus. Not all student awards are based on marks - some are based on financial need or things like community or volunteer involvement.
Accreditation
Canadian Information Processing Society (CIPS)Saskatchewan Polytechnic's Business Information Systems program has been accredited by the Canadian Information Processing Society (CIPS) since 1992. Accreditation lets you pursue the Information Systems Profession of Canada (ISP) designation.
Related programs
Computer Engineering Technology
Computer Networking Technician
Additional information
Follow @saskpolytechbis on Facebook and Twitter.