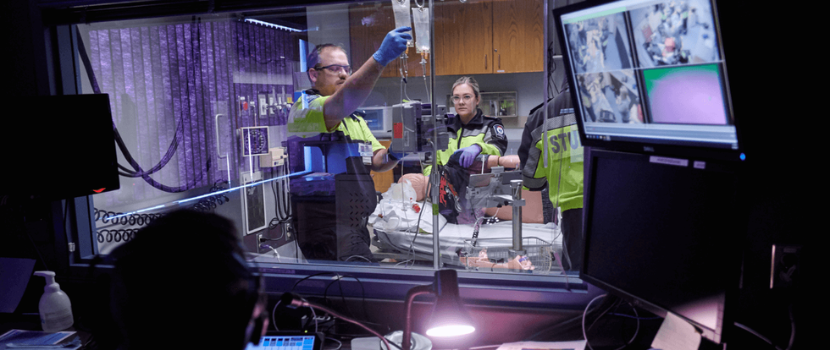 If you're a primary care paramedic who wants to enhance your skills, career mobility and earning power, Saskatchewan Polytechnic's nationally recognized Advanced Care Paramedic (ACP) program will be of interest to you. More in-depth knowledge and training means you'll be able to administer a greater range of medications and perform life-saving interventions.
Locations(s)
Regina, Saskatoon
The Advanced Care Paramedic program also positions you for leadership roles in a growing number of settings. ACPs are in high demand in traditional emergency medical services, collaborative emergency centres, and industrial and community settings.
Advanced Care Paramedic is a two-year diploma program offered through our Saskatchewan Polytechnic, Regina Campus and Saskatoon Campus. The program builds on the Primary Care Paramedic program. You'll get advanced training in recognizing and managing medical and trauma emergencies, particularly neonatal, pediatric and geriatric. You'll focus on:
anatomy, pathophysiology, physiology, pharmacology
body system assessments
critical thinking and decision making
certifications in:

Advanced Cardiac Life Support (ACLS)
Advanced International Trauma Life Support (ITLS)
Difficult Airway Course (DAC)
Neonatal Resuscitation Program (NRP)
Pediatric Advanced Life Support (PALS)
The Working Mind (TWM - formerly Road to Mental Readiness)
Highlights of the program
Flexible delivery options

You'll have the ability to attend lectures either in-person, virtually, or asynchronously. Use of iSimulate technology to enhance retention of knowledge and flexibility to practice virtually. The option to learn, study and participate in the program from where you live or on campus based on your needs. There are 50 mandatory evaluation dates throughout the program with the ability to attend up to 165 days.

Hands-on learning

When you are on-site, your learning will focus on hands-on learning and you will apply your skills in a practical setting.

Lab and simulation training

You'll use Saskatchewan Polytechnic's state-of-the-art lab and high-fidelity simulation facilities to apply your in-depth knowledge to real-world scenarios.

Field practicums

You'll work with an ACP preceptor in two supervised field practicums to hone your critical thinking and decision-making skills, and to strengthen your delegation and leadership skills.

Clinical practicums

Hone your assessment, management and communication skills during two hospital-based practicums. You'll get real-world experience in specialized areas, including emergency departments, operating rooms, and labour and delivery.

Inter-professional education

In order to prepare you for an integrated role within the health care team, you will have the opportunity to work with students from other programs within the School of Health Sciences and the School of Nursing. Learning activities are designed using a problem-based learning (PBL) model and include high-fidelity simulations, interactive case-based table-top exercises, and collaborative skill acquisition.
Career and salary information
Your career
Take your career (and your earning power) to the next level as an advanced care paramedic in emergency medical services, including fire, ambulance, and various aeromedical roles. Take a leadership role on emergency response teams at industrial facilities or mine sites. Take advantage of emerging career opportunities in collaborative emergency centres and in the community.
Do you need help deciding if these careers could be a good fit for you? Contact Career Counselling Services or check out the Saskatchewan College of Paramedics job postings. Do you already know this is the program you want to take but need more detailed information or help applying?Connect with a recruitment advisor.
Admissions
Admission requirements
Primary Care Paramedic certification from an accredited program or equivalent
Registered as a PCP of the 2011 National Occupational Competency Profile for Paramedics training (Paramedic Association of Canada, 2011) *
International Trauma Life Support (ITLS) Provider certificate
Basic Life Support Provider (former CPR Health Care Provider 'C' AED) or equivalent
* Evidence of verification may include one of the following:
a Saskatchewan Polytechnic transcript indicating successful completion of all Primary Care Paramedic courses implemented during the 2013-2014 academic year or later;
a Saskatchewan Polytechnic transcript indicating successful completion of Primary Care Paramedic Upgrade (EMER 1638);
a valid Saskatchewan College of Paramedics licence indicating unrestricted practice of 2011 National Occupational Competency Profile at the Primary Care Paramedic level
Non-Saskatchewan Polytechnic graduates are granted admission to this program on a case-by-case basis.
Note
Accepted applicants will be required to provide evidence of a Criminal Record Check and Vulnerable Sector Search upon admission to the program. At the discretion of the practicum/clinical agency, you may be declined access to a clinical/practicum based on the contents of the Criminal Record Check and Vulnerable Sector Search. The cost of the Criminal Record Check and Vulnerable Sector Search is your responsibility.
Accepted applicants are required to provide evidence of Transferring Lifting Repositioning (TLR®) or Transferring Lifting Repositioning (TLR®) Emergency Medical Services (EMS) certification prior to entry into clinical/practicum
Accepted applicants are required to provide current immunization records and meet Saskatchewan Polytechnic immunization requirements prior to entry into clinical/practicum
Accepted applicants are required to provide evidence of current N95 respirator mask testing prior to entry into the clinical practicum. The cost of N95 respirator mask testing is your responsibility.
Accepted applicants are required to provide evidence of 2015 WHMIS Globally Harmonized System (GHS) certification upon admission into the program. Recertification will be required every three years to remain current. The cost of WHMIS certification is your responsibility.
Alternative admission
Applicants who do not possess the academic qualifications for a program may be admitted if evidence of probable success can be established through an alternative admission assessment. Applicants are automatically considered for alternative admission. However, some specific admission requirements may still need to be met.
Admission method
First Qualified/First Admitted
The First Qualified/First Admitted (FQFA) process is used for the majority of Saskatchewan Polytechnic programs. When we determine that you meet the program's admission requirements, you will be offered admission based on the date you fully qualify for the program. The earlier you provide the appropriate documents and information that qualify you for admission to the next intake, the earlier you might begin your studies. Your application, once qualified, is always considered for the next intake.

Applicants to programs with multiple intakes in an academic year remain in the application pool until the last intake for that academic year has begun. Programs using the FQFA process receive applications year round and maintain an application pool for each academic year. Qualified applicants who are not offered a seat must reapply for the next academic year.

Sponsored programs or programs targeted to specific groups do not accept applications year round or maintain an application pool.
See Admission Processes for more information about this method of admission.
Tuition and fees
Estimates are based on current rates and are subject to change. Amounts for a program may vary by campus. Totals shown here include all mandatory fees as well as approximate cost for books and supplies. Visit the Tuition and Fees web page for a complete breakdown of tuition and fees for this program.

2023-24 academic year

Year 1 - $10,980
Year 2 - $8,200
Courses
Semester information only pertains to full-time/on-campus students, and part-time/online students should view course prerequisites when scheduling courses.
Get credit for what you know
Prior Learning Assessment and Recognition
Saskatchewan Polytechnic recognizes that adults learn in many different ways. This includes acquiring knowledge and skills through life and work experience or non-formal training.
See link(s) below to get more information about PLAR.
Transfer credit
Many Sask Polytech students benefit from transferring course credit. You may be eligible to transfer credit to Sask Polytech or to another college or university.
| Institution | Agreement details |
| --- | --- |
| Athabasca University | Graduates of this program may be eligible for block transfer of 60 credit units into the Bachelor of Science Post Diploma program or 30 credit units toward BSc (PD) with Majors in Applied Mathematics, Computing Information Systems and/or Human Science. |
Student awards
Thanks to the generosity of donors and alumni, Saskatchewan Polytechnic gives away more than $2 million in student awards during the academic year.
Saskatchewan Polytechnic offers student awards for every certificate and diploma program at every campus. Not all student awards are based on marks - some are based on financial need or things like community or volunteer involvement.
Accreditation
Accreditation Canada / EQual Canada
Saskatchewan Polytechnic'ws Advanced Care Paramedic program is fully accredited by Accreditation Canada/EQual Canada. This qualifies you to write the national Canadian Organization of Paramedic Regulators (COPR) entry to practice exam. With examination success, you'll be eligible for licensure by the Saskatchewan College of Paramedics and other Provincial Regulators across Canada.
The cost of COPR national examination is the responsibility of the student. For more information see view the Information and Application Process web page.
Related programs
Saskatchewan Collaborative Bachelor of Science in Nursing
Additional information
Follow @SaskPolytechEMS on Twitter.