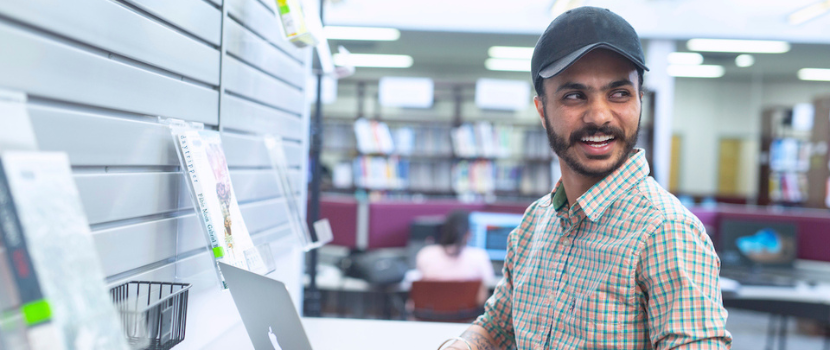 All ACCUPLACER testing is currently being done online.
ACCUPLACER is a testing system that measures skills in reading, writing and math. ACCUPLACER is not used to assess social or science admission requirements.
The Department of Literacy and Adult Education offers ACCUPLACER testing through the Sask Polytech Test Centres. This computerized test uses information you supply at the beginning of the test to determine which question should be your first question. If your response to the first question is correct, the software will select a more difficult question for you. If your response is incorrect, the software will select a less difficult question for you. When you have answered a series of 20 to 25 questions, the software determines your score.
Requirements:
You must be either 18 years of age and out of school for 1 complete year or 19+ years of age.
If your first learned language is not English, you may be asked to provide proof of language proficiency.
Current LINC students must be enrolled in CLB 8 to write the ACCUPLACER.
The test is free for Sask Polytech applicants and students. For the general public, there is a fee of $25 per module for testing.
Preparation
You can study for this test. The College Board Web-based ACCUPLACER study app features "Learn As You Go" tests with an explanation of correct or incorrect responses. These sample tests give you an idea of what the actual test will be like on test day. This app is strongly recommended. The site also provides valuable information, addresses questions and offers other resources.
You are also welcome to contact Learning Services or use these other sites for preparation:
About the ACCUPLACER test
Assessments are done on a computer and are multiple choice questions.
These exams have no time limit, but typically take between 45 to 60 minutes per module to complete.
You must bring:

Valid picture id (e.g. driver's license, passport or status card)
Your current address with postal code and phone number

The results for each section are shown as a score between 200 and 300. The score you receive is not a percentage.
Your ACCUPLACER test is administered in a Sask Polytech Test Centres. You must read all of the Test Centre information about test taking and test day responsibilities in advance of your test.
After your ACCUPLACER test:
Your exam will be marked automatically.
Your ACCUPLACER results are valid for two years.
Contact us
Applicants will arrange for Accuplacer testing by contacting the following:
Moose Jaw
LAE.MooseJaw@saskpolytech.ca
306-691-8282
Prince Albert
LAE.PrinceAlbert@saskpolytech.ca
306-765-1717
Regina
LAE.Regina@saskpolytech.ca
306-775-7489
Saskatoon
LAE.Saskatoon@saskpolytech.ca
306-659-5727