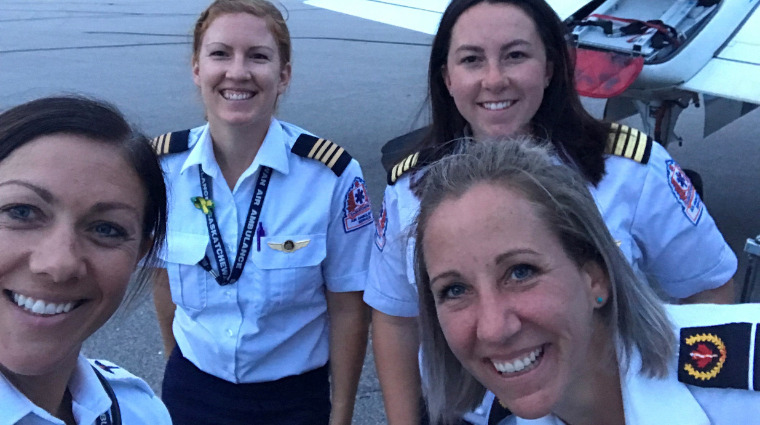 Medevac pilots fly in challenging and stressful situations and are required to be ready at a moment's notice. Saskatchewan Polytechnic alumna Carly Vancise thrives in this environment. "I like that it's always something different. We can fly in basically any type of weather and I enjoy how challenging that can be," she says. Vancise graduated from the Commercial Pilot diploma program a decade ago and found her specialty soon after. "My dream job was not always what I thought it would be. I got my first job flying in Nunavut and it just happened to be flying an air ambulance. I found a passion in the medical field."
Vancise continued to work in Nunavut for four years as a first officer and captain before returning to Saskatchewan. She has spent the past six and half years with Saskatchewan Air Ambulance as a captain on a King Air 200. "I continue to love the work that I do and get a lot of job satisfaction out of providing healthcare to rural communities," says Vancise.
Vancise notes that one of her instructors at Sask Polytech shared stories of his time flying in the arctic and inspired her to start her career in Nunavut. Instructors at Sask Polytech leverage their connections and experience in the industry to help students better understand the profession. "We've built the Commercial Pilot program in a way that will help our students succeed. They have access to our state-of-the-art flight simulator and gain experience flying with an instructor, building up to solo flights. We regularly connect them with industry through work placements and guest speakers. Pilots and alumni like Carly are incredible examples for our students," says program head Reed Willison.
"Lucky for me, we've had a few medevac pilots in the classroom to talk about the work they do," says David Turton, a first-year Commercial Pilot student who has ambitions to become a medevac pilot. Growing up, Turton admired the work his mother did as a nurse and envisioned a career in healthcare. He initially planned to apply to the Primary Care Paramedic program at Sask Polytech but after working as a service aid and connecting with a STARS pilot in training, his plans changed. "I realized that combining my love for healthcare and aviation was more than possible," says Turton.
Hearing from people in the industry like Vancise has given Turton and his classmates more insight into what they can expect in the field. For Vancise, a day on the job as a medevac pilot is never the same. "It can be intense right off the bat or it can be a lot of waiting around. We work 12-hour shifts, days or nights. Some days we don't fly anywhere if there aren't any medevacs in the province. Other days we can do up to three trips. On average Saskatchewan Air Ambulance moves around 1,500 patients per year," she says. They fly as far north as Uranium City and as far south as Estevan, transporting Saskatchewan residents to a higher level of care. They also fly to Edmonton, Calgary, Vancouver and Toronto for patients needing specialty care not available in Saskatchewan.
With a high demand in the air ambulance industry and aviation in general, there are lots of opportunities for trained pilots. "Our schedule, compensation, benefits and the people make for an extremely fun environment. I love my job," says Vancise.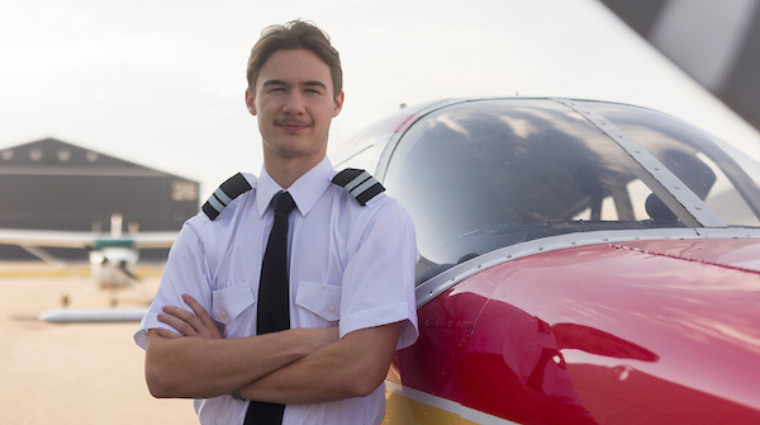 David Turton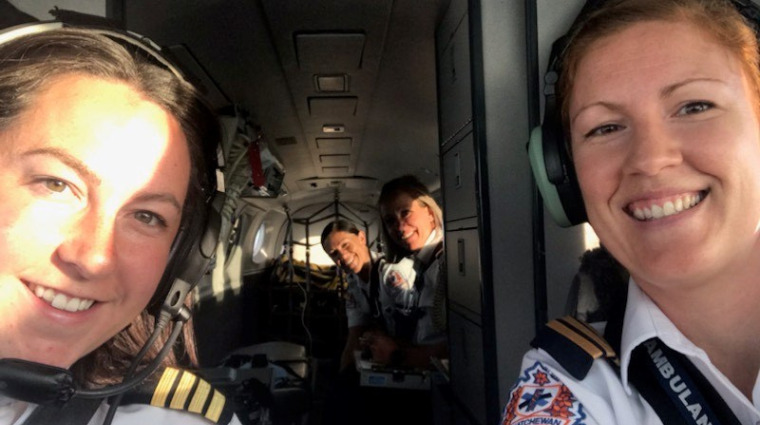 Carly Vancise and colleagues
Learn more about Sask Polytech's Commercial Pilot diploma program.
Many full-time programs still have available seats for fall 2023. Find a program and apply today.
Published May 2023.