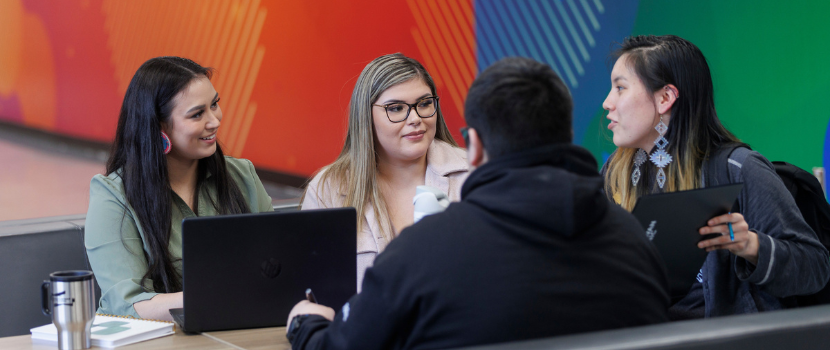 With funding from Canadian Colleges for a Resilient Recovery (C2R2), Indigenous people will receive training through Sask Polytech's Green Building Awareness project.
October 30, 2023 – Saskatchewan Polytechnic's School of Continuing Education, Indigenous Strategy and Joseph A. Remai School of Construction have partnered to deliver Green Building Awareness training to Indigenous people. Training will focus on green energy and sustainable building technologies and highlight career paths that contribute to building sustainable and healthy communities.
This initiative is funded by the Canadian Colleges for a Resilient Recovery (C2R2). Their Resilient Housing and Upskilling for Canada's Communities project aims to support workforce development in Indigenous and rural communities across the country.
Sask Polytech's project is designed for Saskatchewan Indigenous people ages 15-30 from communities with populations under 5,000 and incorporates culturally relevant training. The training will be delivered both online and in-person. Participants have the opportunity to gain hands-on experience through either an on-campus carpentry or electrical program, or an on-reserve carpentry experience. They will also develop a deep understanding of green building technologies, explore career opportunities, earn a certification and micro-credential.
"The importance of sustainable housing in these Indigenous communities cannot be overstated as it directly impacts the health, culture and economic well-being of Indigenous peoples," says Gerry Youzwa, director of Training Solutions for the School of Continuing Education. "Sask Polytech's Green Building Awareness project can help address this challenge and provide learners with the skills needed to build a better tomorrow. The curriculum will incorporate applied learning experiences and will be culturally relevant, integrating traditional knowledge and ways of knowing."
The C2R2 Resilient Housing and Upskilling for Canada's Communities project is designed to facilitate community workforce planning by fostering collaboration among organizations from various industries and sectors. By identifying high-growth employment areas and local sources of labour, this project aims to meet the demand for skilled workers in rural Canada. With the establishment of a community of practice, C2R2 members will share knowledge and learn from each other throughout the project's duration. This collaborative effort is made possible by a generous contribution of $3,036,000 from Employment and Social Development Canada (ESDC) to C2R2 institutions.
C2R2 institutions participating in the Resilient Housing and Upskilling for Canada's Communities project include British Columbia Institute of Technology (BCIT), Cégep de Rimouski, Mohawk College, Okanagan College, Saskatchewan Indian Institute for Technologies (SIIT) and Saskatchewan Polytechnic. Collectively, these C2R2 members will work with up to 20 communities and benefit 204 workers.
For more information or to participate in the Green Building Awareness in Indigenous Communities training, email youthprograms@saskpolytech.ca.
---
Saskatchewan Polytechnic is signatory to the SDG Accord. Sustainable Development Goal alignment is one of the ways Sask Polytech is leading the rise of polytechnic education.