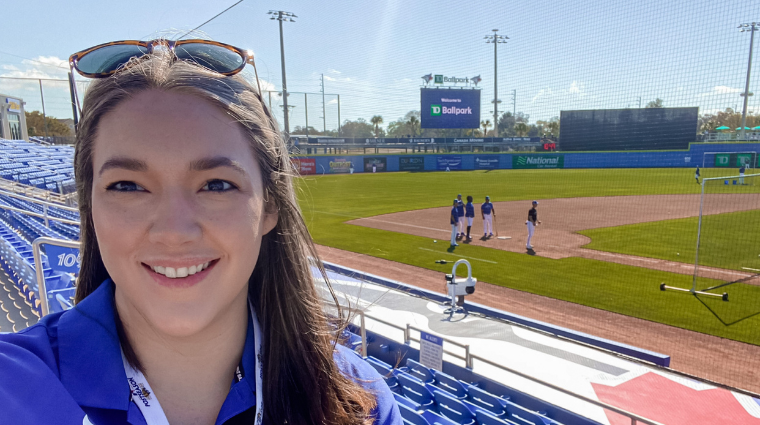 Business grad lands dream job in MLB
Like many young ball players, Amy Pilon has been a Blue Jays fan from the time she first picked up a bat. As a member of the Prince Albert Aces playing at the provincial level, Pilon continued to cheer on the Jays. As a graduate of the Saskatchewan Polytechnic School of Business, she was asked what her dream job was and she didn't waver, "I want to work for the Blue Jays." At that time, she didn't know just how close that dream was. Just over a year later her dream became a reality when Pilon accepted a position within Partnerships with the Toronto Blue Jays Baseball Club.
"Saying it out loud is daunting but when you tell other people your dreams, you make a commitment and you find a way to make it happen," Pilon told students in Saskatchewan Polytechnic's Business diploma - sport management specialty during a recent presentation. "Be as authentic and genuine as possible. Find your why and lead from there."
She was happy to share her experience, answer questions and provide encouragement to students as she recalls the support, she has received on her career path and the doors that have been opened for her. During the presentation Pilon shared her post-secondary education experience and the path that led her to Toronto.
Pilon graduated from Sask Polytech with a business diploma in 2017 and went on to get her Business Administration degree at the University of Regina. An agreement between the post-secondary institutions enables graduates of Sask Polytech's two-year Business diploma program to transfer into the third year of the University of Regina four-year Business Administration degree to continue their education, receiving a diploma and a degree after completion of their study requirements.
"I really liked the hands-on approach to learning at Sask Polytech," she says. "We had the opportunity to connect with and learn from local business owners, experienced professors and guest lecturers."
Through Sask Polytech's Co-operative Education, Pilon honed her interview skills, gained practical business experience and built her resume so she could succeed in the work force. Despite being focused on final exams and assignments, Pilon recalls the 2015 baseball season with fondness.
"The Jays were in the playoffs and even though my classmates and I didn't have much time we wanted to catch the games live," she says with a chuckle. "We all chipped in to buy a subscription to MLB so we could watch on a laptop between classes."
Pilon has worked for the provincial government, marketing agencies, non-profit organizations and was at Calgary Sport and Entertainment Corp supporting the Calgary Hitmen and Calgary Roughnecks teams when she had the opportunity to move to the Blue Jays.
Now, as a partnership marketing coordinator, she works with companies to bring their ideas to life. She finds creative ways to position brands with the MLB team in a way that has meaning for the fans.
"I want to create the best possible experience for the fans," she says. "When I went to my first game as a fan, it was life changing. I want to be sure our fans have that same experience every time they come to the ballpark."
For more information on the School of Business and the Business diploma - sport management specialty visit Business Diploma - Diploma (saskpolytech.ca)