After suffering a workplace accident, former carpenter thrives in health information management
When a devastating on-the-job accident forced Michael McGill to change career paths, he discovered a new passion through the Health Information Management program at Saskatchewan Polytechnic.
Michael McGill built a career in the construction industry. He spent over 20 years as a carpenter; he loved being active, working with his hands and interacting with customers. When his whole identity was upended by a workplace accident, he felt lost and fell into a deep depression. Through his healing journey he found the Saskatchewan Polytechnic Health Information Management (HIM) program and discovered a new passion that has transformed into a successful career.
"This work is very fulfilling. I am part of the team that ensures the information clients share is protected and secured," says McGill, manager of Information Stewardship, Audit and Privacy with Island Health in British Columbia. McGill relocated to B.C. in 2021 after accepting a job as a privacy specialist with Island Health; he transitioned to his current position at the beginning of 2023. Having worked as a practicum student at the Office of Saskatchewan Information Privacy Commissioner, McGill knew he enjoyed working in privacy. "I love privacy and wanted to spend my career in healthcare privacy," he says. McGill's Health Information Management diploma is proudly displayed on his office wall, a reminder of his resilience and strength.
On August 30, 2011, McGill's life changed in an instant; it's a day he remembers vividly. McGill was struck in the face by a 30-foot, 100-pound pipe and thrown 10 feet landing on a set of steel sawhorses. McGill suffered a serious concussion and broken back, requiring six screws and four rods in his spine. A year and half after the accident he underwent a spinal fusion followed by a significant amount of physical rehab. The accident led to a very dark time in McGill's life.
The darkness and depression weighed heavily, leading to thoughts of suicide. "I had some very dark times where I didn't know if my wife was going to be a widow," says McGill. With the support of his wife Lesley and others' stories of resilience and overcoming obstacles, McGill clawed his way out of the darkness. "My wife is my best friend and she was my rock through it all. She was an incredible support," he says. The McGills celebrate their 19th wedding anniversary in 2023.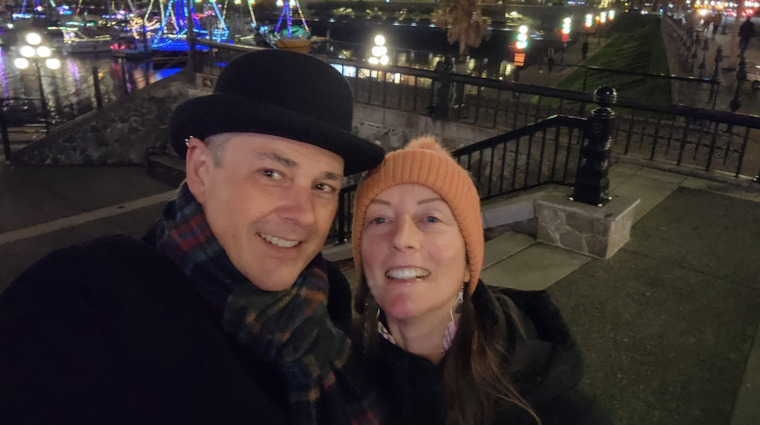 McGill's rehabilitation process was daunting and frustrating until he started vocational rehabilitation, a Saskatchewan Worker's Compensation Board service that assists people with restrictions due to injury return to work. "I had an amazing vocational rehab specialist, Maja Komadina, who I am still in contact with. She changed my life and I am eternally grateful for everything she did to help me." Vocational rehab was a major turning point in McGill's journey to move on from his injuries and start seeking a new career path.
When discussing how he moved forward after the accident, McGill emphasizes, "You have to be willing to change. You have to decide that you're going to embrace it or you won't find success." McGill explored options in healthcare trying to find a good fit. "I wanted something that would give me consistent and meaningful work and healthcare was that space for me." That's when he discovered the two-year HIM diploma program at Sask Polytech. HIM connects the worlds of health and data to ensure the health story of each patient is accurate.
"Society has become more dependent on health information. Sask Polytech's nationally accredited Health Information Management program prepares students to manage this critical information," says program head Tara Fournier. "We offer full and part-time options with theory components delivered virtually through live Zoom sessions to facilitate student and faculty content. Students also participate in two engaging, on-site practicums during their studies to gain work experience and connect with industry. Student success is of the utmost importance; we work to ensure they meet their educational and career goals. We also work closely with industry to ensure our grads have the skills they need to succeed."
"I love, love, loved my experience at Sask Polytech," says McGill. "I had been out of school for so long, I was worried about how it was going to go." Going back to school at age 37 was terrifying. He started with a PowerPoint class. "I think the last time I used a computer was when Windows 97 was out. I had no idea what I was doing." It turns out that studying, doing assignments and getting good grades were the easy parts, it was navigating the social aspects and group work with classmates who had very different priorities than him that presented challenges.
Despite being out of his element, McGill thrived in the HIM program. He graduated in 2016 and is very thankful for his education. "Every single instructor at Sask Polytech showed up every single day dedicated, with passion and purpose to share and transfer their knowledge. They wanted nothing but success for everyone." McGill says as he gets emotional discussing how much the instructors cared.
The transition from carpentry to health information management wasn't easy but McGill enjoys contributing to the meaningful work in health information management and looks forward to new challenges. "I learn something new everyday. Healthcare is always evolving. It's exciting and incredibly rewarding." His passion and excitement for the field radiates as he speaks.
McGill has built a successful career working in a variety of roles for different organizations including the Saskatoon Cancer Agency, Saskatoon Health Region and Saskatchewan Health Authority. He is also active with his local chapter of the Canadian Health Information Management Association (CHIMA). Making strong connections and building lasting relationships have been a big part of his success. McGill found an incredible mentor and friend through work and got the opportunity at Island Health through the referral of a colleague. "Relationships are so important in this world," he adds.
McGill's experience at Sask Polytech was powerful. It changed his life and the incredible support from faculty and staff inspired him to give back. McGill started supporting the HIM student lunch program with monetary contributions about five years ago. He is excited to continue supporting the program and hopes to contribute to a student award. "I wouldn't be where I am today without the HIM program. Sask Polytech has a very special place in my heart."
The connections he's made and the joy that working in health information management has brought McGill has reignited his enthusiasm for life. McGill hopes his story of resilience and perseverance can help others get through difficult times. "You can get over that horrible part of your life and come out on the other side with success and with a future that you never knew you could have."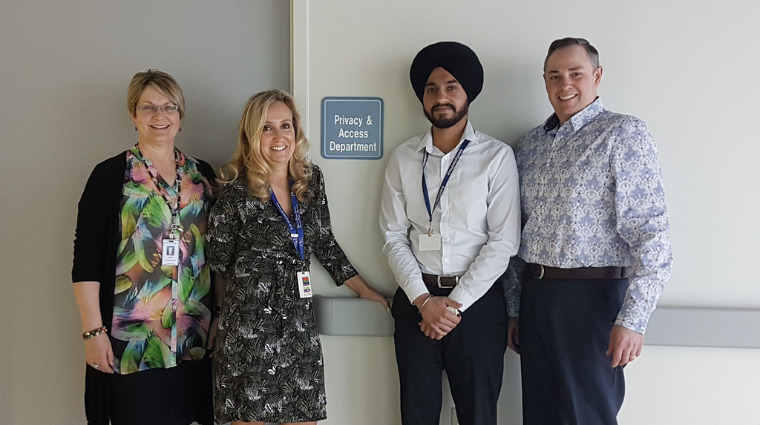 To learn more about Sask Polytech's Health Information Management program visit the program webpage or sign up for a virtual information session hosted February 28, April 26 and June 19, 2023.
Published February 2023.