Saskatchewan Polytechnic receives World Federation of Colleges and Polytechnics Indigenous Education award
Saskatchewan Polytechnic is recognized for its commitment to Indigenous learners and communities
June 21, 2022 – Saskatchewan Polytechnic is the silver award recipient of the 2022 World Federation of Colleges and Polytechnics Awards of Excellence in the Indigenous Education category. Sask Polytech was recognized for its commitment to Indigenous learners and communities.
Situated on Treaty 4 and Treaty 6 Territories, and homeland of the Métis, Sask Polytech is acting on its strategic plan for 2020-2025, Leading the Rise, by holistically integrating Indigenous ways of knowing, being, teaching and learning throughout all institutional practices, procedures and services.
"Sask Polytech is honoured to be recognized by the World Federation of Colleges and Polytechnics for our commitment to Indigenous learners and communities," says Dr. Larry Rosia, Sask Polytech president and CEO. "Our Indigenous Student Success Strategic goal is to increase recruitment, retention and success of Indigenous students across all our programs, follow the Truth and Reconciliation Commission of Canada's Calls to Action, and to live up to our commitments under the Colleges and Institutes Canada's Indigenous Education Protocol."
Examples of initiatives and services Sask Polytech was recognized for include dedicated Indigenous student advisors, Indigenous students' centres at all campus locations with access to Elders, knowledge keepers and cultural advisors, and a summer transition program to help orient Indigenous students and prepare them for student life. The practice of Indigenous traditions and ceremonies, including smudging and pipe ceremonies, is protected, promoted and accommodated at Sask Polytech. Indigenous role models are featured and celebrated monthly. Sharing circles are also encouraged and promoted at meetings.
Sask Polytech was also recognized for fostering community partnerships, which include Cowessess First Nation, Gabriel Domont Institute, the New Southern Plains Métis Local 160, Office of the Treaty Commissioner, Prince Albert Grand Council. Saskatoon Tribal Council, and Wanuskewin Heritage Park to name a few. These partnership supports our work with miyo wâhkôhtowin and reconciliation, the United Nations Declaration on the Rights of Indigenous People and Canada's Truth and Reconciliation Commission Calls to Action.
"Sask Polytech is an inclusive place of learning that embraces diverse cultures, heritages and opinions," says Dr. Rosia. "It goes to the heart of our mission, which is to inspire success in every learning journey. Sask Polytech understands that all students are successful when they realize their academic and employment goals. The Indigenous Student Success Strategy celebrates students and allows them to see their culture reflected throughout the entire institution."
The World Federation of Colleges and Polytechnics Indigenous Education Award recognizes institutions or institutional associations that have demonstrated commitment to Indigenous learners and communities and to advocacy priorities and positions related to Indigenous education and skills development.
Learn more at saskpolytech.ca/indigenous.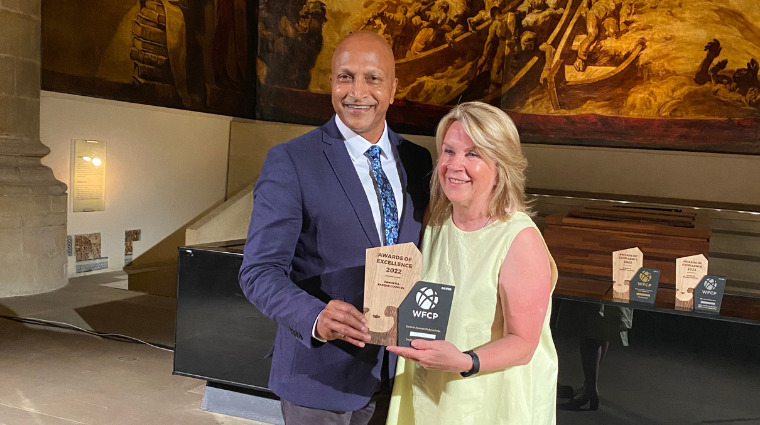 ---
Saskatchewan Polytechnic is signatory to the SDG Accord. Sustainable Development Goal alignment is one of the ways Sask Polytech is leading the rise of polytechnic education.